What's My Phone Worth? App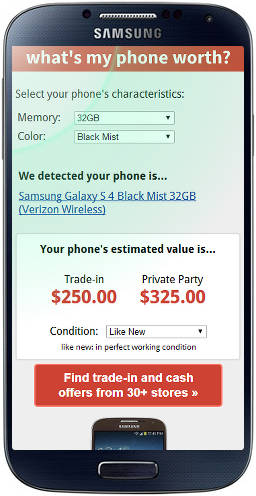 Get the value of your smart phone at a glance
What's My Phone Worth automatically detects phone models and displays two real-time values for Android smartphones: the first is the highest current trade-in offer from buyback vendors, the second is the private party sales value – in other words, what you can expect to get for your phone when you sell it via Craigslist, eBay, or other private party buyers.
The app also instantly compares real-time trade-in and buyback offers from more than 30 reputable online vendors, including Technollo, TechPayout, Sell and Recycle, AT&T, Sprint, Wal-Mart, Verizon and more. Vendor offers are compared for price, payout type and other policies such as shipping. If you like a particular buyback offer, you can immediately visit the vendor's site and cash in on your smartphone.
• Instantly find your phone's value.
• Free and ad-free. No ads, no offers.
• Lightweight, app is only 46K.
If you like the app, please leave a review. And if you have any questions, please feel free to ask us