Your Vintage Bicycle Could Be Worth Hundreds of Dollars – Here's How to Sell It
We show you how to find the value of your vintage bicycle and where to sell it in this comprehensive vintage bicycle selling guide

Want to know how much your vintage bicycle is worth and where to sell it? Whether you found an old bicycle in your parents' barn or garage, were given a grandparent's childhood bicycle, or simply picked up an intriguing bike at a yard sale, we tapped three experts to show you how to determine its value and where to sell a vintage bike.
Our vintage bicycle selling guide includes:
We reached out to experts to answer your questions about where to sell a vintage bicycle. We do this as a service to introduce who we are: experts in finding a place to sell your phone. Use Flipsy to find your phone's value plus get offers from more than 20 stores who compete to pay top dollar. Stores are trust verified, offer free shipping and pay within a few days of receiving your phone. Best wishes and thanks for visiting!
Find your phone's value
The most valuable vintage bicycles
New York-based Copake Auction has held one of the largest bicycle auctions each April for the past 26 years, and
features past auction examples on its website
. In many cases, the final selling price exceeds the value estimate. Examples include:
| | |
| --- | --- |
| Vintage bicycle | Copake Auction selling price |
| C. 1885 Rudge "Kangaroo" high wheel | $32,760 |
| C. 1892 Telegram | $26,450 |
| c. 1890 "The Rochester" | $23,000 |
| 1937 Elgin Bluebird | $17,250 |
| C. 1960 Bowden "Spacelander" | $13,800 |
| C. 1870's child's boneshaker | $7,020 |
These are exceedingly rare examples, however, and certainly aren't indicative of average values.
Most vintage bicycles are worth between $100 and $400
, and museum-quality vintage bikes are typically valued between $3,000 and $4,000.
Here are some of the highest prices paid for vintage bicycles in eBay auctions:
| | |
| --- | --- |
| Vintage bicycle | eBay sold price |
| Colnago Oval CX Aero Road Bike | $6,000 |
| 1973 Eisentraut Bicycle | $3,995 |
| 1950's Schwinn Paramount Track Bicycle | $3,600 |
| 1976 Masi Gran Criterum | $2,750 |
| 1980 Gios Torino Campagnolo Super Record | $2,499 |
| 1975 De Rosa Columbus Campagnolo Nuovo Record | $2,499 |

What is the most valuable vintage bike in the world? It's not an easy question to answer.
"People have been collecting bicycles since around the 1890s, and over those 127 years there have been an almost endless variety of collectible bikes and collectors buying them. So, it's not easy to pin down the most valuable single bike, but it might have been Diamond Jim Brady's gold-plated, silver-spoked, jewel-encrusted Columbia bicycle bought for Lillian Russell in the 1890s," says
Jim Langley
, a longtime cycling journalist, author, blogger, and historian.
Bicycle not worth much? Many phones are worth $100+. Find the value of your phone.
That bike is currently owned by UC Davis, which acquired it in 2000 when it
purchased the Pierce Miller bicycle collection
for a
sum of $500,000
to start a museum that would become the
United States Bicycling Hall of Fame
.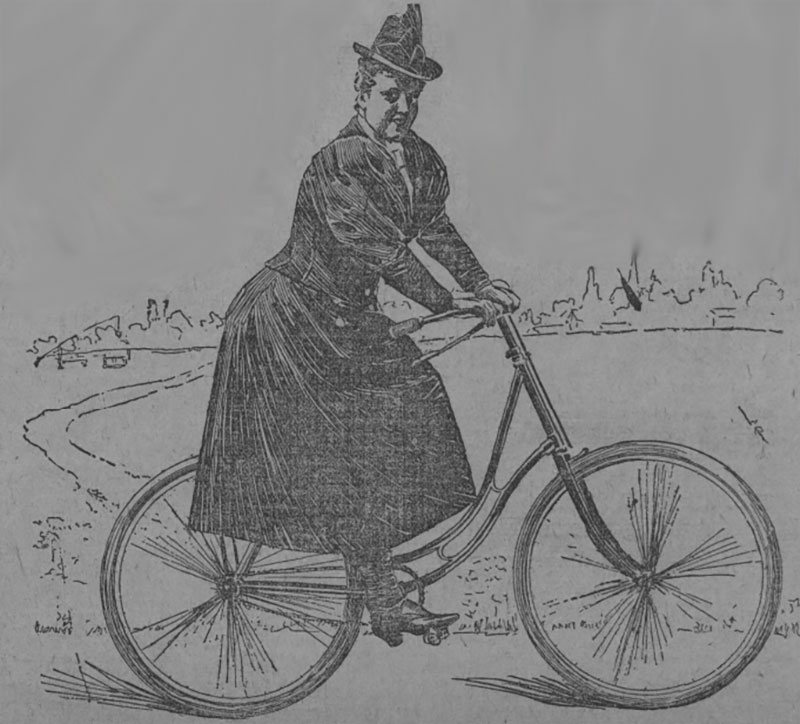 Lillian Russell on Her Golden Wheel. Source:
Library of Congress, The Journal, May 19, 1986
Of course, the value of the Diamond Jim bicycle has as much – or more – to do with its decorative jewels as its historical significance.
"I just saw a horrible article about the most valuable bikes. A number of the bikes listed were inlaid with crystals and diamonds, and some had gold plating," says
Ken Wallace
, former secretary of the U.S. Cycling Federation and owner of
Bisbee Bicycle Brothel
. "I won't get into what nonsense this is. I guess the most valuable bike could be one covered in $100,000 Series 1934 Gold Certificates. A bicycle is a tool and as such, it can be beautiful without ridiculous embellishments."
Still, some vintage bicycles are worth enormous sums – even without the gold and jewels.
"Another contender is the Schwinn family tandem, which sold to a Japanese collector not too long ago for over $100,000," says Langley.
Several vintage bikes sold for large sums at the 1997 Schwinn Family auction, per
Jim Langley's website
. Examples include:
| | |
| --- | --- |
| Vintage bicycle | Schwinn Family auction selling price |
| 1869 Dexter boneshaker | $24,150 |
| 1968 Schwinn Sting-Ray Orange Krate (millionth Schwinn bike made) | $16,100 |
| Late 1870s Shire | $17,000 |
"Bicycles have been incredibly popular around the world since they first arrived on the scene. There are millions and millions of them out there hiding and waiting to be found," says Langley. "I've seen $5 Goodwill store bikes worth thousands. And, of course, there are plenty of bikes that sell for way more than they're worth because the buyer and seller love the bike and don't realize that there are dozens more out there just like it for a whole lot less."
What makes a vintage bicycle valuable
The value of a given vintage bicycle is what a buyer is willing to pay for it – and collector interest can vary significantly. How can you tell if your vintage bike is valuable? By understanding the attributes that contribute to value.
Manufacturer/brand
The manufacturer or brand of your bicycle can have a major impact on its value. Wallace, who specializes in pre-1984 hand-built lightweight road racing, touring, and track bicycles, says some of the most valuable bikes are classic French randonneur bikes from famous companies like Rene Herse and Alex Singer.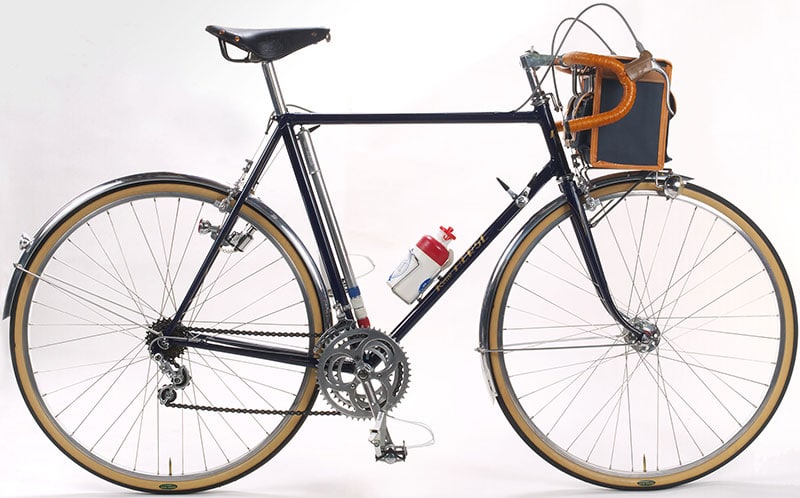 Rene Herse bicycle. Source: Jim Langley
"In the U.S., bikes built by Mario Confente, who led the U.S. Masi shop in California before going on his own, are extremely valuable," he says. "They're worth up to $15,000 due to his skill and the limited number he built under his own name – 135 – before his death at age 34."
Generally-speaking, Wallace said pre-mid-80s bicycles hand-built by small builders and equipped with high-end componentry demand higher values.
Some bicycle brands/manufacturers that could be valuable include:


| | | |
| --- | --- | --- |
| LeJeune | Colnago | Follis |
| Urago | Hawthorne | Masi |
| DeRosa | Motobecane | Gloria |
| Hallmark | Dayton | Victor |
| Bowden | Colson | Eddy Merckx |
| Automoto | Shelby (Donald Duck) | Rollfast (Hopalong Cassidy) |
| Hiawatha | Jo Routens | Camille Daudon |
| Galmozzi | Roadmaster | Trek |
| Terrot | Somec | Rene Herse |
| Elgin | Alex Singer | Columbia |
| Sears Roebuck | Peugeot | Cineli |
| Gitane | Western Flyer | Murray |
| Bianchi (only high-end models) | Monark | Bruce Gordon |
| Horace Bates | J.C. Higgins | Huffy |
| Hetchins | Schwinn (Paramounts, especially those built at Wastyn's bike shop in Chicago and those produced prior to 1979) | Bikes built by Peter Weigle, Richard Sachs, Mark DiNucci, Columbine |
"In the vintage bicycle hobby, each era of collectible has its own Holy Grails, and not all collectors agree," says Langley. "In my list of Holy Grails you would find a 1928 Shelby Lindy bicycle, which has a tiny model of the Spirit of St. Louise perched on the front fender with a propeller that spins when you pedal down the road."
Type of bicycle
The type of bicycle you have contributes to overall value. Some vintage bicycle types include:
| | | |
| --- | --- | --- |
| Lightweight | Schwinn Krate | City |
| Road racing | BMX | Highwheel (British slang: penny farthing) |
| Touring | Middleweight | Highwheel safety |
| Track | Heavyweight | |
| Randonneur | Cruiser | |

Frame type (gender)
Men's bicycles tend to be more collectible and sought after, and therefore more valuable, than women's.
"This is simply because there are more men collectors and far fewer men's bikes since boys tended to beat up their bicycles," says Langley.
Age, rarity, and original features
Rarity and age are major drivers of value. Bicycles with all-original parts are more valuable than those with replacement parts, as are those with unique and deluxe features.
"It must be an older bicycle, or a rare bicycle, or have many bells and whistles," says Tammy Haley, secretary of the
Hoosier Antique and Classic Bicycle Club
. "The more original, the more valuable."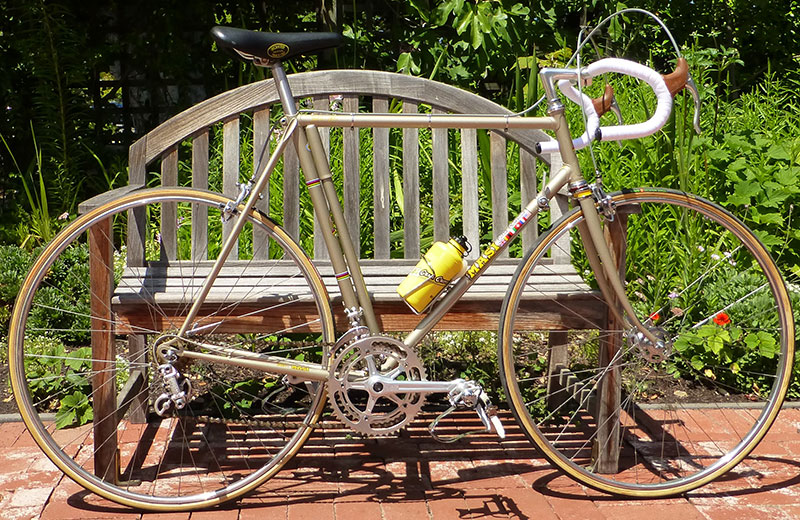 Masi GC 1974 restored. Source: Jim Langley
Reproductions have relatively little value, but it can be difficult to spot the difference.
"You need to know a fair bit about bicycles to recognize a real collector-level bicycle," says Langley. "Beginners are easily fooled by a bike that looks old, and there are lots of reproduction models that have little value and are of nowhere near the quality of the original bike."
The color of the bicycle has little impact on value, since color is a personal preference, says Wallace.
Historical significance
Bikes with historical significance, such as the Diamond Jim bicycles, can be valuable. Celebrity status can also enhance a bicycle's value; for example, bicycles that were part of the
Robin Williams collection
. Bikes that were owned by well-known riders are likewise valuable.
"The value of a bicycle can be significantly increased if it was ridden by a famous rider, such as Fausto Coppi or Eddy Merckx or a top rider in the Tour de France," says Wallace. "This can be impacted by the nationality of the purchaser. For example, a Tour-ridden bike by Greg LeMond would most likely sell for more to a U.S. buyer than a European buyer."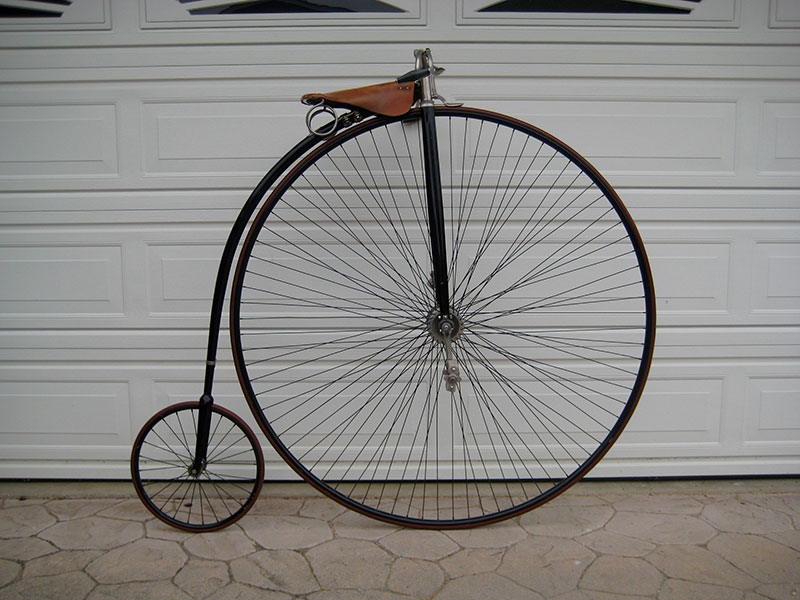 Victor highwheel bicycle. Source: Jim Langley
Wallace added that Japanese buyers, in general, will often pay more for vintage bicycles than American buyers, due to the hobby's popularity in Japan.
Condition
Condition has significant impact on vintage bicycle values.
"Most collectors use a one-to-ten system, with one a 'barn find' and ten being a mint original," says Haley.
That doesn't mean a barn find can't be valuable.
"Bicycles are vehicles and vehicles get in accidents. If a bike has been crashed and bent, it can render an otherwise valuable bike almost worthless," says Langley. "What you hope to find is what collectors would call a 'barn find,' which means a complete original antique vintage bicycle that someone put away in a basement, garage, attic, or barn years ago and forgot about. It would have its original paint, plating, and decals, and all the parts would be there."
1983 Bruce Gordon (USA) with Suntour Superbe Pro components and Scott-Matthauser Superbrakes. Source: Ken Wallace
The vintage aspect of a bicycle is integral to its value, and collectors expect some imperfections.
"If a bike needs to be repainted, unless it is very rare it may well cost more for new paint and decals than it is worth," says Wallace. "The older the bike, the more paint issues you would expect, and some collectors – I'm one – like honest patina."
Restoration might even cause a vintage bicycle to lose value. "A perfectly restored bicycle may not be as valuable as the same bike with some scratches in original condition, unrestored," says Haley.
Bicycle not worth much? Many phones are worth $100+. Find the value of your phone.
How to find the value of your vintage bicycle
"The best way for a newbie to figure it out is to take pictures and contact an expert such as myself, or find an auctioneer like the nice folks at the Copake Auction House in New York," says Langley. "Most people need help from an expert, the same they would if they found a Steiff teddy bear in a trashcan. The expert can look at the bike and straight away see what parts are missing, what's been changed on the bike, etc., and these things greatly affect value."
Haley recommends asking bicycle clubs and bicycle shops if they'll assist with identifying the value of your bike.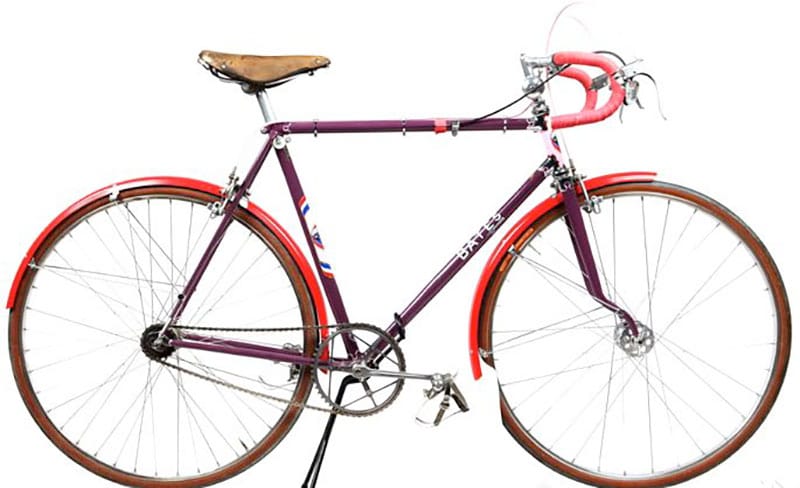 Early 1940's Horace Bates (British) with Diadrant forks and specially drawn Reynolds 531 Cantiflex tubing; Sturmey-Archey FM 4-speed hub. Source: Ken Wallace
If you don't have access to an expert or you're just trying to get an idea of what your bike might be worth, you can consult online resources – just make sure to check the right ones.
"There are online resources such as the
Bicycle Blue Book
, but I find it to be highly inaccurate," says Wallace, who recommends signing up for the
Classic Rendezvous
listserve operated by Dale Brown. "You are not allowed on the Classic Rendezvous list to fish for value, but you can see what knowledgeable posters are asking."
Other online resources for identifying vintage bicycle values include
eBay
(filter by completed sales) and the
Bike Forums' What's It Worth
section.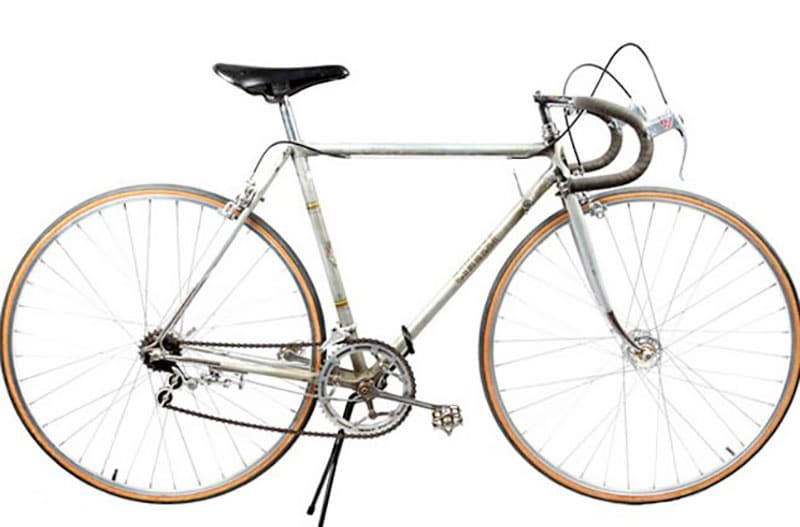 1964 Cinelli B with German Altenburger components. Source: Ken Wallace
Finally, you can simply search online for the bike you have to track down relevant resources.
"Just Google for the type, brand, and model of the bike that has caught your fancy, and many links will pop up," says Langley. "Remember that this is one of the longest-collected items in the world, so there's a ton of resources out there. You want to narrow down what you're interested in a little, and then you'll find the right results."
Keep in mind, however, that it can be easy to find a similar bike and assume yours has an identical value, when in fact there are key differences.
"It helps to do some research or to get some help," says Langley. "I answer questions about the value of old bikes all the time."
Where to Find the Value of Vintage Bicycles
Bicycle clubs
Bicycle shops that deal in vintage bikes
Online vintage bicycle experts
Auction houses
eBay completed sales
Bike Forum
Google search
Classic Rendezvous list
Where to sell your vintage bicycle
Ready to turn your vintage bicycle into cash? Here are some online and offline selling options.

eBay
You'll pay a selling fee (10%) plus PayPal fees, but the exposure to a mass audience of collectors coupled with the auction format makes eBay one of the best places to sell vintage bikes.
"To get the most money, you want the biggest pool of potential buyers and an auction format to hopefully drive the price up. eBay is a great way to go for that," says Langley. "You will usually need to be willing to have the bike boxed and shipped, though."
Classic Rendezvous
The site features a thriving community of vintage bike enthusiasts, many of whom belong to the
Classic Rendezvous Google group
. You can join it and offer your bicycle for sale. You will need to apply for membership – and be accepted.
Bike Forums
Bike Forums boasts a large vintage bicycle community, complete with a forum section dedicated to buying and selling bicycles. You need an upgraded membership to post your bike for sale, which costs $3 for a 30-day trial or $12 for a one-year membership.
Other bicycle forums
Many bicycle forums feature classifieds sections. Some forums are focused on vintage bicycles as a general topic; others are partial to specific types or brands. Here are some examples; to find more, search for forums by bicycle type and brand ("Schwinn bicycle forum"):
Craigslist
Though Craigslist has a regional scope, serious bike collectors use tools to search its listings nationwide. In addition, collectors often share Craigslist list links on vintage bicycle websites, so your ad could be viewed worldwide.
"I have had as good luck with Craigslist as with eBay," says Langley. "The problem with Craigslist is the scammers that try to rip you off. That's less of a problem on eBay, but it's not unheard of. The best thing about Craigslist is that it's free."
Facebook
Facebook Marketplace is similar to Craigslist in that your exposure is limited to a local audience; however, you can also join vintage bicycle Facebook groups and post your ads to a global community. Examples include:

Swap meets and flea markets
Bicycle swap meets and bike shows present good opportunities to sell vintage bicycles. Check
The Classic & Antique Bicycle Exchange's (CABE) event listings
to find nearby events. You can also take your bike to swap meets and flea markets that aren't exclusively focused on bicycles.
Bike shops
Local bicycle shops, especially those that specialize in vintage bikes, might be interested in purchasing your bike. Keep in mind they need to buy at a price that leaves room for profit upon resale.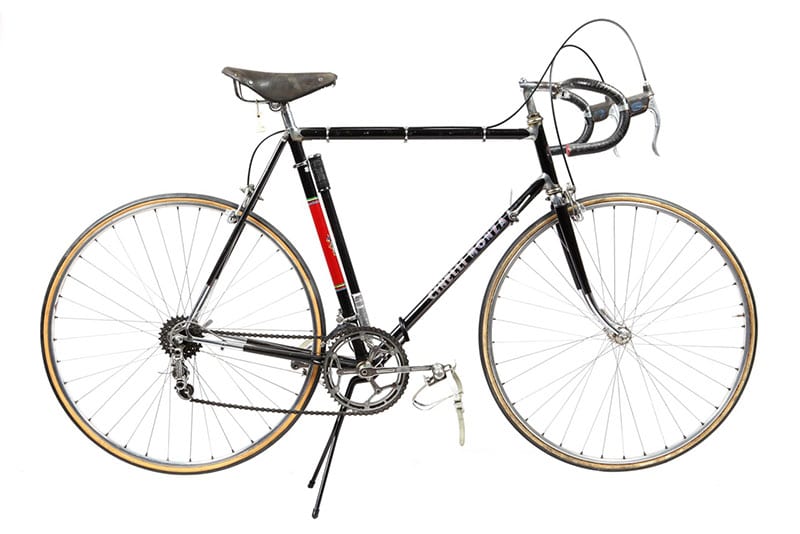 1961 Cinelli Monza (the only Monza in the Cinelli registry). Source: Ken Wallace
Pawn shops
Some pawn shops will buy vintage bikes. Like bike stores, pawn shops need to resell for profit so you won't get market value. Find local pawn shops with the National Pawnbrokers Association
member directory
.
Vintage bicycle selling tips
Get the best deal for your vintage bike with these five selling tips.
Know what you have
Do your research and consult with experts like Langley, Wallace, and Haley to understand exactly what bicycle you have. You can also take photos and ask in bicycle forums as well as the
vintage bicycle Reddit
. When you know what bike you have, you can set realistic valuations and get a fair price for your bike.
"Don't assume a vintage bicycle is worth a fortune, because only the best bikes fetch high prices," says Langley. "Most vintage bikes sell for between $100 and $400. Even museum-quality antiques, like highwheel bikes, typically don't change hands for more than around $3,000 to $4,000."
Understand the terms
Before you sell to a given buyer, make sure you understand the terms and any associated fees: listing fees and selling fees, for example. Determine who will pay shipping expenses, and how much they will cost (including packaging and insurance).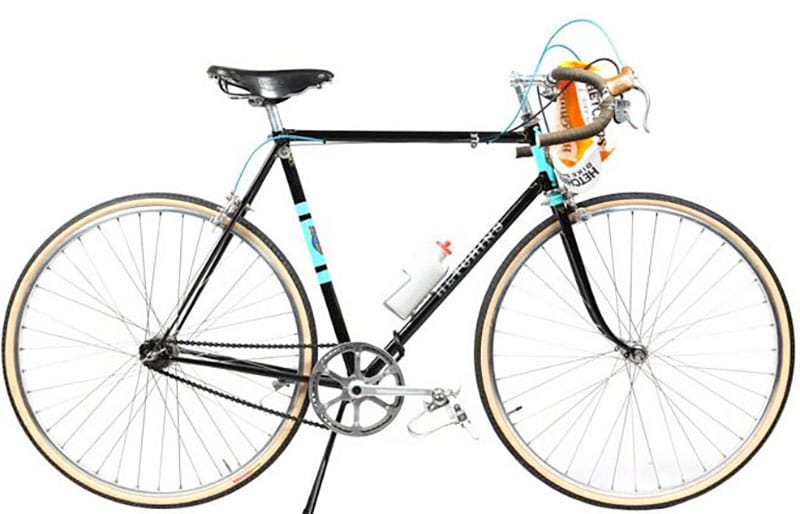 1957 Hetchins with Brilliant lugs and Sturmey-Archer ASC 3-speed fixed gear hub. Source: Ken Wallace


Protect yourself
Vet buyers as well as you can and always collect payment or verify escrow before shipping your vintage bicycle. Keep an eye out for scams. If you're meeting in person, take a friend along and meet in a busy public area.
Create accurate, well-detailed listings
You can save a lot of time by creating detailed listings. Describe your bike's condition, and be upfront about any dents, scratches, and broken or missing parts.
Take photos of your bike from several different angles as well as close-up shots of features and flaws, and list as much information about part brands, models, and sizes as possible: tire size, derailers, pedals, saddles, etc. Include the size of your bike, which is typically expressed as the length of the seat tube.
According to
SheldonBrown.com
, there are several ways a seat tube can be measured, including:
Center-to-Center (C-C): The distance between the center of the bottom bracket to the centerline where the seat tube intersects with the top tube
Center-to-Top (C-T): The distance between the center of the bottom bracket to the top of the seat tube or the top of the top tube
Measuring a bicycle frame can be confusing, particularly if you do not know the manufacturer's measuring standards.
Learn more about how to measure a bicycle frame
.
Seek multiple offers
Take the time to consult with multiple experts and request offers from several sources. Doing so ensures you're getting accurate information and will help you sell it for the highest price.
Finally, remember you might have to wait for the right buyer to get the best payout for your bicycle.
"Value for all collectibles is in the eye of the beholder," says Langley. "There needs to be some kind of connection. Maybe it's the bike all the cool kids had but your mom and dad couldn't afford to buy you one. Years later you find one and you just have to buy it. It's like reliving your childhood and it can be a wonderfully satisfying process to search for and find that bike. Or maybe you stumbled upon an old bike in the back of your parents' attic and found that it belonged to your grandmother, and you immediately connect with her – visualizing what she must have felt riding that now-rusty wreck all those years ago. You want to restore it, bring it back, and ride it as a way to connect with the past."
Related Help
Previous:
What's an Xbox 360 Game Worth?
Next:
Game system storage capacity: How to find it for PS4, Xbox One & more