How to sell a bike and get what it's worth
Flipsy.com delves into the world of used bicycles to show you how to find out what your bike is worth and where to sell it
Our bicycle selling guide includes:


NOTE
: This article focuses on modern bicycles; if you have an older bike, check out our vintage bicycle selling guide.


We reached out to experts to answer your questions about valuating and selling bicycles. We do this as a service to introduce who we are: experts in finding a place to sell your phone. Use Flipsy to find your phone's value plus get offers from more than 20 stores who compete to pay top dollar. Stores are trust verified, offer free shipping and pay within a few days of receiving your phone. Best wishes and thanks for visiting!
Find your phone's value
How much are used bicycles worth?
The most expensive used bicycle ever sold at auction was the "
butterfly bike
," a
Trek Madone
designed by Damien Hirst to commemorate Lance Armstrong's return to bicycle racing after his bout with cancer.
The artist adorned the bicycle with real butterfly wings, and Armstrong rode the bike during the final stage of the 2009 Tour de France. The butterfly bike was auctioned for $500,000 at a November 1, 2009 Sotheby's auction to support Armstrong's cancer charity, LiveStrong.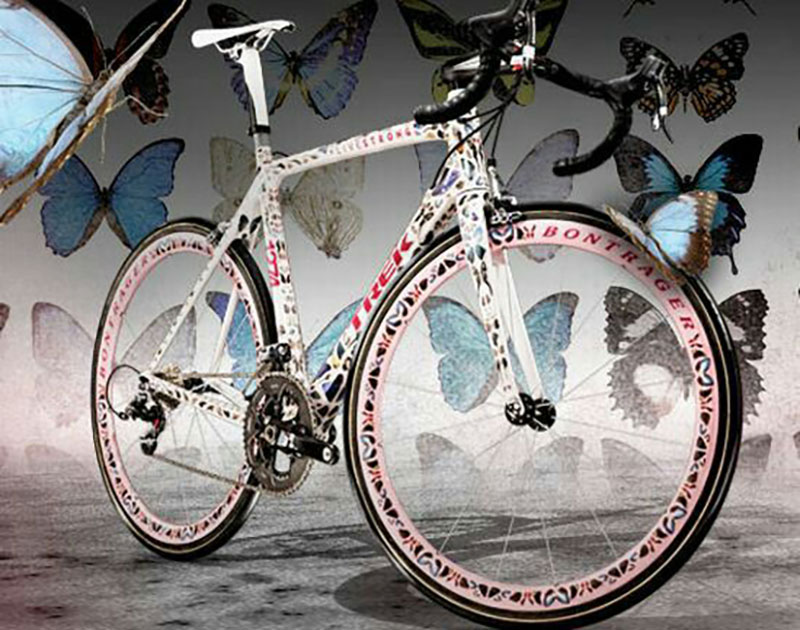 Butterfly bike. Source: Pinterest
Other
racing bikes
, as well as bikes plated with gold or covered in precious stones, have
sold for tens of thousands of dollars
, but these are not the average bicycles you'll find in the average garage.
More likely, you either have a mid-range bicycle that was purchased from a bike shop, or a low-end bicycle that was purchased at a department store.
Many used mid-range bikes are worth around $100
, while low-end bicycles may be worth just a few dollars. Of course, it's possible you have a bike that's worth more than $100. Some of the used bikes recently sold on eBay include:
What affects bicycle value
The value of your bicycle will depend on a number of factors, including:
Brand and model
Specialized and Trek bicycles often have excellent value, as these brands are known for quality manufacturing and are desired by bike enthusiasts.
Have a vintage bicycle? Cinelli, Schwinn & more… some are worth thousands
Learn more
"The top-of-the-line bikes hold their value the best," says Leonard Nuckolls, owner of
Goodbye Cycle
, a bike shop based in Granbury, Texas, that buys used bikes online. "Of all the bikes, Specialized is the brand that really stands out to me in terms of resale value. Their S-Works models really hold their value."
Nuckolls referenced a
Specialized S-Works Venge that recently sold on eBay
for $9,000. "The bike originally retailed for around $11,000, and as you can see it sold for $9,000 used. That is a tremendous value for a used bike. Most bikes depreciate much more than this," he says.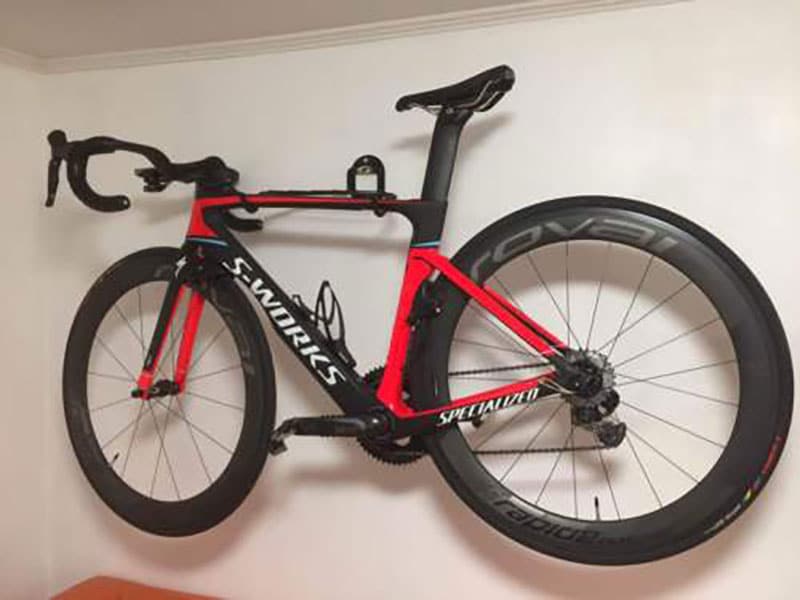 Specialized S-Works Venge. Source: eBay
Nuckolls says many people don't realize that some things that come with a new bike do not convey to the next owner. For example, the original owner of an S-Works bicycle might have a lifetime warranty on the frame or free adjustments, but the warranty and free adjustments do not transfer to a second owner.
"The other bikes that really stand out to me are the high-end titanium-framed bikes, like Moot's or Seven," Nuckolls says. "These bikes are generally considered to be a lifetime investment. People that buy these bikes are looking for a bike that will last forever. They're not quite as light as carbon-framed bikes, but the longevity of these bikes helps the resell value."
Did you know? Many phones are worth $100+. Find the value of your phone.
It's important to understand what you have, because not all bikes are created equal – even if they're manufactured by the same brands.
"Most of the big brand names make a wide range of bikes, so just because it says 'Trek' it does not necessarily mean anything," says Nuckolls. "Specialized makes bikes that retail from a few hundred dollars to tens of thousands of dollars. The boutique brands like Moot's, Seven, and Parlee are all valuable."
Bicycle Picking: A $2,000 Diamond in the Rough

In 2007, Brooks Van Holt was driving to college when he veered off his usual route to avoid a long red light. The alternative route took him past a thrift store, and as he drove by something caught his eye from the row of bicycles lined up on the sidewalk.

He stopped for a closer look.

"I could tell immediately it was a top-of-the-line French racing bike," says Van Holt, owner and founder of Bicycle Czar, a Santa Rosa, California-based bicycle shop that specializes in used bikes.

He asked the thrift shop owner what he wanted for it, and they settled on a price tag of $60.

"I gave him $60; it's probably worth a couple thousand dollars," he says. "I still have the bike. It's one of my favorite stories because normally I wouldn't be driving down that street, and that bike would have gotten picked off fast by one of the regular pickers."

Bicycle picking isn't as easy as it used to be. Van Holt said ten years ago, one could easily find valuable bicycles at garage sales, thrift stores, and flea markets. Twenty years ago, one could find them at the dump.

"You could pull thousand-dollar bikes out of the metal recycle bin. People would take fully-equipped Italian racing bikes and throw them in the recycle bins," Van Holt says. "People got wise to it. Now, information is so abundant and people know how to access that information, so those days are over."

Still, it's possible to find a valuable bike at a garage sale for $50, or to have one hiding in your own garage. If you're an avid bicyclist, you might simply be ready to upgrade and want to get a good deal for your old bike.

Condition
Van Holt says bicycles should be judged on both cosmetic condition and structural condition.
"Looks can be deceiving," he says. "You could have something that's cosmetically clean, that doesn't have a lot of scratches or rust, but has been heavily used; other bikes might have sat outside for a long time, but have very little use. You need to balance the two."
Nuckolls applies the following condition grades to bicycles:
New: Zero miles

Almost New: A bike that was ridden very little

Good Used Condition: Typical signs of wear, no crashes or other damage

Normal, with light damage: A well-used bike that as some minor damage from transportation or light crash damage

Damaged: A heavily damaged bike
"Obviously, the closer you are to new, the higher the resale value," Nuckolls says. "Sometimes a really high-end bike gets damaged by transportation or a crash, and it may still be worth money. We rarely even buy bikes that are damaged because it might be better to resell them as parts than selling the complete bike. It does not hurt to ask!"
Frame materials and components
Nuckolls says exotic frame materials like titanium or carbon fiber are good clues that a given bike is valuable. Components manufactured by companies like Dura Ace, Sram Red, and Compagnolo Super Record are also good indicators of value.

Special editions
Bicycles that were manufactured as special editions and collaborations can be valuable. Many non-bicycle brands partnered with manufacturers to create special editions. The butterfly bicycle made for Lance Armstrong is another example.
"One good example that comes to mind is the McLaren collaboration with Specialized to create the ultimate road bike," Nuckolls says. "These bikes originally retailed for $15,000 to $20,000, and they still command a hefty resale value."
Pedigree
If a bicycle has historical significance or was ridden by a famous racer, its pedigree can make it valuable.
"A bike written by Team Sky's Chris Froome, winner of the 2017 Tour De France, would be worth easily twice or three times as much as the same bike with no pedigree," Nuckolls says.
Van Holt said early mountain bikes, especially the Schwinn Paperboy Cruisers that were modified by mountain biking pioneers like Gary Fisher, Tom Ritchey, and Steve Potts, can be valuable.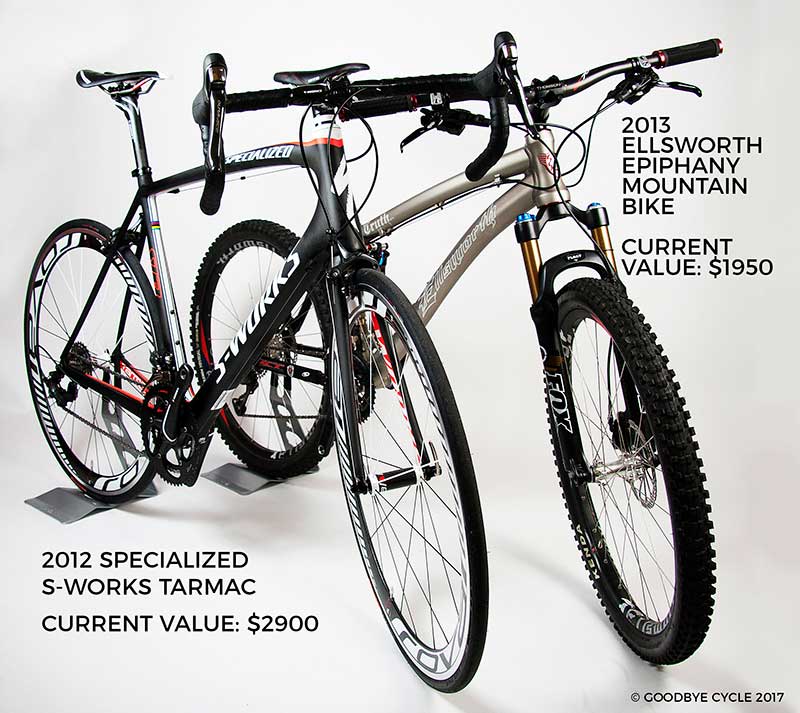 Source: Leonard Nuckolls
How to find the value of your bicycle
Use these resources to find out what your bike is worth:
Bicycle Blue Book
Enter the brand and model of your bike, and Bicycle Blue Book will tell how much your bike is worth. Even the pros use it.
"We use Bicycle Blue Book quite a bit," says Van Holt. "It tends to be helpful and accurate for bicycles made after the year 2000. Before the year 2000, it doesn't have a whole lot of information. The values they give are private party values.

eBay sold listings
Search for your bike brand and model on eBay, then check "sold listings" in the left sidebar to see what similar bicycles have recently sold for. eBay offers real-world sales examples, but it's not always a straightforward valuation.
"If we're trying to figure out what a bicycle is worth I will research it on Bicycle Blue Book and I will search on eBay in the completed listings," says Van Holt. "Interpreting the data is not necessarily easy. You want to find something of comparable condition, and knowing if it is does requires expertise."
Bike shops
You can also seek the advice of bike shops, particularly those that deal in used bicycles. Both
Bicycle Czar
and
Goodbye Cycle
purchase used bikes, for example; or, you could search online for local used bike shops.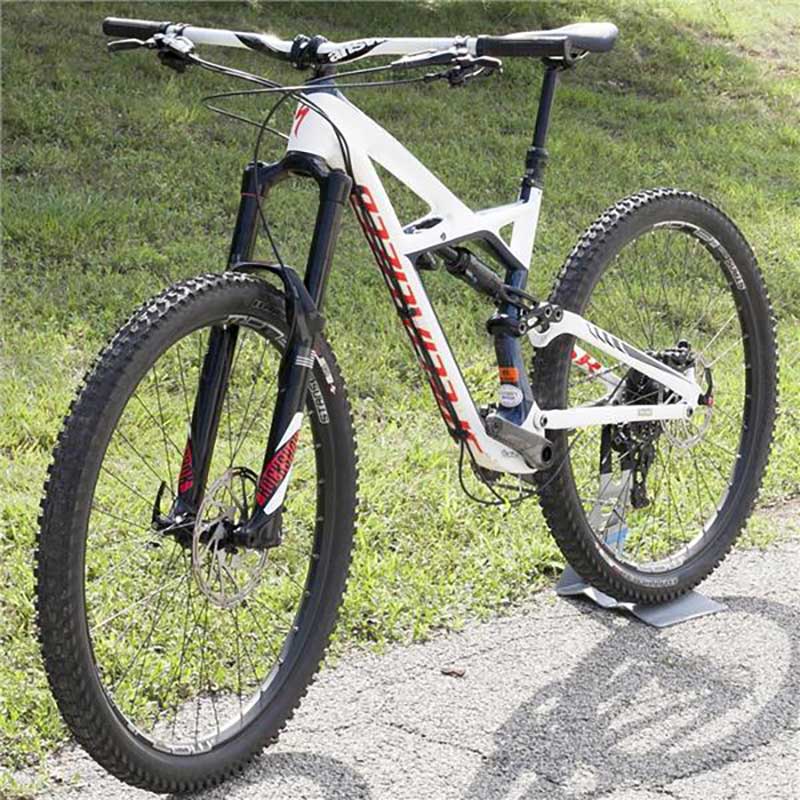 2016 Specialized Enduro Expert Carbon 29 mountain bike. Source: Leonard Nuckolls
Where to sell your bicycle
Ready to sell your bike? Here's where you can cash in.
Independent bike shops
Local bike shops and bicycle shops with online presences routinely purchase used bicycles. Search online for bike shops in your area, or check out
Bicycle Czar
and
Goodbye Cycle
.
The Pro's Closet
is another store that buys bicycles.
Independent bike stores typically pay in cash or trade-in credit. Keep in mind bike shops won't pay the full retail value of your bicycle, since they need to be able to make a profit. However, they might be the most convenient options.
"We are not always the highest offer you might get, but we make it really easy," says Nuckolls. "Selling it yourself can be a real pain. If you have ever tried to sell something on eBay or Craigslist, you know how much work it can be. We offer a competitive price for high-end bikes and it is a quick, easy transaction."
Bike not worth much? Many phones are worth $100+. Find the value of your phone.

eBay
eBay charges ten percent on completed sales, and you'll incur PayPal fees, but the auction format could drive the price up to cover those fees – and then some. Keep in mind shipping a bicycle can be expensive, so you'll need to decide whether you're willing to ship it (and who will pay the shipping fees) or if you'll only sell to buyers who can pick your bike up. Payments are submitted via PayPal.
Bicycle Bluebook
Bicycle Bluebook claims to put your listing in front of hundreds of thousands of bike buyers. Listing is free, though you'll be charged a five percent final value fee. Payments are submitted via PayPal. You can also use Bicycle Bluebook to
find nearby bicycle shops for trade-ins
.
Craigslist, Facebook Marketplace, and local selling apps
It's free to sell your bicycle on local classifieds listing sites like
Craigslist
,
Facebook Marketplace
, and apps like
OfferUp
and
LetGo
. All transactions are negotiated directly between the buyer and seller; thus, you'll need to vet buyers to avoid scams and hassles like no-shows.
Online bicycle forums and classifieds
Online bicycle forums often include buying and selling sections, and some sites are solely dedicated to bicycle classifieds. In most cases, it's free to post, and there is little to no moderation. You'll work out the details of your sale directly with the buyer, so you'll need to take the same precautions you would if you were selling on a local classifieds site.
Bicycle forums and classifieds include:


Bicycle selling tips
Get more money for your used bicycle and enjoy a positive selling experience with these five tips.
Know what you have
Do your research to understand what kind of bicycle you have, what condition it's in, and what it's worth before you try to sell it.
"A bicycle is worth a lot more in the hands of somebody who has expertise and knowledge," says Van Holt. "People come in and ask what their bikes are worth, and it's really pretty complicated. Bikes are not commodities, it's not like buying and selling frozen concentrated orange juice, where it's really the same price no matter where you get it. If you don't even know what size it is it's hard to sell it with credibility. Knowledge and expertise can elevate value considerably."
List every detail
Different buyers might be interested in a given bike for very different reasons. Be sure to mention everything you know about your bike, from the year it was made and its brand, to the size of the bike and the components that are on it.
Remember that some buyers might be more interested in your bike parts than the bike as a whole. Evaluate condition fairly and accurately to set realistic expectations for value. If you're listing your bicycle on an auction or classifieds site, be sure to post representative photos, and don't be afraid to include pictures of blemishes and damage.
Consider your timing
Van Holt says the bicycle industry ebbs and flows, so it can pay to monitor bicycle values and sell at the right time. Nuckolls adds that depreciation rates can vary: a top-of-the-line S-Works Venge retails for $11,500 new, while a low-end Venge retails for around $2,500.
A year after purchase, the top-of-the-line Venge might retain 80 percent of its original value, while the low-end bike might be lucky to retain 60 percent of its original value.
"Buying bikes and reselling them quickly is not usually profitable. You generally see a steep decline in the value of the bike when it leaves the dealer, and then it flattens out," says Nuckolls. "It's just like buying a car. The best time to trade in or resell is usually about three years old or so."
Avoid scams
Knowing what you have is the first step toward avoiding scams, but you should also be careful to never give or ship your bike to an individual until you have the cash. It's OK to send your bike to legitimate companies before being paid, so long as your shipment is insured for the value of the bike, but you need to protect yourself from scams when it comes to unmoderated peer-to-peer selling.
Ask for help
You can seek advice from local bike shops, online bike stores, and bicycle forums. If there is a cycling group near you, reach out to its members for advice. Many people will be happy to help you value your bike if you ask, even if you're not selling it to them.
Related Help
Previous:
What's an Xbox One Game Worth?
Next:
How to Ship a Laptop