The Ultimate Lego Selling Guide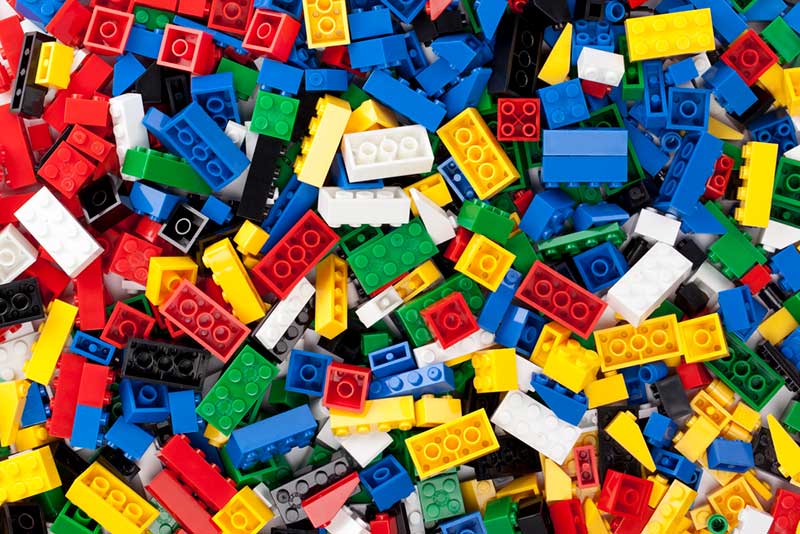 Everything you need to know to sell your Lego, including how to tell what your Lego are worth and where to sell them
Do you have boxes or tubs full of Lego? Ever wonder how much your Lego are worth? How about where to sell your Lego? Flipsy.com talked to two Lego experts to bring you the ultimate Lego selling guide.
Here, we'll answer everything you need to know about how to sell your Lego, including:
What are the most valuable Lego?
What makes Lego valuable?
How much are your Lego worth?
Where can you sell your Lego?
Lego selling tips
Keep reading to learn how you can cash in on your Lego today!
Looking to sell your phone? Find top-dollar offers from Trust Verified stores

here:
What are the most valuable Lego?
Lego, the same word in both singular and plural form, as Adult Fans of Lego (AFOL) are apt to remind you, might be more valuable than you think. In fact, a 2015 Time article stated Lego collecting is a better investment than gold.
The most expensive individual Lego ever auctioned was a 14-karat gold brick, which sold in a January 2017 Catawiki auction for $19,793. Lego gave 2×4 gold bricks to select business partners between 1979 and 1981, and fewer than ten of the bricks are believed to exist today. Since they're incredibly rare, gold bricks might be the most valuable Lego, but they're not indicative of the value of commercially-sold Lego.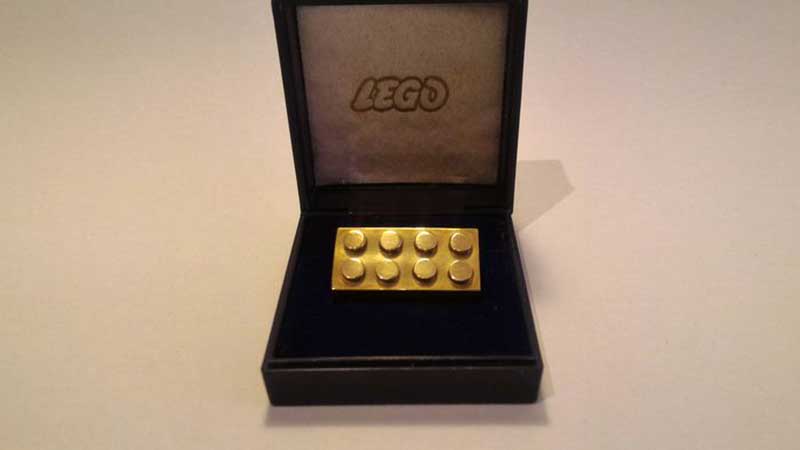 Lego gold brick. Source: Catawiki
The most valuable Lego set sold to consumers is the Star Wars Millennium Falcon, which originally retailed for around $500 and has since sold on the secondary market for more than $5,600. However, after Lego released a new version of the Millennium Falcon in 2017 (at $800 retail), the value of the original dropped to between $1,000 and $2,500, according to Wayne Hussey, a member of the SEattle Area Lego Users Group
(SEALUG) and director of BrickCon, an annual Lego Users Group conference held in Seattle. Hussey says the value of a given Lego is driven by rarity and desire.
"The market fluctuates all the time. A really good current example is the Millennium Falcon," he says. "The original set was a limited edition and quickly sold out on the primary market. The secondary market price went from the $500 to over $1,000, and then up to over $5,000. There were indeed people who sold (and bought) them at that price. This year, a new version of the same set was released at $800. That had an immediate effect on the price of the original $500 set."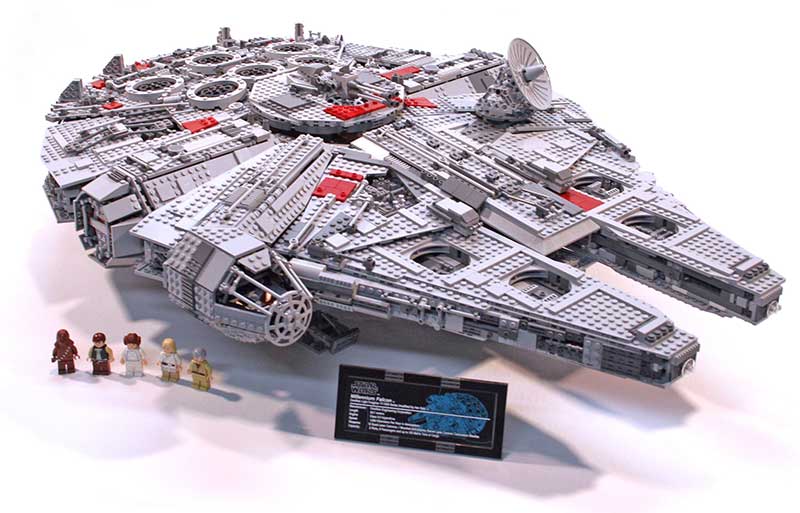 Lego Star Wars Millennium Falcon. Source: Ryan Hafer, The Plastic Brick.
Ryan Hafer, owner of Perry, Michigan-based The Plastic Brick, the largest retailer of used and out-of-production Lego sets, says Lego values can be directly impacted by the company's decisions.
"Since the early 2000s, Lego has built in some actual rarity to the Lego collectible market by changing their product lineup on a yearly basis," says Hafer. "In earlier times, a particular set had a product lifecycle that spanned multiple years, which is now an exception. This means that a more expensive set that has some rare elements or minifigures in it will circulate through the aftermarket less and increase the value."
And though Lego can create rarity, it can also dilute the market.
"When value spikes on something because people are very interested in it, Lego tends to notice and reissue a similar set," says Hafer. "A good example of this is the Star Wars Republic Gunship (7676). For a time we were selling the set for nearly $500, but then Lego issued the Republic Gunship (75021) and prices immediately started to back down."
Lego are sold in four primary categories: collections, sets, parts, and minifigures (which have their own subcategories, like Technic and Scala).
"I don't think there is a definitive rule on what are the most popular Lego products, but in general I would say the rank goes set, minifigure, then parts," says Hafer. "In reality, all three of those things are tied together. A set generally comes with a higher price tag, but is greatly affected by any special minifigures it might contain."
Different buyers value Lego differently, and each has their own thematic interests; thus, there is no "holy grail" every collector agrees on. Some of the most expensive Lego recently sold on Ebay include:




Lego collections

Lego sets

Lego minifigures

Lego parts
These figures don't represent the highest prices ever paid for Lego, but are indicative of current Lego values based on private market sales.
Your Lego not worth much? Maybe your iPhone is. Find cash offers here!
What makes Lego valuable?
Before you can determine how much your Lego are worth, it's good to understand what makes Lego valuable. As mentioned, buyers have various reasons for why they're interested in a particular Lego.
"Most of the adults I have met went through what is called a 'dark age', the time between playing with Lego as a child and growing up enough to be slightly embarrassed by such activity or having other, more teenaged interests," says Hussey. "The end of the dark age comes when the person makes a conscious decision to build again, usually when they are adults."
That dark age creates a gap in an adult builder's history in which new Lego sets were sold but not purchased.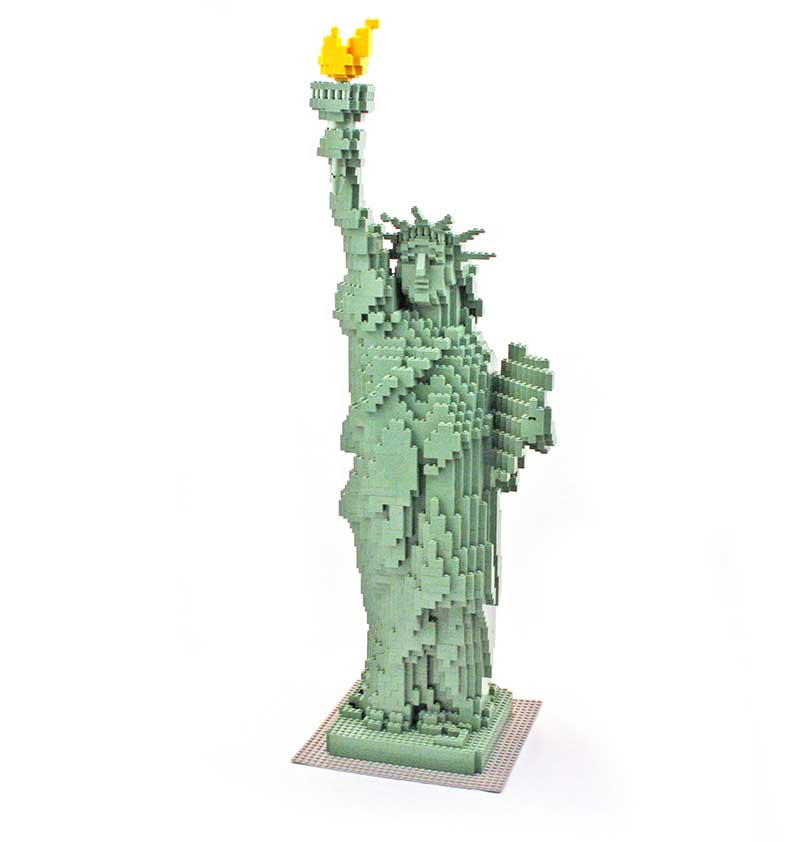 Lego Statue of Liberty. Source: Ryan Hafer, The Plastic Brick.
"I believe a big part of the allure is that there is a knowledge of past items that people didn't get, and now they want to fill that gap," says Hussey. "Along that line, there are individual parts and minifigures that are sought by people who, for whatever reason, do not have them. As with anything, rarity versus desire sets value."
Hussey adds that the primary value-builders are rarity, age, and condition. Typically, the older the set, the higher its secondary price.
"They do reach a point of plateau, and some sets never increase," he says. "Some have decreased below original shelf price, but this is not the common condition."
Aside from rarity and desire, Lego values are influenced by:
Condition
Lego are either new or used, and there are variations of a "new" designation, like "sealed in box", or "sealed in damaged box", says Hussey. A set can only be considered new if it has never been put together.
Other factors that affect condition include:
Play-wear and scratches
Stress marks from bending
Loose hinges
Cracks
Frayed fabric
Stretched rubber bands
Deteriorated stickers
Discoloration/yellowing
Teeth marks and other damage
If the parts are clean or dirty
Debris, such as pieces of Crayons, Hot Wheels, buttons, or other non-building toys mixed in with a collection
"A common problem we come across is yellowing," says Hafer. "ABS plastic has a general degradation problem if Lego is left in full sunlight with UV exposure. The parts can literally turn yellow through a chemical reaction, and that makes them undesirable."
Completeness
A set can be incomplete even if it's considered new. A complete set should include all the original parts, as well as the box, instructions, parts bags, stickers and sticker sheets, and minifigures.
Interestingly, you might be able to make more money by separating minifigures before you sell.
"Missing minifigures are the primary reason for incompleteness," says Hussey. "The secondary market has shown that a set price can be recovered by selling only the minifigures inside the set. Many sellers will separate the minifigures, sell them, and then sell the remainder of the set at a large discount. Often, this increases the amount of money a seller can obtain for a particular set, as compared to just selling the sealed set. It also provides a way to acquire the non-fig pieces at a lesser cost."
Hafer concurs: "Missing parts erode the value of a set, but not as much as a missing figure can erode the value. A single missing figure can cost as much to replace as the whole set, in certain cases."
Theme or franchise
Many collectors are interested in Lego featuring specific themes, or those from certain franchises. Star Wars Lego are among the most collectible, as are famous landmarks like the Taj Mahal and the Statue of Liberty.
In addition to complete sets, individual parts and minifigures that complete themed and franchise sets can be valuable.
"On the secondary market, Lego parts range from one cent per piece-or less-to lots of money for one part. Or, especially, one minifigure," says Hussey.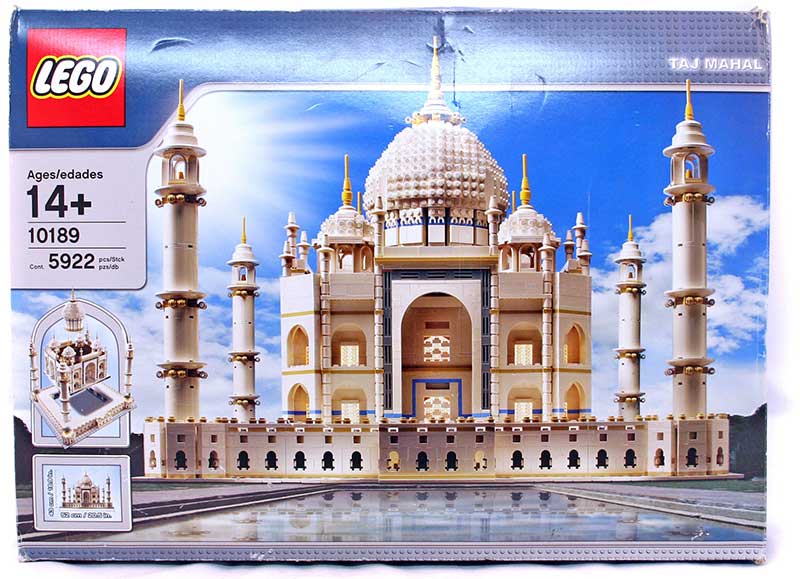 Lego Taj Mahal set. Source: Ryan Hafer, The Plastic Brick.
Distribution and production
Distribution and production contribute to rarity, which influences value. Hafer says Lego can be grouped into three categories: mass distributed, Lego exclusive distributed, and limited production.
General price ranges based on distribution and production (aftermarket values)
| | |
| --- | --- |
| Mass distributed | $3 to $500 |
| Lego exclusive distributed | $100 to $4,000 |
| Limited production | $4,000+ |
"Truly limited production Lego like Chrome Gold C3-PO, Mr. Gold minifigure, Lego store opening sets, and San Diego Comic Con minifigures can be very rare and expensive, and it's hard to put a general value on them," says Hafer.
Part type
While sets are easy to identify, individual parts can prove more difficult – and knowing what you have is critical to understanding its value.
"The difficulty with Lego parts is twofold: identifying if a part is a Lego part, and identifying which Lego part it is," says Hussey.
Hussey explains that 90 percent of all Lego parts include the Lego logo on the studs, or knobs (the bumps that connect the parts); as well as a four- or five-digit mold number and Lego copyright imprint on the surface (often inside the part). If you can read the mold number, you can identify the part.
Lego also include other numbers, usually paired two-digit numbers, that identify which mold position the parts are from.
Instructions can be helpful in part identification; since 2008, Lego has included an inventory of parts in its instruction booklets. The inventories feature an image of the part above a part number, which encodes the part mold and color, and can be searched on a site like BrickLink.
It's worth noting that, unlike sets, few sellers ever list a part as "new."
"Many people do not call a part 'new' even if it's straight out of the box or bag, just to make sure what they sell will not get poor feedback," says Hussey. "If a part has ever been connected to another part, it is used."
If you cannot identify the part number, you can use the gallery feature on BrickLink to attempt to visually identify which part you have. Hussey advises to exercise diligence, however, because there is potential for confusion or human error.
"I have parts that, because I know their provenance, could not otherwise be recognized as Lego," he says. "Old parts, mostly; the earliest parts made, even the 2×4 brick, did not have the Lego logo on the studs. They usually do have the logo on the inside. Other parts have such unexpected or unusual shapes, or just don't have any available space for their number identifiers as they are too small or the numbers would affect their function. If you have a part that fits into this category, it is reasonable to assume value – especially if it is apparently old."
What Lego Do You Have?
Not sure what Lego you have? Here's how to identify your Lego.
1. Check for the Lego logo on the studs
2. See if you can find a mold number, or use the booklet to find a part number
3. Search for it in the BrickLink catalog
4. If you cannot identify a mold or part number, use the BrickLink gallery (browse the catalog) to make visual identification
5. If in doubt, ask for help – visit Lego communities and forums, or search for a local Lego User Group and ask for assistance
Type of minifigure (or figure)
The type and completeness of a figure or minifigure is important to value. Though the focus here is on minifigures, Hussey says it's important to recognize there are Lego figures of many different scales and sources, including:
System (minifigures)
Friends (minidolls)
Technic
Beleville
Scala
Duplo
Fabuland
Minifigures are considered to be completely separate from parts. Each minifigure is made from several parts: at minimum, legs, torso, head, and a hat or hair. Hussey says some are available individually; for example, a torso assembly includes a body, a left arm, a right arm, and two hands. Leg assemblies include a left leg, a right leg, and a hip piece; and each piece is available separately. Some have printing. Some come from Lego with different-colored arms, legs, or hands. Some collectors want the figs as they originated, while others want to create their own.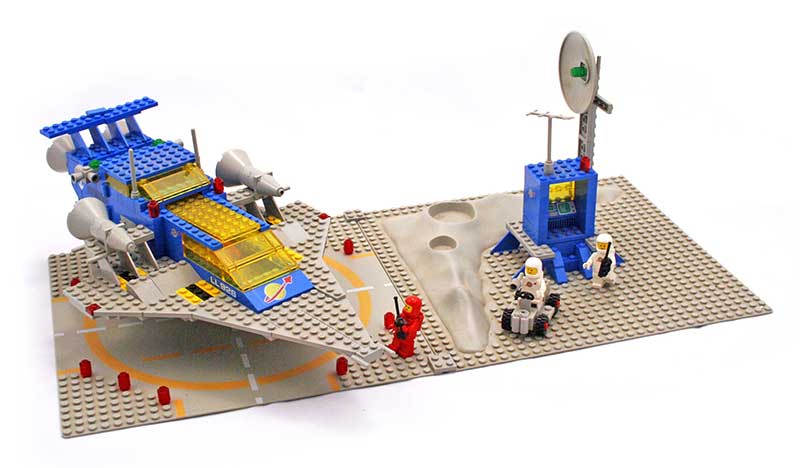 Lego Space Cruiser set with minifigures. Source: Ryan Hafer, The Plastic Brick.
"There are hundreds of different variations for each of the sub-parts of figs," says Hussey. "An individual fig, especially those that have the most value, are ones made to resemble particular characters or actors from movies and other Lego themes. They have a particular costume print on torso and legs, and identifiable faces and hair. The colors and combinations are frequently unique. Therein lies the value."
Some characters, like Han Solo, have been part of multiple Lego sets; so, there are multiple variations of that character. Some were available in only one set, which could make those figures highly sought-after.
Hussey says searching BrickLink for figures can be easy or difficult: if you know who the fig is, search for the character name. If you don't, try matching in the gallery.
"The difficulty is that there are approximately 10,000 unique figs," he says. "A haystack comes to mind."
Age
Age can be an important factor, particularly as it pertains to collections.
"As a collection ages, it becomes less complete. Parts get lost, damaged, or are sometimes less recognized and disposed of," says Hussey. "There are many factors to consider. Is it mostly ten years old? Twenty? Thirty? Forty? Yes, a collection can be mostly 40 years old. Obviously, there is a point where age may have a diminishing appeal to collectors. It always depends on the buyer."
Hussey said notable gems include early Space (blue and 'old grey') Lego, Castle Lego, and Train Lego – especially the Monorail – as well as other rare pieces.
Get the highest cash offers for your iPhone

here:
Purity
Purity is a factor in assessing the value of a collection, where purity represents the percentage of true Lego parts to non-Lego parts.
Size of collection
Size largely determines the value of a Lego collection. The following table lists general guidelines for designating the size of a Lego collection.
| | |
| --- | --- |
| Size Designation | Explanation |
| Tub | 15-gallon Rubbermaid or Sterilite container |
| Small | 1 or 2 tubs (15 to 30 gallons) |
| Medium | 3 to 8 tubs (40 to 100 gallons) |
| Large | 80 to 200 gallons |
| Huge | 200 to 400 gallons |
| Giant | 400 gallons+ |
Collections are commonly sold by the pound, with prices ranging from $5 to $15 per pound.
"Looking on Ebay for similar-sized and configured collections will help set the price," says Hussey. "It will be higher if the contents tend toward gems and away from low purity levels."
Size matters for sets, too.
"It's not a secret that larger sets tend to be less distributed and more valuable," says Hafer. "Most likely your largest set, with the most figures, will be your most valuable."
The size of a given collection might even be what prompts some to sell.
"An interesting aspect of Lego collecting is the actual physical space that is required to store the sets," says Hafer. "Lego isn't the densest per value of possible investments. You are storing a lot of air and plastic."
Have a phone to sell? Trust verified stores compete to offer 30% more than carrier trade-in programs. Find out how much yours is worth.
How much are your Lego worth?
The most pertinent question, of course, is how much your Lego are worth. Here are some tools you can use to determine the value of your Lego.
Visit the BrickLink Catalog and select Sets, Parts, or Minifigures
Enter the set or part number
Click Price Guide on the results page
The price guide displays historical sales prices based on six months of data. There are four columns; Hussey says to ignore the two on the right, as they list the prices people are asking. The two columns on the left display the prices an item sold for, in both new and used conditions.
---
Hussey recommends using BrickSet in conjunction with BrickLink to determine how much Lego are worth.
"A really good indicator of a set's value is whether it is selling at, above, or below the Manufacturer's Suggested Retail Price," he says. "BrickLink will show what a set is selling for, but the MSRP is never listed. For that, I go to BrickSet. It shows a bit more history of a set in that it provides the MSRP in several regions around the world. It often includes notes about availability worldwide and may indicate a set's rarity."
---
Another way to determine how much a given Lego is selling for is to check the sold listings on Ebay.
Visit Ebay and search for your Lego by name and/or part number
In the left column, filter by "sold listings"
Browse the results to see if any match the Lego you have, and compare how much they have recently sold for
---
Other databases
You can additionally consult other Lego databases and price guides, including:
"Ebay and BrickLink are the big facilitators. Each uses a slightly different model, and Ebay has almost the same items as BrickLink," says Hussey. "The difference is that whole collections can be found on Ebay and cannot be listed easily on BrickLink. BrickLink has a better tracking mechanism. It is difficult to scale a price for any particularly item on Ebay because there isn't a good way to compare except by looking at all available similar items. BrickLink tracks a six-month history of any item sold through their site."
Ask for help
There are a lot of online and local Lego collector groups and forums with large communities of Lego enthusiasts who are willing to help. You shouldn't expect anyone to do your pricing research for you; however, if you're having trouble identifying a part it might be a good idea to reach out to your local Lego group or an online forum to request assistance.
Online stores and brick and mortar shops that buy Lego can also help. Still, if you have a large Lego collection to sell the process could prove daunting.
"There are some quoting tools online, but in general it's going to be a tedious effort," says Hafer. "I don't know of too many ways to really get a clear understanding of value. Part of The Plastic Brick's competitive advantage is our proprietary software, which aggregates that information so we can quote sellers easier and faster. Even with special software, we have to spend the hands-on time to inspect all parts for quality and presence. This is where we especially add the extra value to our customers."
Where to sell Lego
There are many Lego selling options, each with its own pros and cons. Compare the following to find the option that's best for you.
Peer-to-peer selling platforms
Peer-to-peer selling platforms facilitate the sale of Lego directly to collectors.
Pros
Often knowledgeable buyers who understand Lego values
Convenient – everything is online
Tend to pay the most money
Cons
Seller fees are typically applied
No guarantee of sale, or sales might take a long time
Potential for disputes
No expert assistance (you must conduct the research on your own)
Examples include:
One of the most popular Lego selling sites boasting more than 747,000 community members, BrickLink lets you create a store and list your Lego bricks, minifigures, and sets for free. Any items that sell are charged a commission based on your total monthly sales:
Up to $500: 3%
Up to $1,000: 3% of the initial $500, then 2% of the remainder
More than $1,000: 3% of the initial $500, 2% from $500 to $1,000, and 1% of the remainder
The commission isn't taken directly from buyer payments; rather, you'll be issued an invoice on the fifth of each month with a net-30 payment period, payable offline, PayPal direct, or on-site via PayPal.
There are three different ways to add items to your BrickLink store:
Sell items one at a time
Bulk XML upload
Part out a set (you indicate which set you have, then select which parts you have to sell)
Payments from buyers are submitted via your choice of PayPal or Stripe, and you can set shipping and insurance rates to pass on to buyers.
---
With nearly 3,000 seller stores, there's no question Brick Owl is a popular place to sell Lego: bricks and parts, minifigures, and complete sets. Like BrickLink, Brick Owl lets you create a store free-of-charge. Brick Owl charges a 2.5 percent commission on any sold items, due at the beginning of the month.
You can accept payments directly from buyers via PayPal, money order, and cash, among other methods; and you set shipping methods in your store settings.
---
Ebay's auction format makes it a popular place to sell Lego online – especially for highly-desired Lego that spark bidding wars. You can set your reserve and optionally select a "Buy It Now" price for immediate sales.
Your first 50 listings each month are free, though Ebay does charge a 10 percent seller's fee on any sold items. Payments are submitted via PayPal. If there is a dispute, Ebay tends to side with the buyer.
---
Amazon probably isn't the place to go if you only have a few sets or parts, but if you have a massive collection to unload it might be worth paying Amazon's fees to get it in front of a broader audience. That said, a broader audience might not be the best thing, especially if you have popular Lego to sell: the collectibles crowd found on other sites will better understand what you have, its significance, and its value.
If you do decide to try the Amazon route, professional accounts cost $40 per month plus variable selling fees; while individual accounts – good if you have fewer than 40 items to sell – cost 99 cents per sale plus variable selling fees. Amazon pays via direct bank deposit.
---
Etsy presents another opportunity to sell your Lego; however, like Amazon, it's not as popular among collectors. It costs 20 cents to make a listing on Etsy. If your item sells, you'll pay a 3.5 percent transaction fee plus 3.25 percent payment processing fee, for a total of 6.75 percent. Etsy pays via direct bank deposit.
---
Online Lego buyback companies
Many online companies buy Lego with the intent to resell them for profit. Even though buyback companies represent a middleman, they offer unique benefits like guaranteed sales, fast payment, and eliminating the need to conduct your own research (however, you should conduct due diligence to ensure you're not letting a very valuable Lego go for next to nothing).
Pros
Guaranteed sales (typically)
Quick payments
No need to research
Easy, convenient process
Free shipping (in many cases)
No disputes to deal with
Cons
Pays less than other markets
Though payments are quick, they are not instant
Examples include:
The Plastic Brick is the largest retailer of used and out-of-production Lego. They buy Lego sets in new or used condition. Fill out their online form to get a quote for your Lego sets. If you have mixed sets or a mixed collection of parts, the total weight should be at least 25 pounds to receive a bulk price quote.
Payments are sent via PayPal, but other methods can be negotiated.
"The Plastic Brick will gladly quote individuals that are looking to sell their Lego sets," says Hafer. "I believe we are a good fit if that person is looking for less hassle and one single transaction. We understand that we aren't buying from Lego experts, and walking people through the process and try to make it as simple as possible.
---
Toy Brick Brigade buys collections of Lego pieces from 25 to over 500 pounds. Contact them via email with your information, including pictures, weight of the lot, and part information, if you know it. Lego do not need to be sorted and sets do not need to be complete. Toy Brick Brigade will make an offer; if you accept, they'll send a prepaid FedEx shipping label. Payment is made via PayPal.
---
Decluttr buys Lego by weight. Place your Lego in a plastic bag, weigh it, and get an instant price quote. If you accept, you can get a prepaid shipping label (if the value exceeds $5) and ship it for free. Decluttr pays via PayPal, check, or direct deposit.
---
Fill out an online form and Replay Bricks will instantly send you an estimated offer by email, plus a link to print a free shipping label. Once your collection is received and evaluated, payment will be issued via PayPal (Replay Bricks pays PayPal fees) or check.
---
Rogue Toys buys new or old, loose or packaged Lego. They prefer 70s and 80s items but will consider others. Send them an email, call, or visit one of their brick and mortar stores to get a quote. Rogue Toys covers shipping fees and pays via check.
---
Brian's Toys buys unopened, retired Lego sets. Submit a list of your items and get an offer. You can submit your list by:
Price My Toys app – download app and scan barcodes
Online Web app – use search to find items and create a list
Excel form – download and add items
PDF – Print a form and add items manually
You'll need to pay for shipping, though you can use the company's UPS account to get lower rates. Payments are made via PayPal, direct deposit, or mailed check.
---
Dallas Vintage Toys has a four-step process for selling Lego:
Fill out an online form and send pictures of what you want to sell
Receive a quote in 1-3 days
Ship your items
Get payment via PayPal or check
---
BB Novelties lists over 1,000 Lego products that they are currently buying, including sealed sets, bricks, minifigure
Previous:
Americans Must Work Up to 313% Longer to Afford an iPhone Now Versus 2008
Next:
How and Where to Sell Your MacBook Pro (and Get the Most Money)