Graphic Novels: What They're Worth and Where to Sell Them
Do you have graphic novels to sell? Wondering how much your graphic novels are worth? Flipsy.com spoke with four experts to discover the most valuable graphic novels and offer tips for finding how much yours are worth and where to sell graphic novels.
Contents
Our panel of graphic novel experts
Ashley Cotter-Cairns
President,
Sell My Comic Books
Writer, web entrepreneur, and comic book dealer who is an advisor to the Overstreet Comic Book Price Guide and publishes an annual list of the 100 hottest comics to invest in
Kevin Segall
Proprietor,
Collector's Shangri-La
Pop culture memorabilia expert who founded the Essential Media Catalog. Member of the International Society of Appraisers and National Cartoonists Society
Michael Breakfield
Graphic Novel and Set-Up Dept. Manager,
Lone Star Comics
Writer and lifelong pop culture enthusiast who pens the So Sayeth the Odinson weekly blog on MyComicShop.com
Todd McDevitt
CEO,
New Dimension Comics
Advisor to the Overstreet Comic Book Price Guide, founded New Dimension Comics in 1986, which has stores in six locations


What are the most valuable graphic novels?
The
most ever paid for a graphic novel was $6,273.75
for a copy of
It Rhymes with Lust
, sold via Heritage Auctions in 2011. Originally called a picture novel when it was published in 1950, professional appraiser and proprietor of
Collector's Shangri-La
Kevin Segall says it has been called comics' first graphic novel.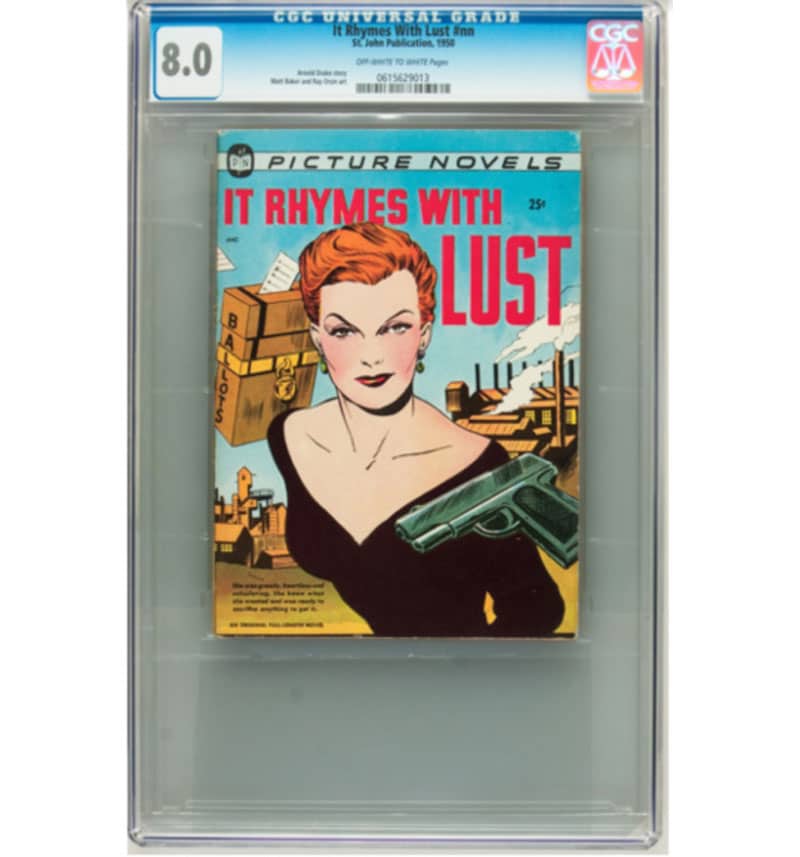 IMAGE: It Rhymes with Lust. Source: Kevin Segall
The next most expensive graphic novel was a 10.0 Gem Mint copy of
Batman: The Killing Joke
, which
sold for $3,824 at auction in 2015
. That sale represented a huge sum for a graphic novel; and thus needs to be put into context, says Ashley Cotter-Cairns, president of
Sell My Comic Books
and advisor to the Overstreet Comic Book Price Guide.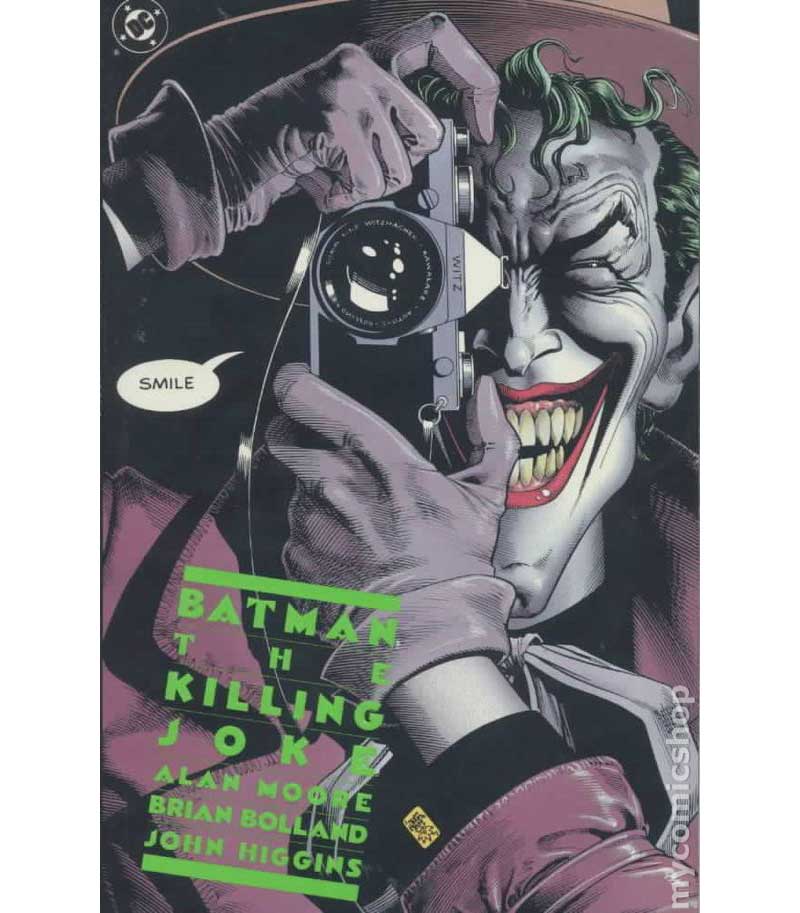 IMAGE: Batman: The Killing Joke. Source: My Comic Shop
"One of the earliest true graphic novels in our line of business was the Marvel Graphic Novels series, starting in 1982. MGN #4 is the first appearance of The New Mutants," says Cotter-Cairns.
"A recent sale of this book in CGC 9.8 was $860. That compares to a CGC 9.8 copy of
Killing Joke
for $150. If a 10.0 ever comes to light – which is unlikely, as MGN is larger, had a smaller print run, has a black cover, and is several years earlier – then my guess is it would sell for $10,000 or more."
"The most expensive back issue, rarely-seen graphic novel we have sold may be the 1995 Limited Edition
Metropol
with a brass cover that was previously only available in France. It sold for $400, and that was awhile back so it's probably worth more now. I've only seen one of its kind and I haven't seen one since," says Michael Breakfield, Graphic Novel and Set-Up Manager at
Lone Star Comics
. "The limited-edition
Watchmen
slipcase hardcover from 1987 has sold for more than $200."
Did You Know? Some magazines are worth $50,000+
Learn more
These represent some of the highest prices paid for graphic novels, but they're certainly not indicative of average values. Segall says that most graphic novels are worth their cover prices – or less – and the average value is around $10.
Todd McDevitt, founder of
New Dimension Comics
and advisor to the Overstreet Comic Book Price Guide, puts the average value between $15 to $20.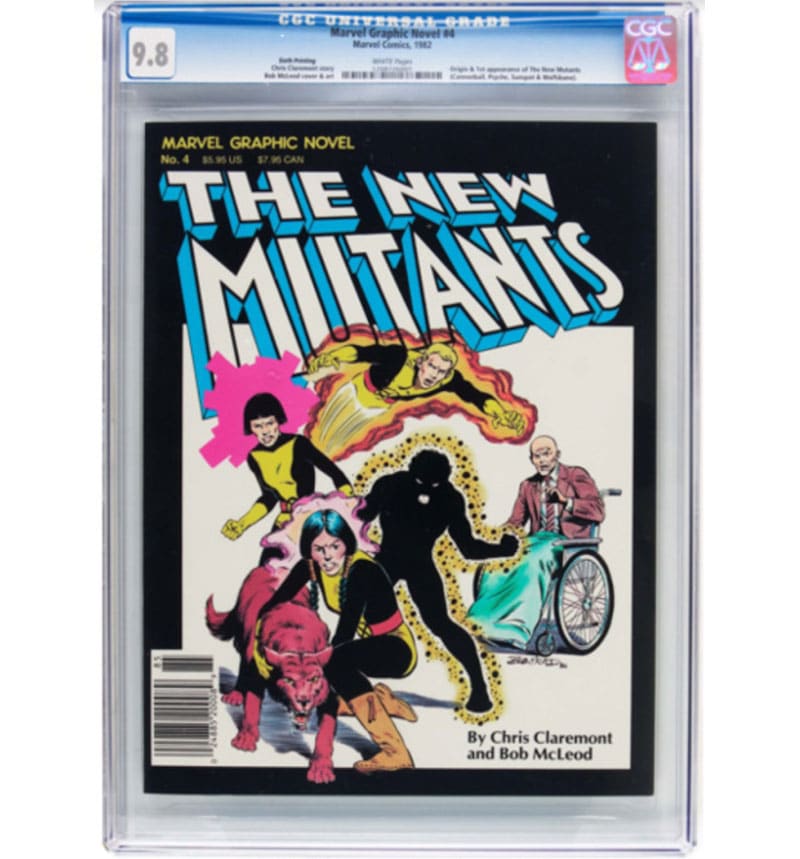 IMAGE: The New Mutants. Source: Kevin Segall
"The average price is a little hard to nail down because a softcover can range anywhere from $5 to $40 or more, and a hardcover can go for $10 to $500," says Breakfield. "Off the top of my head, the average price would be $10 to $20 for a softcover and $25 to $50 for a hardcover. These wouldn't include premium graphic novels, such as limited editions, signed, anniversary, and slipcase editions."
Even the most collectible graphic novels typically do not command hundreds or thousands of dollars. For example, even though a mint 10.0 copy of the first print edition of
Batman: The Killing Joke
once sold for $3,824, a near mint 9.4 copy
recently sold via eBay auction for just $94
.
Graphic novels not worth much? Many phones are worth $100+. Find the value of your phone.
"Truthfully, most graphic novels are sold as used books. As such, they are sold at retail at a discount. That means they're not getting very much in the way of value compared to its original purchase price," says McDevitt. "Graphic novels are overproduced for the most part. There is a tremendous liquidation aspect to many of them. The majority of the market is oversaturated with discounted graphic novels, often only $3 to $5 each, that were overproduced at the publishing company."
Graphic Novel, Trade Paperback, or Prestige Format Comic?
Many of the books the public thinks of as graphic novels are actually collected editions of stories previously published in comic book form, known by collectors as trade paperbacks, says Cotter-Cairns.

"For example, the Walking Dead comics have been collected into compendiums of ten issues each, and these are wildly popular because the originals are so expensive," he says. "The same is true of Marvel Masterworks, which reprint the runs of Silver Age comics like X-Men or Hulk. Technically, neither of these are graphic novels in the sense that Batman: The Killing Joke is a graphic novel."

In addition, not everyone in the business considers publications like Killing Joke and JLA Avengers to be graphic novels, explains McDevitt: "There's a distinction that they are called prestige format comics. They are square-bound, but they are often only originally priced at $3.95 to $7.95. They are almost a hybrid of a graphic novel and a comic book."
What makes graphic novels valuable?
So, how can you tell if you have a valuable graphic novel? By understanding the key contributors to value. They include:
Desirability
The more collectors want a particular graphic novel, the more it's worth. Factors that contribute to desirability include the franchise, storyline, popular writers and artists, and even autographs (though Cotter-Cairns says autographs typically do not add significant value).
Rarity
Desirable graphic novels aren't necessarily rare, but when they are it can drive the values up – a function of supply and demand. First edition printings, autographed graphic novels, and graphic novels that were published in short runs are rarer, and therefore often more valuable. However, that's not always the case.
"Graphic novels are a different beast. People want the current and relevant printings more so than the older, collectible ones," says McDevitt. "It's a fight to sell an older graphic novel. It may be out of print and interesting as a part of history, but there are more readers that want the current versions."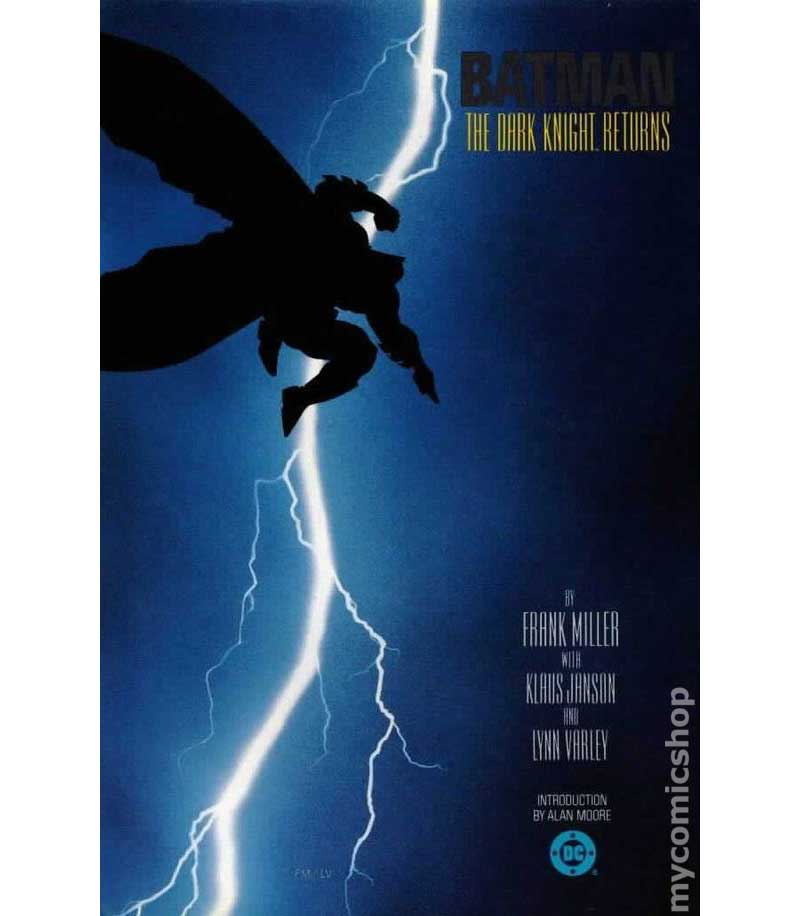 IMAGE: The Dark Knight Returns, First Printing. Source: My Comic Shop
Condition
As we've seen, condition can significantly impact value; however, judging condition has its challenges.
"It is very hard to grade graphic novels," says Cotter-Cairns. "Most are created with a 'reader's crease' pre-cut on the cover – a spine-length indent that is usually half an inch or so from the edge of the front spine. As soon as a book is opened to read properly, this crease is permanently deepened, and no matter how perfect the rest of the book appears, it's not mint condition."
Are your encyclopedias worth anything?
Find Out
Cotter-Cairns adds that fingerprints on dark covers, price sticker marks, shelf wear, and even the tiniest loss of color at the ends of the spine or corners can affect the condition grade of graphic novels. That said, graphic novels tend to stand up to wear and tear better than comic books.
"Graphic novels are sturdier than comics," says Breakfield. "The grades of comics will always be scrutinized more because flaws, even the smallest ones, are more readily apparent on comics as compared to graphic novels."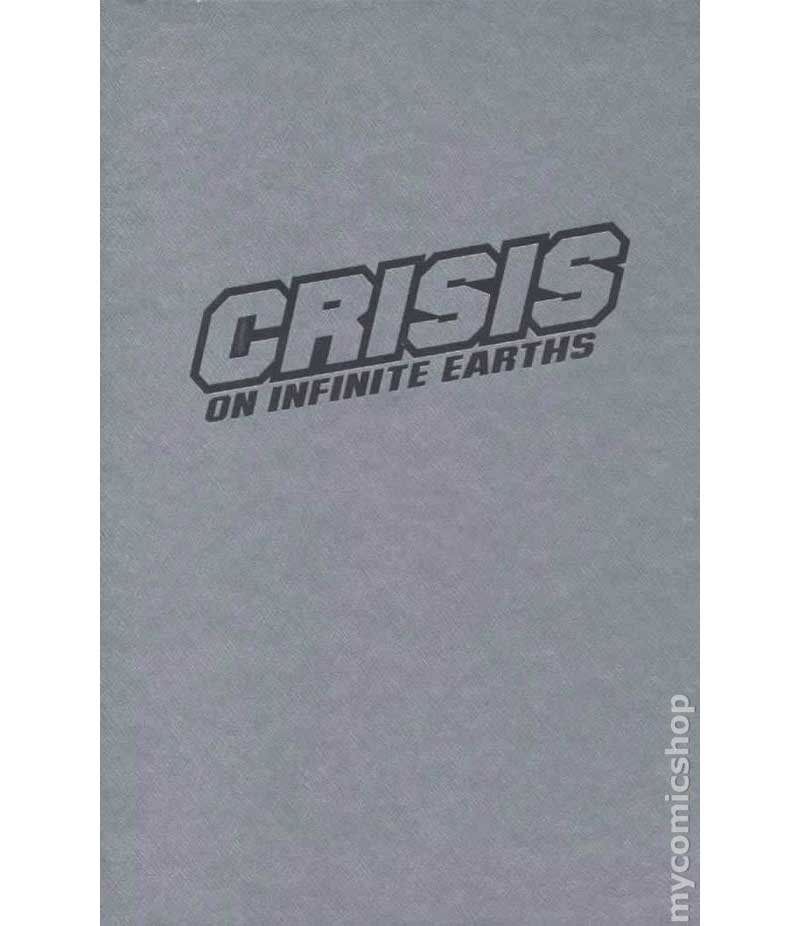 IMAGE: Crisis on Infinite Earths. Source: My Comic Shop
Graphic novels are typically graded according to the
CGC grading scale
:
10.0: Gem Mint
9.9: Mint
9.8: Near Mint/Mint
9.6: Near Mint +
9.4: Near Mint
9.2: Near Mint –
9.0: Very Fine/Near Mint
8.5: Very Fine +
8.0: Very Fine
7.5: Very Fine –
7.0: Fine/Very Fine
6.5: Fine +
6.0: Fine
5.5: Fine –
5.0: Very Good/Fine
4.5: Very Good +
4.0: Very Good
3.5: Very Good –
3.0: Good/Very Good
2.5: Good +
2.0: Good
1.8: Good –
1.5: Fair/Good
1.0: Fair
.5: Poor
Segall offered the following basic explanations:
Fine/Very-Fine or Near-Mint/Mint (also "As New"): Without faults or defects
Very Good: A book showing some signs of wear. Any defects or faults must be noted
Good: The average used book that is totally complete (as issued) and intact. Any defects must be noted
Fair: A worn book that has complete interior pages but may lack endpapers, half-title page, etc. Any defects or faults must be noted
Poor (also "Reading Copy"): A book that is sufficiently worn that its only merit is the complete text, which must be legible. Any missing pages must be noted. May be soiled, scuffed, stained, or spotted, and may have loose joints, hinges, pages, etc.
If you're not sure what condition your graphic novels are in, you can have them graded by the following sources:
How much are your graphic novels worth?
As stated, most graphic novels are worth anywhere between $5 and $25, though some can be worth significantly more. The best way to get a ballpark figure for the value of your graphic novels is to list everything you know about them, then research recent sales for identical copies.
You'll need to know:


Title
Publisher and publication year
Print edition (first, second, etc.)
Condition
Anything notable: for example, if your graphic novel is autographed, and if that autograph has been authenticated
Did You Know? Some comic books have sold for millions
Learn More
Once you know these, you can compare recent sales on eBay. Search for your graphic novel, then select "sold listings" in the left-hand column. This will display only those listings that have been sold. Now, you can compare print editions, condition, etc., to find identical or similar copies and see how much they've recently sold for.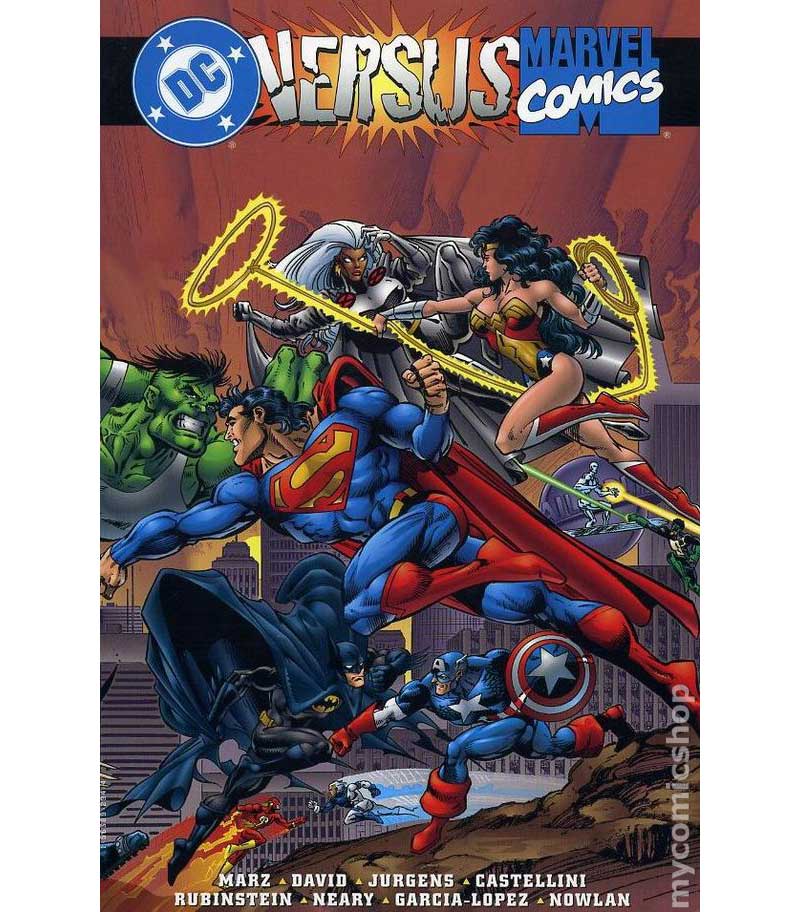 IMAGE: DC VS Marvel. Source: My Comic Shop
In addition to eBay, you can check out the following sites to compare current prices:
"Generally, the main reasons to appraise graphic novels would be for a large collection for insurance or donation with a tax deduction," says Segall.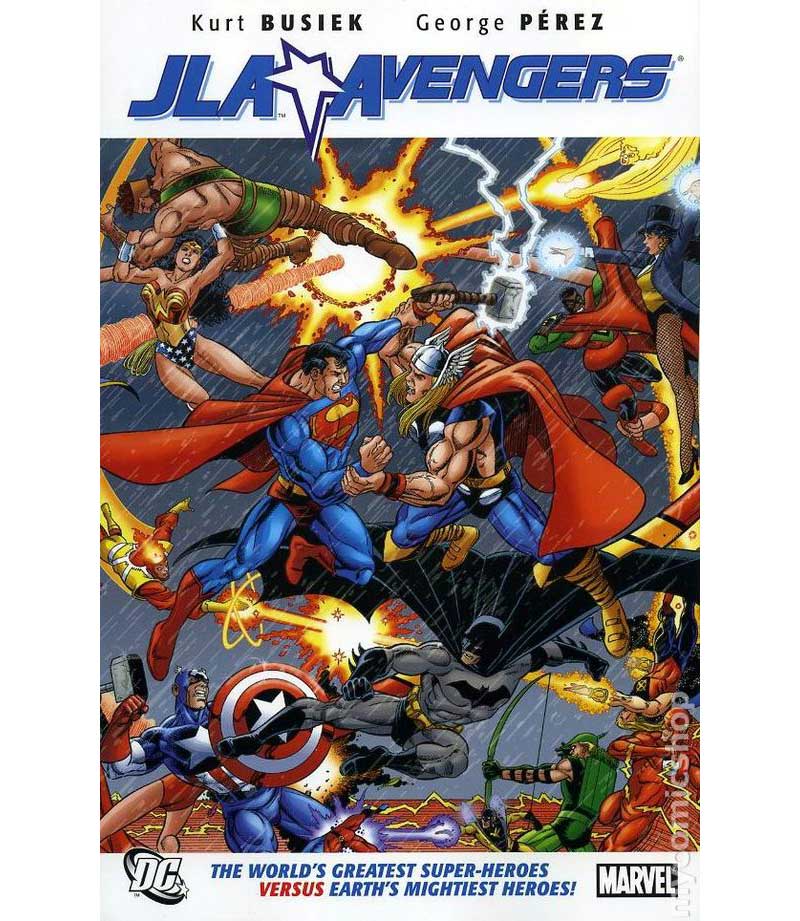 IMAGE: JLA Avengers. Source: My Comic Shop
Where to sell graphic novels
Here's a list of places you can sell your graphic novels, including pros and cons of each.
Online comic stores and used bookstores
When you sell to online bookstores and comic stores, you get to deal with experts who understand the value of your graphic novels. Sales are typically quick, and payments are submitted within a few days of receiving and inspecting your books. Retailers like this need to be able to resell your graphic novels for a profit, so they won't pay top dollar; however, they are fast and convenient options for selling graphic novels.
Did You Know? The 15th Ed. of Encyclopedia Britannica can be worth $1,000's…
Learn More
Some stores offer consignment, and all pay in cash – though many also offer store credit or trades, which typically add value to your payout. Examples include:
---
Auctions
Auctions have the potential to drive up the price for your graphic novels, particularly if you have a rare and collectible edition. You can elect to auction your graphic novels yourself via online platforms like eBay; or, you can enlist the help of a professional auction house such as Heritage Auctions.
Auctions can net a higher sales price, but you'll also typically pay commissions or other seller's fees that will reduce your take. It could take awhile to sell your graphic novels via auction (if they sell at all); however, it's also possible to enjoy quick sales (especially if you set a "buy it now" price on sites like eBay). Payouts are typically in cash, via check or a service like PayPal (which has its own fees).
Here are some places you can auction your graphic novels.
---
Peer-to-peer selling platforms
There are many platforms that allow you to list graphic novels for sale. Some charge listing fees or commissions; others do not. Some are moderated and offer seller protections like escrow; others are unmoderated and could present risks like scams or hassles like no-show's.
Unless you have a particularly valuable graphic novel that could get a premium price at auction, selling directly to collectors via peer-to-peer platforms will likely net the most money – though you'll need to put in the work of creating a listing and dealing directly with buyers.
Did You Know? Some sheet music is worth $10,000+
Learn More
Example peer-to-peer selling options include:
---
Local classifieds
Of course, you can always try your luck at one of the local classified sites. They include:
---
Online forums
Many comic book forums feature buy/sell threads that allow you to list your graphic novels for sale. Typically, there is no moderation, so you'll need to work out the details directly with the buyer. Online forums are great places to find enthusiastic collectors, but be careful to protect yourself against scams. Options include:
---
Brick-and-mortar comic and book stores
Local comic and book stores will often buy graphic novels; like their online counterparts, they need to resell your graphic novels for a profit, so they won't pay top dollar. However, they do offer quick and convenient sales – especially if you need cash today.
In addition to cash, many local stores also offer trades and store credit (which can be worth more than cash if you're interested in buying). Some also offer consignment; they'll sell your graphic novels for you in return for a commission.
You can also consider selling your graphic novels to local pawn shops, which offer instant cash but typically pay the least of any other selling options. Search online for local comic stores and bookstores to find nearby selling options for your graphic novels.
---
Events
Comic conventions, flea markets, trade shows, and other events can be good places to find graphic novel buyers. You might need to travel to attend (and therefore incur costs associated with travel), but events like various
Comic-Cons
can be a lot of fun – and they'll put you in front of a huge audience packed with graphic novel enthusiasts. Search online for comic-related events near you.
---
Graphic novel selling tips
Follow these tips to get the most out of your graphic novel selling experience.
Set your priorities. Do you want a quick sale with fast cash? If so, an online or local store might be your best option. Are you willing to wait to get more money? Consider an auction or direct-to-collector sale
Protect yourself. Carefully vet all buyers, and never send valuable graphic novels without getting paid (or at least escrow) first. If you must meet a buyer in person, do it in a well-lit, busy public place and take a friend along for security. Many police departments have set up safe transaction areas that are under camera surveillance to facilitate safety
eBay is a good place to sell valuable single items, while Craigslist is good for selling a shelf full of trade paperbacks, says Cotter-Cairns: "Try to do some work to unlock value by at least splitting up your trades and graphic novels into character lots. Collectors interested in Spider-Man probably don't want X-Men graphic novels, for example."
Though many graphic novels are only worth a few dollars, their values can add up: ten graphic novels worth $25 apiece is still $250. You might even have a diamond in the rough, worth hundreds or even thousands of dollars. Use the tips in this guide to enjoy the best selling experience – and sell your graphic novels for the best price!
Related Help
Previous:
Selling Your Book on Amazon, Ebay, or Alibris? Compare Fees and Policies First
Next:
The Best Place to Sell Any Used Book for the Most Money