Fishing Rods: What They're Worth and Where to Sell Them
Do you have fishing rods to sell? Whether you found a vintage fly rod in the attic or have a collection of contemporary rods, you can find out how much they're worth and the best places to sell them in our fishing rod selling guide.
Our guide to selling fishing rods is packed with tips from three notable experts:
Yoshi Akiyama, Deputy Director, American Museum of Fly Fishing
Fly fishing tackle expert responsible for the American Museum of Fly Fishing's collection with more than 20 years of experience curating exhibitions.


Carmine Lisella, Proprietor, Jordan-Mills Rod Company
Expert fly tackle dealer and fishing enthusiast who honed his skills trout fishing on the Long Island Spring Creeks of Eastern Long Island, made famous by Daniel Webster and members of the West Side Club.
Len Codella, Proprietor, Len Codella's Sporting Collectibles
Rod designer, author, and publisher who founded fly fishing catalog Len Codella's Anglers Den and former owner of the Thomas & Thomas Rod Making Company.


Here, you'll learn:
Ready to cash in on your fishing rods? Let's get started!
What are the most valuable fishing rods?
In 2007, an 1860's Norris antique rod
sold for $17,920 at a Lang's Auction
. The same auction house, which specializes in fishing tackle, sold an H.S. "Pinky" Gillum rod for $10,030 in 2013 and a Garrison Model 201 fly rod for $9,982 in 2015. These represent some of the highest prices paid for fishing rods, and they prove that the right rod can command thousands at auction.
Though rods like these are rare – and even more rare to be sold, given the passion of their collectors – many fishing rods are worth hundreds or even thousands of dollars, as evidenced by recent prices paid for fishing rods on eBay:
| | | |
| --- | --- | --- |
| Fishing Rod | Sold Date | Price |
| Vintage Payne 7.5 Bamboo Fly Rod | May 2018 | $2,780 |
| Vintage Garrison 204 7'6″" 3 oz. Bamboo Fly Rod | May 2018 | $2,001 |
| H. S. Pinky Gillum 10′ 2/2 Bamboo Fly Rod | June 2018 | $1,999 |
| Vintage J. A. Bradford Legacy Bamboo Fly Rod | May 2018 | $1,999 |
| Thomas and Thomas Bamboo MONTANA Fly Rod | June 2018 | $1,900 |
| R.L. Winston Bamboo Fly Rod | May 2018 | $1,800 |
| Paul Young bamboo fly rod Midge (Summers era) | June 2018 | $1,850 |
| Lyle Dickerson 901812 Bamboo Fly Rod | June 2018 | $1,675 |
| H.L. Leonard Rod Co. – Model 37H Baby Catskill Fly Rod | June 2018 | $1,350 |
| Orvis bamboo fly rod model 1856 | May 2018 | $1,250 |
Of course, each of these rods is highly-collectible and these prices certainly aren't indicative of the average fishing rod value. Many used fishing rods are worth less than $50; many more, less than $20.
If you think you might have a valuable fishing rod, it's important to know what to look for to determine its worth.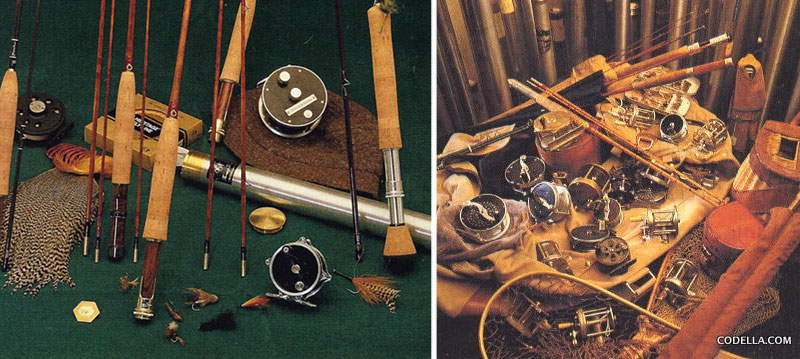 Vintage fishing rod advertisements. Courtesy Len Codella.
What makes fishing rods valuable?
There are multiple factors that contribute to the value of a given fishing rod. The better you understand them, the easier it is to determine how valuable it might be. Here's a breakdown of what makes fishing rods valuable.
Maker/build reputation
The work of respected rod makers is in high demand among collectors. "The most valuable collectible fishing rods would be rods made by Everett Garrison," says Carmine Lisella, proprietor of
Jordan-Mills Rod Company
.
"He worked primarily from the 1930's through the late 1960's, producing the finest rods for structure and integrity of any maker then-known."
Garrison rods can be valued at up to $20,000, depending on the model and market timing, Lisella explains. Harold Steel "Pinky" Gillum rods can likewise be very valuable.
"Pinky Gillum was a serious legend in the world of bamboo and made incredibly distinctive salmon sticks," Lisella says. "His rods, although not technically as perfect as Garrison's, command heady prices for their casting ability and rarity."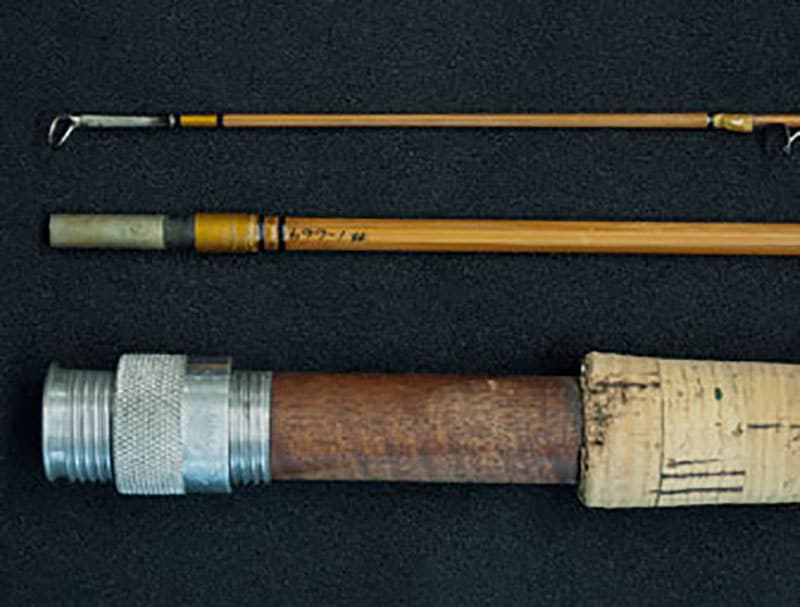 Fly rod crafted by H.S. "Pinky" Gillum. Courtesy the American Museum of Fly Fishing.
Payne rods are likely the most collected rods and can also prove valuable. For example, a 7-foot Model 98 in fine condition has sold for as much as $8,500, says Lisella, who adds: "Edward Payne began the company but it was Jim who elevated the rods and their build to heady levels for cosmetics and performance, so it is Jim's rods that are seriously collectible."
Len Codella, proprietor of Len Codella's Sporting Collectibles, agrees.
"The two most respected rod makers, whose rods garner the highest market prices, are Everett Garrison and Harold Steel Gillum," he says. "Examples of these rods trade today for between $3,000 and $12,000, depending upon models and a host of other factors. But, the brand of fly rod that is consistently valued at the highest levels are rods made by the Payne Rod Co. These rods were made for about 70 years without a hiatus. After Jim Payne died in 1968, there were later owners of the name and makers of the bamboo rods, but the main focus has always been on the rods actually made by the Payne men, father and son, from 1900 to 1968."
There are other respected rod makers whose rods are valuable. See if your rod carries any of the following names:
| | | |
| --- | --- | --- |
| Everett Garrison H.S. Gillum E.F. Payne Russ Peak Vince Cummings R.W. Summers Per Brandin Marc Aroner Ted Simroe Walt Carpenter Jim Reams Kovalovsky | Marty Karstetter Don Schroeder Thomas and Thomas Winston Leonard Orvis F.E. Thomas Edwards Sage Heddon Paul Young Powell | Lyle Dickerson Phillipson Granger Thaddeus Norris William Mitchell C.F. Murphy John Krider C.E. Wheeler Thomas Tout Vom Hofe Tycoon Tackle |
Rod type, composition and size
Rods are made for different types of fishing and comprised of different materials: bamboo, fiberglass, and carbon fiber (graphite).
Very few fiberglass rods are collectible, says Lisella, save for those crafted by Russ Peak and Vince Cummings, makers whose rods can be worth between $700 and $2,500; and even fewer graphite rods are collectible.
For collectors, many saltwater rods are merely decorative and have little value. That leaves bamboo fly rods as the most collectible category – in particular, trout rods, with salmon rods running a distant second, says Codella.
"The bamboo crowd are enamored with the 'casting feel' of bamboo, which is very different from graphite rods but closer to fiberglass," he says. "The actual cost value impact is determined by the cost of the raw materials and the manufacturing methods for each material genre. The cost of resin-treated fiberglass cloth is much lower than the cost of resin-treated graphite fiber cloth, but the manufacturing process is almost identical. The net result is graphite can cost twice what fiberglass costs based on material cost differences."

Paul Young fly rod. Courtesy Antique Rod & Reel.
It's important to note that makers like Sage, Scott, Winston, Hardy, Thomas and Thomas, G. Loomis, and others have produced graphite rods that are collected for performance reasons; and some graphite rods do perform better than bamboo rods. In addition, some saltwater rods have sold for substantial prices, including those made by Tycoon Tackle, Vom Hofe, and Kovalovsky.
These rods can incur significant research and development costs. Still, bamboo rods have greater value today not only due to performance, but also due to limited numbers from makers who have passed away, market perceptions, and labor-intensity.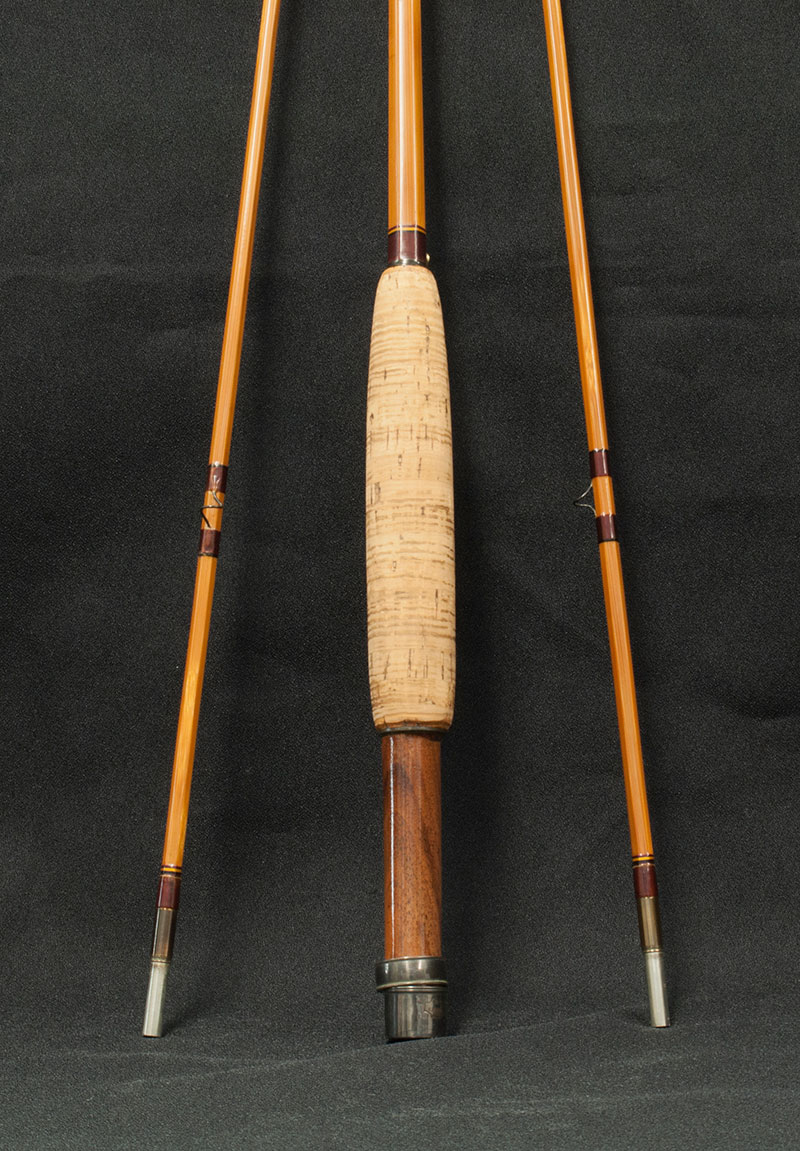 Payne fly rod. Courtesy the American Museum of Fly Fishing.
"Oddly, the cost of the raw materials needed to build a bamboo rod are on par with graphite per rod, but what makes the bamboo rods cost more is that they require far more time to construct, often dozens of hours more than graphite or glass."
Codella explains there are three significant areas of bamboo fly rods for collectors:
Classic Builders: Often the most-prized and most valuable rods, which include those made by Gillium, Garrison, Payne, Leonard, Orvis, Winston, Thomas & Thomas, F.E. Thomas, Edwards, Heddon, Young, Powell, Dickerson, Phillipson, and Granger.
Modern Makers: Contemporary builders who have established themselves by making high-quality products.
High-volume Production Rods: Rods that were built by the tens of thousands between the 1920's and 1960's, including South Bend, Shakespeare, Horrocks-Ibbottson, Montague, Pelham Rod, Herter's, Dunton, and Weber. "The one thing most have in common is shoddy build quality, lesser hardware, and low dollar value," says Codella. "Because most are 50 years old or more, and, of course are no longer made, they have also become important to rod collectors, who may favor them."
When it comes to bamboo fly rods, smaller and lighter is generally better. Rods under eight feet in length are the most desirable, as a seven-foot or seven-foot six-inch rod from a given maker will often sell for three times the price of an eight-foot six-inch or nine-foot rod from the same maker, says Codella.

R.L. Winston fly rod. Courtesy Antique Rod & Reel.
"The general axiom in the bamboo rod world is that, all things being equal, the smaller the rod and the lighter the line size, the greater the value," says Lisella. "This is a rather broad stroke in that rods outside of these parameters often trump that rule."
Fishing rods not worth much? Many phones are worth $100+. Find the value of your phone.
How old is my fishing rod?
Dating a given fishing rod can be as simple as looking up the serial number or as involved as knowing how and when different makers employed different building practices. To the trained eye, everything from the style of the ferrules to the color of the bamboo can help identify the age of a fishing rod. However, without ample experience, it can be difficult to determine how old your fishing rod is without expert help.
If your rod has a serial number, you can:


Search for the number online
Check online databases (see below) for the serial number
Contact manufacturers; many will respond to emails and calls
Post the number and request help on forums (the Classic Fly Rod Forum is a good place to start)
If your rod doesn't have a serial number, you can:


Post photos on forums; chances are, someone will know what you have and when it was made
Ask a knowledgeable dealer or appraiser; if they can't tell its age at first glance, they'll know how to find it
Resources for identifying the age of your fishing rod
These online databases and other resources can help you determine how old your fishing rod is.
Classic, vintage, or antique?
Depending on its age, a given rod might be considered classic, antique, vintage, or contemporary – though age does not directly determine value.

"Old and collectible are two entirely separate terms," says Codella. "Even back in the early 1900's, tackle was made inexpensively for the mass market and some were of dubious quality – the proper term is 'junk.' If it was junk in 1905, it is still junk today. The years just make it old junk."

Classic: "These are rods that fall into the Golden Age of bamboo rod making, generally the period between 1920 and 1960," says Codella. "The established commercial builders of the rods of this period were the same names most often sought after by today's collectors, to wit: Leonard, Winston, Powell, Orvis, Payne, Edwards, Dickerson, Young, Garrison, Gillum, F.E.Thomas, Granger and Heddon."

Vintage: "Vintage is a polite way of saying old and thus suggesting that because an item is 'vintage,' it somehow has mysterious values built-in alluding to the age factor," says Codella. "Any rod made in the 1940's through the 1980's are often called vintage rods."

Antique: "A true antique rod is generally a rod made between 1850 and 1920," says Codella. Some collectors classify antique rods as those made prior to 1950.

Contemporary: A rod manufactured after the 1980's. Contemporary rods can be collectible and valuable, explains Codella, especially if the builder has an earned reputation for quality.

"Every builder has a finite number of rods they can make, so you can bet that at some future point in time this rod will have appreciated significantly in value and still be in demand," he says. "That is what really determines a collectible rod, so polish up that crystal ball."

NOTE: "Classic" and "vintage" are often used interchangeably, and not everyone distinguishes between the two terms.
Performance is paramount, as a given rod must do its intended job well; however, advanced and evolving technology are virtually meaningless to the value of a fishing rod. In fact, Codella says most "technological advancements" are merely marketing hype. He says a top-quality graphite rod that sold for $225 in 1980 casts and performs as well as today's "high modulus nano geek rod" priced at $950.
"If all that technology honestly mattered, why is it then that the same $950 rod will resell next year showing virtually no use and in perfect condition for less than $300?" he asks. "The basic technology, materials, and building methods employed by bamboo rod makers remains virtually unchanged since the 1800's. Rods made in 1950 that sold for $110 then today can resell for thousands. Very minute amounts of technology advancement yet huge percentages of true appreciated value. Which type of rod would you like to invest your spare cash in?"
Edwards fly rod. Courtesy Antique Rod & Reel.
Condition
"After maker, model, and size, condition trumps all," says Lisella.
There are no commonly-accepted practices to grade rods, though they're often listed in the following conditions:
Mint
Near Mint
Excellent
Good
Fair
There are also designations including original, refinished, and repaired. Repairs and refinishing can diminish value, while a valuable rod can be worth even more if it's completely original and includes the original rod sack and tube.
"The most valuable rods are any that are not only totally original and as made, but also are absolutely unused – True Mint Condition," says Codella. "As those condition factors decline so do the market prices."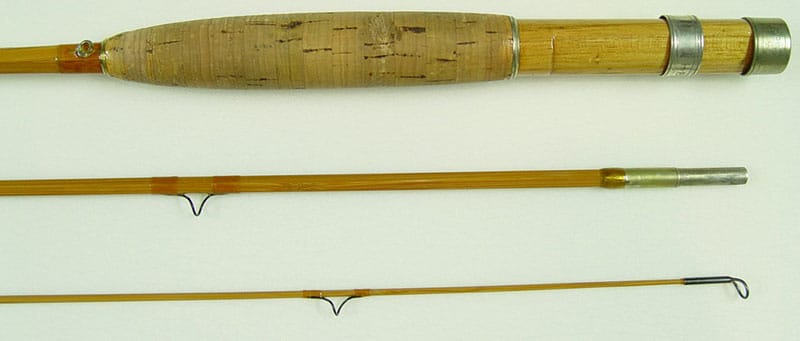 Leonard fly rod. Courtesy the American Museum of Fly Fishing.
Collectability and demand
Mint condition rods aren't necessarily collectible or in high demand, and just because a rod is in excellent condition doesn't mean it's valuable. The market conditions must be right for a rod to have high value, and that means it's highly collectible.
"The most important features are knowing the rod maker and the condition of the rod, as well as the presence of the original container," says Yoshi Akiyama, deputy director of the
American Museum of Fly Fishing
. "Private labels are the most collectible. A few examples include H.L. Leonard, E.F. Payne, F.E. Thomas, Pinky Gillum, Paul Young, R.L. Winston, and Edmund Everett Garrison, to name but a few."
Supply and demand is important, too. Payne rods, for example, are relatively easy to come by, so they can be worth less than rods by other important makers that are more difficult to find.
"Garrison's entire lifetime rod output was about a thousand rods, and Gillum's about two thousand, making examples of either very scarce," says Codella. "These rods perform well and were revered by their owners, and they're seldom sold or upgraded. Therefore, they became nearly impossible to acquire and supply and demand took over the market."

Fly rod crafted by Everett Garrison. Courtesy Antique Rod & Reel.
How much are your fishing rods worth?
Though some collectible fishing rods are worth thousands, most are worth far less. The best way to get an idea for what your fishing rods are worth is to list everything you know about them, then research recent sales to compare pricing for similar rods. For a more accurate valuation, consult with an expert.

You'll need to know:


Rod maker
Rod model and year
Condition (including originality and history of restoration or repair)
Rod size and material
Try these resources to learn more about how much your rod is worth:
Search for your rod and filter by "sold listings" to see how much similar rods have recently sold for. Make sure you're comparing apples-to-apples to get a good ballpark price.
Google it
"Google is magic," says Lisella. "You can enter your rod model and come up with many valuations, which would include dealer pricing as well as private sale values."
Use the research section to learn more about various rods and check out the rod and reel exchange to see what others are asking for similar rods. You can also
contact the Antique Rod & Reel Library
directly for advice.
Contact dealers
Dealers can tell you at a glance whether your rod might be valuable. Seek dealers online or look for local dealers who are experienced with fishing rods.
Contact an appraiser
Professional appraisers can help you value your rod. "Find an appraiser, especially one with sporting and, more specifically, angling expertise," says Akiyama. It's a good idea to do some preliminary research first, since professional appraisals can cost hundreds of dollars (or more).
What about fishing rod value guides?
"There are no accurate value guides, especially as values are so fluid in the current market of collectibles," says Lisella.
Codella concurs: "Even the good ones that have been published in the past are obsolete as the market changes over time, sometimes suddenly. Collecting fads are another phenom that affect pricing. Oft times, an outside influence, like the death of a popular maker, can impact market prices, driving them up after the event. Conversely, the demand lately for collectible bamboo rods has waned and prices today are generally down 30 to 40 percent over levels of five years ago."

E.C. Powell fly rod. Courtesy Antique Rod & Reel.
How to tell the value of your rods
1. Search online
"The pearls among the swine will often bubble up with some effort on the net," says Codella.
2. Ask an expert
"If the tackle item is clearly a valued commodity, then that is the time to seek professional help. For insurance purposes, a written appraisal is recommended," says Codella. "If the intent is to sell the rod, in most cases people fare far better monetarily by placing their trust in an established dealer, especially someone that has been around longer than yesterday. The Internet will lead you there, too."
3. Exercise caution on message boards and forums
The potential exists for unscrupulous buyers to take advantage of sellers who do not know what they have; they'll give a less-than-competitive appraisal, then offer to buy at that price. Be cautious of any free appraisal followed by an offer to buy, get appraisals from more than one venue, and ask many questions. Due diligence is the key to a successful transaction and getting the greatest value.
4. Be patient
Obtaining the highest price is mostly about patience in finding a buyer. That doesn't mean you can't sell your rods quickly, but you might need to settle for less.

F.E. Thomas fly rod. Courtesy Antique Rod & Reel.
Where to sell fishing rods
Looking for places to sell fishing rods? Whether you have a valuable fishing rod to auction or a collection of used fishing rods you simply want to cash in on, you can find the best place to sell your fishing rods listed below.
Fishing tackle dealers
There are many fishing tackle dealers, online and off. You can search for local dealers or find established online dealers who will either buy your fishing rods or sell them on consignment. Dealers have the advantage of expertise and experience; that is to say, they know how much your rods are worth and how to find likely buyers.
Dealers will either buy your rods at a price point that allows them to resell for profit or charge a commission on consignment. Dealers may pay 40 to 60 percent of the Fair Market Value (FMV) or take a 10 to 30 percent commission on consignments, depending on the dealer.
Fishing tackle dealers include:
---
Auctions
Competing bids can make auctions lucrative for the right rods. You can auction your fishing rods on your own via sites like eBay; or, you sell through a professional auction service. Though auctions can help drive up the price, you're likely to pay commissions or seller's fees that reduce your net profit. And of course, there's no guarantee of sale. You can auction your fishing rods at the following sites:
---
Classifieds
You can sell your fishing rods on classifieds sites and apps. Some, like Craigslist and LetGo, have a local focus; others are specific to fishing tackle. Local classifieds offer the convenience of not needing to ship your fishing rod and instant cash transactions; however, it might be difficult to find a buyer.
Fishing tackle classifieds offer exposure to an enthusiastic audience, increasing the likelihood of a sale; though you will need to ship your fishing rods. In both cases, buyers might or might not be vetted and sales might or might not be moderated, creating an element of risk. Be sure to carefully vet any buyers and to receive payment (or at least escrow) before you hand over your valuable fishing rods.
Online fishing tackle classifieds
---
Local classifieds sites and apps
---
Online forums and social media
Several forums devoted to fishing tackle feature buy, sell, and trade threads. Keep in mind that sales typically aren't moderated, so you need to do your homework to properly vet potential buyers. And, just like classifieds sites, make sure you get paid before you ship your rods.
Online forums include:
Facebook groups include:
---
Events and flea markets
Fishing trade shows, flea markets, and other events present opportunities to sell your fishing rods to enthusiastic buyers. Events offer real-time, face-to-face cash transactions; however, they also have plenty of competition and you might incur travel expenses to attend. Some of the most popular fishing trade shows include:
You can also search online for local and regional shows and flea markets.
---
Other places to sell fishing rods
You can additionally consider selling your fishing rods to pawn shops, which can be great for fast cash but tend to pay less than other options. Garage sales are another option, especially if your rods aren't particularly valuable.

Heddon fly rod. Courtesy Antique Rod & Reel.
Fishing rod selling tips
Follow these tips to get the most out of your fishing rod selling experience.
Know what you have. The more you know about your fishing rod and what it's worth, the easier it is to get a fair price.
Create a detailed listing. Take photos from multiple angles, including close-ups of desirable features and even damage to ensure accuracy. Include everything you know about your rod to help dealers and buyers understand its value.
Consult multiple sources. Do your homework to ensure you're getting a fair deal for your rod. The best way to do that is to conduct online research and seek valuations from multiple sources.
Set priorities. Do you want a quick sale and fast cash? Or, are you willing to wait to get more money? The answers to these questions can help you decide which selling option is best.
Protect yourself. Always vet all buyers, and never ship valuable rods without getting paid first (or at least getting money in escrow). If you meet a buyer in-person, do it in a busy, well-lit public area and take a friend along.
Though most fishing rods are only worth a few dollars, their values can add up: five rods worth $20 each is still $100 cash. And, you might have a diamond in the rough that's worth thousands. Use the tips in this guide to enjoy the best selling experience so you can sell your fishing rods for the best price.
Related Help
Previous:
How to Tell If Your Phone is Carrier Locked or Unlocked
Next:
ecoATM Prices: Good Deal or Not?