Classic Cameras: What They're Worth and Where to Sell Them
Have an old 35mm, Polaroid, Leica or another classic camera? We enlisted the help of Kyle Depew from
Brooklyn Film Camera
and Bellamy Hunt, aka the
Japan Camera Hunter
, to find out how much classic cameras are worth and where to sell them.
We reached out to experts to answer your questions about where to sell a classic camera. We do this as a service to introduce who we are: experts in finding a place to sell your phone. Use Flipsy to find your phone's value plus get offers from more than 20 stores who compete to pay top dollar. Stores are trust verified, offer free shipping and pay within a few days of receiving your phone. Best wishes and thanks for visiting!
Find your phone's value
Contents
How much are classic cameras worth?
Classic camera values range from worthless up to $8,000 or more, depending on factors like brand, condition, film format and popularity. Many are worth around $15, though it's impossible to place an average value on classic cameras.
The most expensive camera ever sold at auction was a Leica 0-series No. 122, which
sold at a March 2018 Westlicht Photographica auction in Vienna, Austria
for $2.95 million. It was a 35mm camera produced as a prototype for testing in 1923 and never intended for commercial use.
Have a modern digital camera? Some are worth hundreds
Learn more
Here are some real-world selling prices for classic cameras.
As you can see, some classic cameras are quite valuable while others are worth just a few dollars.
"The vast majority of the stuff found in grandma's attic is worth very little, either because they were mass produced for the general public or they have been sitting in dust for many years and are rotten," says Bellamy Hunt, who finds rare cameras for clients through his service,
Japan Camera Hunter
. "But, if grandma was a pro photographer that might be a different matter. There might be some nuggets in that attic. It's always worth a look, with grandma's blessing of course."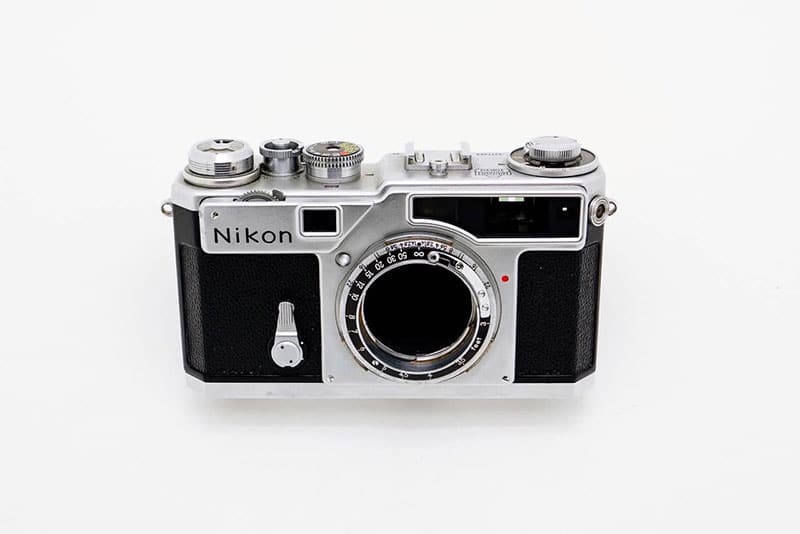 Nikon SP Chrome Body. Source: Bellamy Hunt
Film photography is making a comeback
Film photography is making a comeback and some classic cameras are worth more than ever. Kyle Depew, who operates
Brooklyn Film Camera
, says the resurgence is due in part to the fact that most people's earliest digital photos are long gone, victims of crashed computers and dead digital cameras.
"There's something comforting about working with a tangible medium as opposed to digital," he says. "You can hold it in your hands, pass it around the table and people can physically look at it. These days, a lot of people just dump photos on Facebook and Instagram, but it's important to remember that those platforms don't owe you anything. They're private businesses, not archives. If they close one day, all of your photos could be gone."
Camera not worth much? Many phones are worth $100+. Find the value of your phone.
Depew says there's a place for digital photos – in fact, most of the photos he takes are digital – but they pale in comparison to the quality produced by film. He suggests looking at photos from the 30s, 40s and 50s to see the difference in quality.
"You'll find very high-quality photographs with shallow depth of field and great sharpness that are often quite gorgeous," he says. "Digital doesn't have a built-in color profile, for example, so unless you're doing extensive post-processing in Photoshop or Lightroom, your images won't look nearly complete. I cringe thinking of all of the children born in the digital age who only had iPhone photos made of them; often manipulated with an Instagram filter or some cheesy app. It's a bizarre reversal that photographic technology has gotten worse on a mainstream level since digital came along."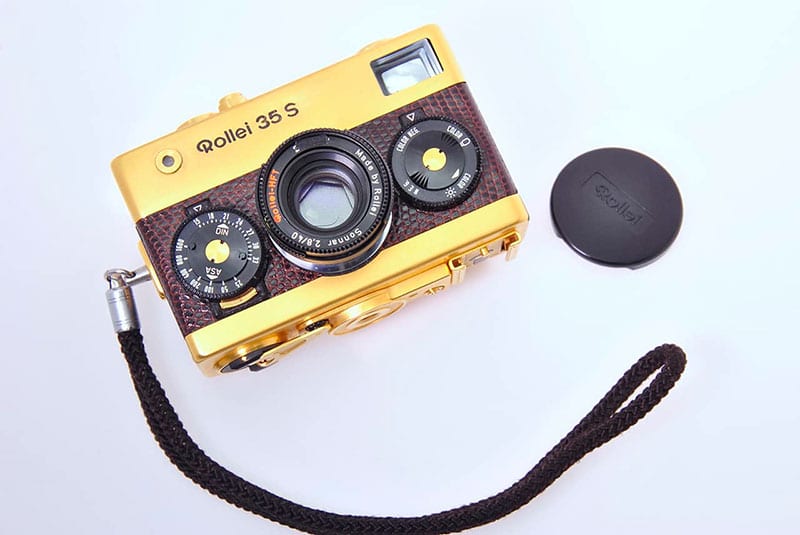 Rollei 35 Classic Gold. Source: Bellamy Hunt
What makes classic cameras valuable?
Classic camera values are determined by a combination of factors, including:
Film format
Brand
Construction and features
Lenses
Rarity and popularity (supply and demand)
Provenance
Condition
Here's a closer look at each.
Film format
"The first thing to do is to determine what type of film a camera takes," says Depew. "A lot of film has been discontinued and hasn't been made in decades, so there are lots of cameras still hiding in attics that were made to shoot films that haven't existed in 40 or 50 years. Those cameras are not valuable because they're not usable, with some exception for collectability."
Cameras that take 35mm film and 120 film are among the most popular.
"Kodak is booming and making new films now, and they've brought back some films that had been discontinued," says Depew. "Germany has some film producers and Japan is making an abundance of film. Also, 120 cameras, called medium format or 120 cameras, can be very valuable, and also very beautiful. They tend to be more professional cameras."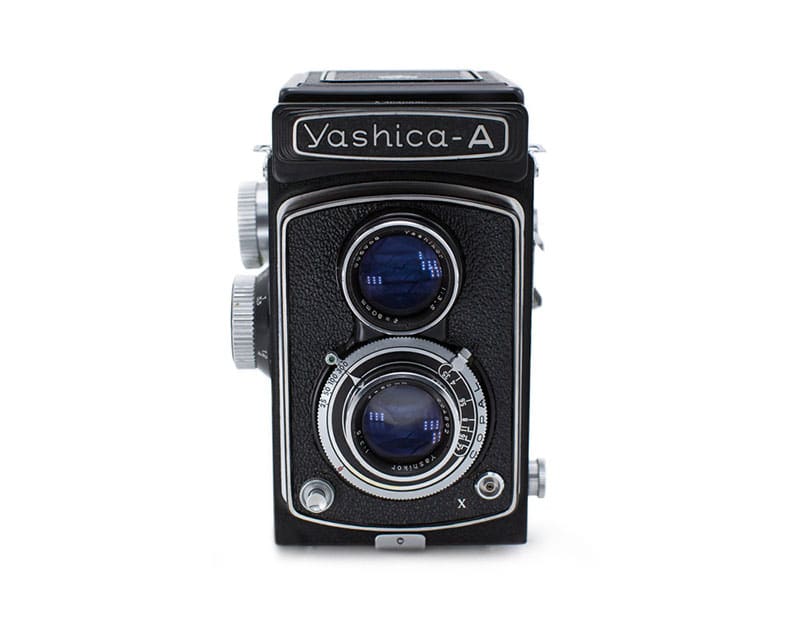 Yashica-A. Source: Brooklyn Film Camera
Film formats in production


35mm
110
120 (medium format)
127
220
Polaroid (instant)
Discontinued film formats


116mm
126mm
620mm
828mm
APS
Disc
Did You Know? Some VHS & Betamax tapes are worth hundreds
Learn more
Brand
"The cameras that have traditionally maintained or increased value are the Leica film cameras, particularly the black paint cameras, though they are becoming unobtanium for many now," says Hunt. "Classic Nikon F cameras, Nikon rangefinder cameras and especially early Canon rangefinders are valuable. Rolleiflex and Hasselblad cameras also retain value well."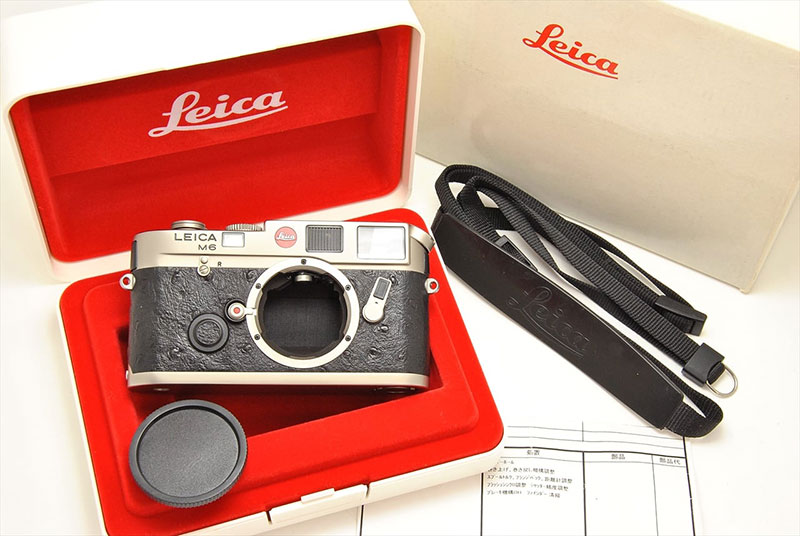 Leica M6 Titan. Source: Bellamy Hunt
Depew adds that Leica and Rolleiflex have held value as collector's items for more than a century, so if you have one of those cameras there is a good chance it's worth money regardless of condition and functionality.
"Those are the big ones," he says. "If you find one, don't even bother researching the value. Just offer $50 and walk away."
Polaroid cameras have recently surged in popularity. The film was discontinued when the company went bankrupt in 2008 but was reintroduced after The Impossible Project purchased the final Polaroid film production factory in 2010.
"Polaroid film is in existence again, so Polaroid cameras have wildly increasing value," says Depew. "There are an estimated 300 million Polaroid cameras in the U.S., so it's very likely people will be pulling a Polaroid out of grandma's attic. Polaroid was the Apple of its time, an incredibly prolific corporation making have-to-have product after product. Americans bought more Polaroid cameras and films than any other market in the world so there is a massive concentration of the cameras here in the US."
He adds that the three most valuable Polaroid cameras are the SX-70, SX-70 Sonar and SLR 680.
"Even in a state of disrepair you can get over $100 each, and that's if you find them in pieces," he says. "You can get a couple hundred dollars or more for one of those cameras in good condition."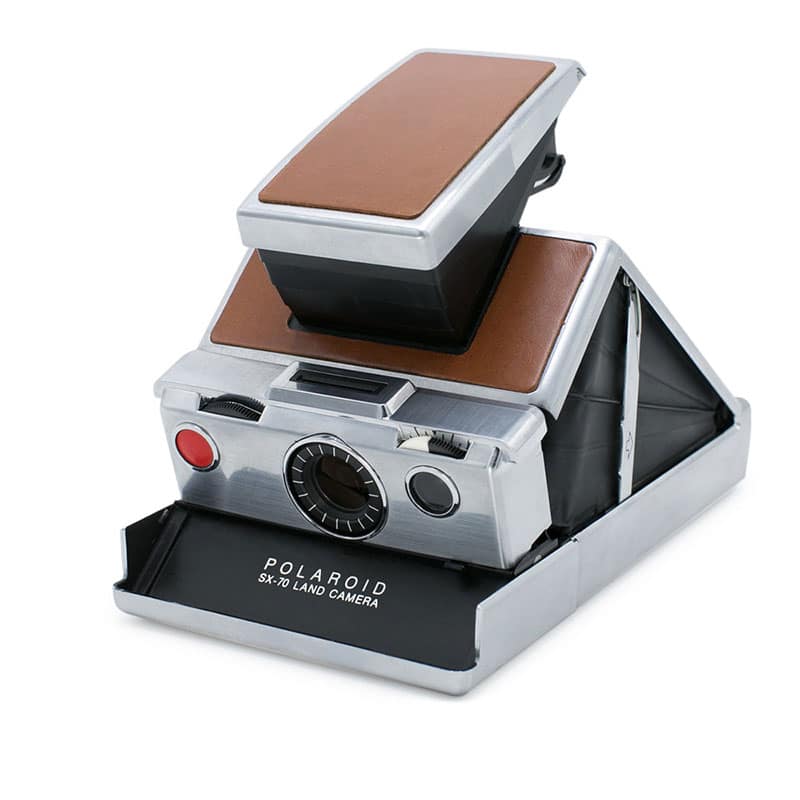 Polaroid SX-70. Source: Brooklyn Film Camera
Construction and features
Camera construction and features like shutter speed, aperture and ISO play roles in classic camera valuation.
"Cameras made of metal, that are heavy, as a general rule of thumb, can be a good initial indicator of potential value," says Depew. "Sturdy metal cameras that have a wide range of shutter speeds tend to be more valuable cameras."
He says that many cheap, plastic cameras were mass produced for the general public and are generally not valuable. "It's very rare to find a plastic camera to be worth money," he says.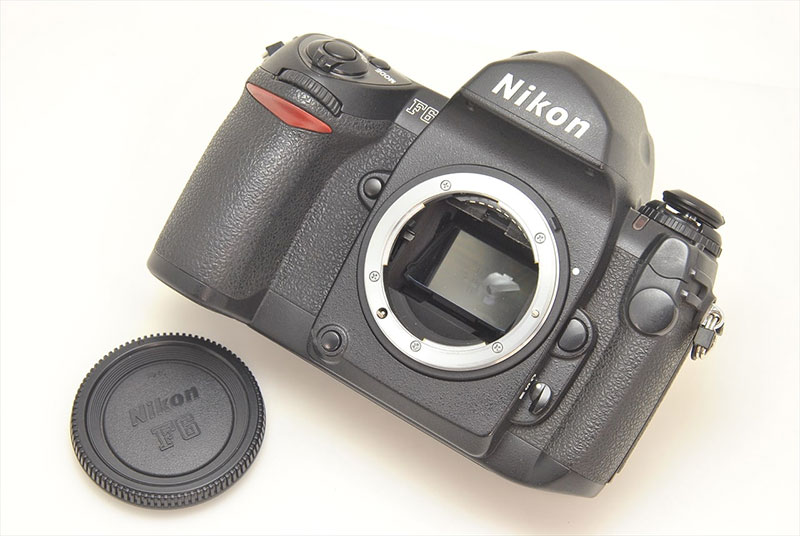 Nikon F6 Body. Source: Bellamy Hunt
Lenses
Classic cameras can be sold with lenses or as standalone camera bodies – and lenses can be worth more than the cameras themselves.
"Good lenses are often worth more than camera bodies, so lenses are worth keeping an eye out for," says Depew. "Knowing what to seek within that realm is a very nuanced and specialized skill."
Do you have old vinyl records? Some are worth thousands
Learn more
Some real-world camera lens sales include a Leica Leitz Thambar portrait lens that sold for $3,138, a Minolta RF Rokkor 250mm lens that went for $1,363 and a Schneider Rollei SL Angulon lens that sold for $350.
Rarity and popularity
The law of supply and demand apply to classic camera values. Rare, popular cameras like black pain Leicas are among the most valuable, while mass-produced plastic cameras can be worthless. However, common cameras can still be valuable; for example, classic Polaroid cameras. Even though they're not exceedingly rare, they're very popular and can be worth good money.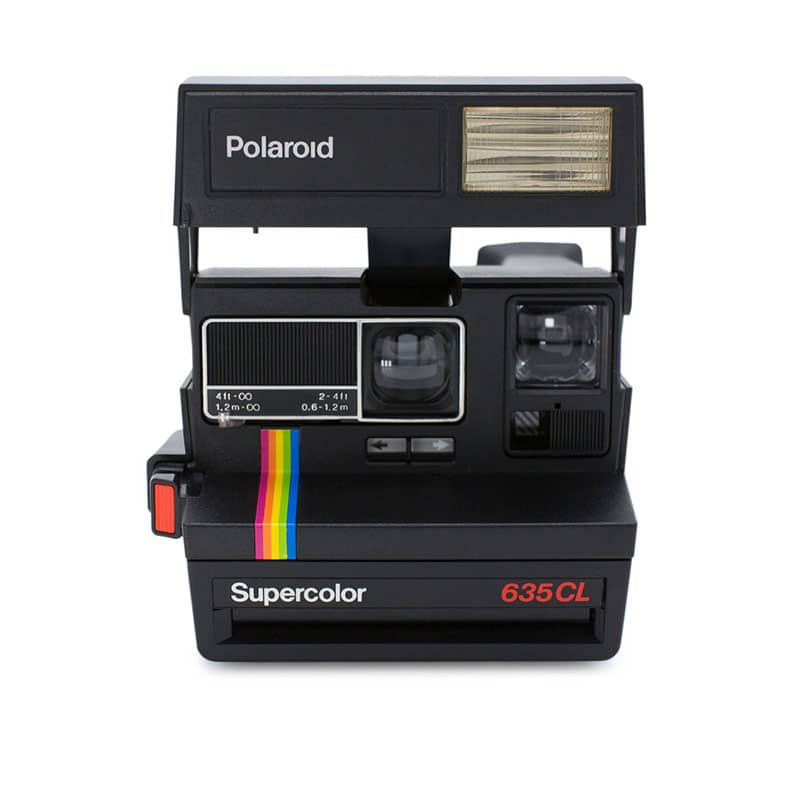 Polaroid 600 Supercolor. Source: Brooklyn Film Camera
Provenance
Knowing the history of a camera – and being able to prove it – can make it more valuable.
"If the camera has provenance it can make a huge difference, especially if it was owned by a well-known photographer," says Hunt.
Condition
Condition is a major factor for classic camera values and applies to more than the camera itself. Manuals, cases, straps, boxes, lens covers, accessories and other materials contribute to camera value, especially if they're in good condition.
"Rarity, condition and popularity are always major factors. The better condition, the higher the value," says Hunt. "If the camera has all the boxes and papers, it increases the value."
In addition to evaluating cosmetic appearance, you should also measure shutter speeds and aperture movements.
"You can assess if a camera or lens has accurate shutter speeds and smooth aperture," says Depew. "Many are not battery-dependent, and with the right knowledge you can open a camera up and test those things in 30 seconds. It's not too difficult; your eyes and ears can measure these movements pretty accurately."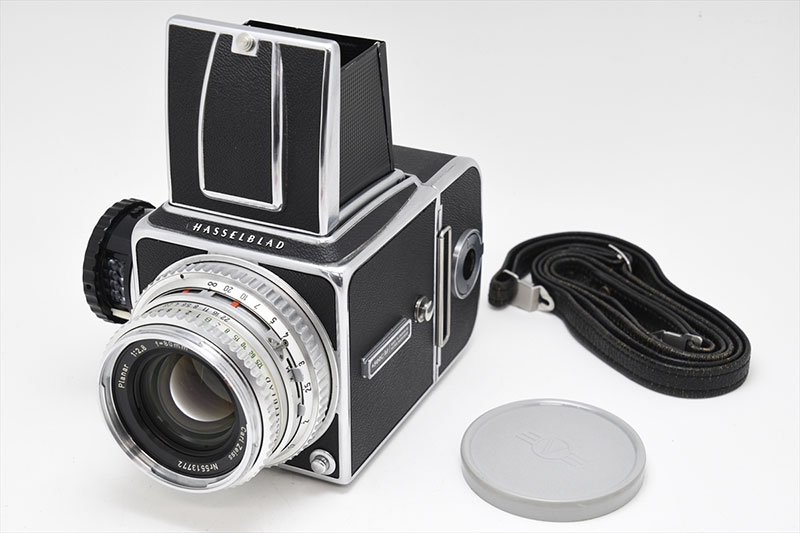 Hasselblad 500C/M C80 A-12. Source: Bellamy Hunt
How to find classic camera values
Testing a camera might not be difficult, but accurately assessing camera value can prove challenging to novices.
"There are several sources online for classic cameras, and they can give you a rough idea of what something is worth. But with classic cameras there can be subtle differences that can change the value of an item dramatically," says Hunt.
Once you identify which camera you have, including any lenses and accessories, use these resources to estimate its value.
Did You Know? Some DVDs are worth $500+
Learn more
Classic camera experts
Experts like Hunt and Depew can tell you what your camera is worth. Known as the Japan Camera Hunter, Hunt operates a bespoke buying service that finds cameras for his clients.
Depew operates Brooklyn Film Camera, an analog photography store that specializes in Polaroid cameras as well as many other classic 35mm systems and beyond.
If you think you have a valuable camera, ask an expert like Hunt or Depew to learn more about its value. You can also find experts at local and online camera shops, on camera blogs and in classic camera forums like
The Photo Forum
.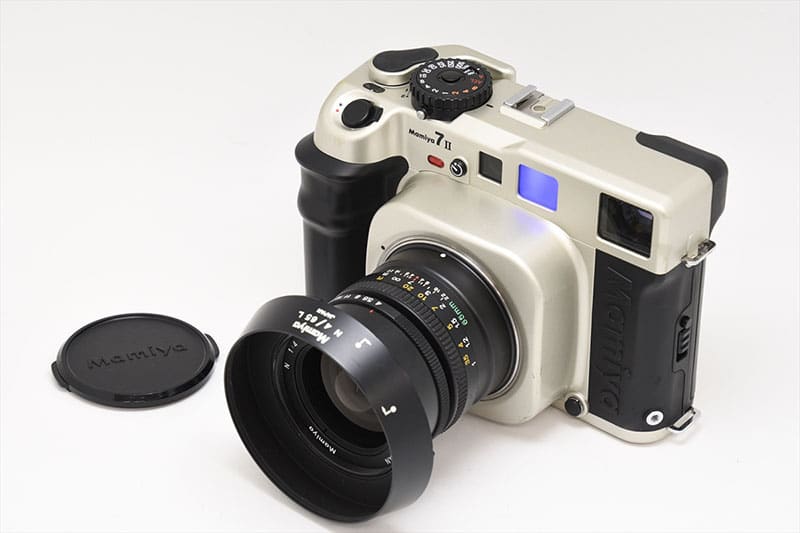 Mamiya 7II Champagne. Source: Bellamy Hunt
eBay
Search by "sold" listings to get an idea of what people are paying for your camera in its condition.
"The fastest way to test the market value would be to search eBay," says Depew. "That will be the quickest way to get an approximate assessment."
Note that while eBay will provide a general idea of what your camera might be worth, you should consider consulting an expert if you think you have something special.
"Using eBay as a price guide is not a great idea as the prices are often all over the place and the condition iffy," says Hunt.
Camera price guides
You can consult camera price guides to get an approximate value for your classic camera. Options include
Collectiblend
and
UK Camera
(you might need to convert prices to USD).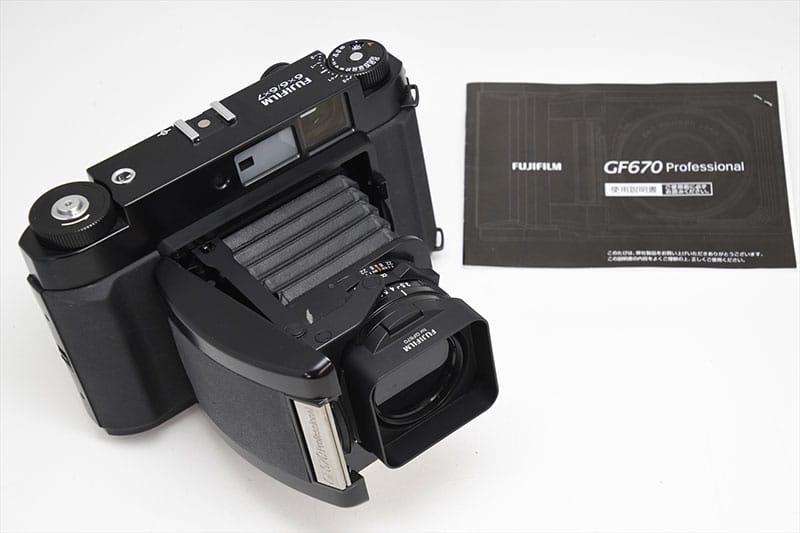 Fuji GF670. Source: Bellamy Hunt
Where to sell classic cameras
Classic camera selling options include:
Camera shops
Camera shops, both online and off, are typically staffed by experts who can quickly tell you what your camera is worth.
"We buy cameras every day, in-store and from eBay," says Depew. "You're going to get an offer day-of from people who are knowledgeable and pay a fair price."
Can't sell your camera? Many phones are worth $100+. Find the value of your phone.
Camera shops generally pay in your choice of cash or store credit, which can be a good option if you're looking to upgrade your camera or buy a new lens or accessory. Some shops sell cameras on consignment: they'll display and (sometimes) help market your camera for a percentage once it sells.
"I offer a
consignment sales service for rare and special cameras
that gives people a great return and takes the headaches out of sales, though this is limited to more collectible items," says Hunt. "Always remember though that a camera shop is a business and they have bills to pay, so they are not going to offer you the full market price."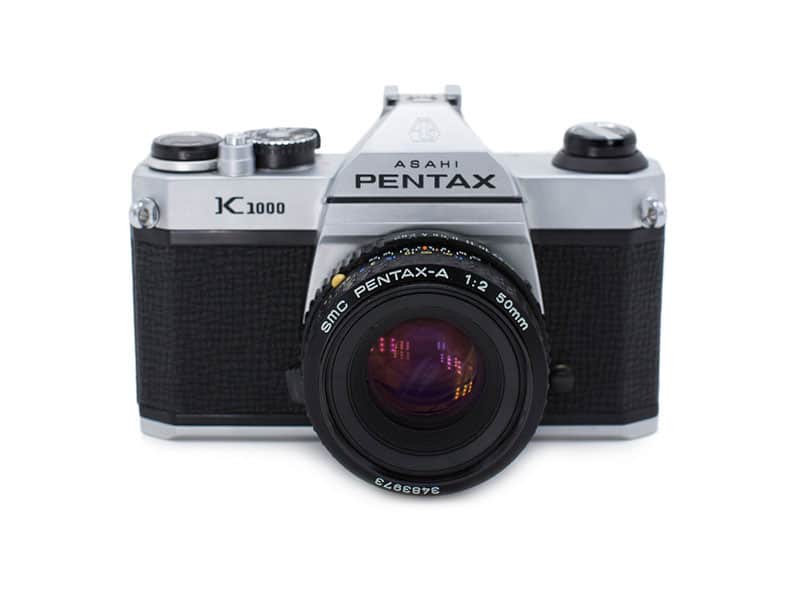 Pentax K1000. Source: Brooklyn Film Camera
Online marketplaces
Online marketplaces are platforms for peer-to-peer sales. You can typically list an item for free (though you can pay for add-ons like featured listings), and you're charged a commission when your camera sells. Examples include:
Online forums and Facebook groups
Many online forums have classifieds threads where you can post your classic camera for sale. You can also check out Facebook buy and sell groups.
Note that sales typically aren't moderated, so you should secure payment (or escrow) before you ship a valuable camera. Examples include:
Local options
Local options eliminate the need to ship your camera and can offer fast cash, but you need to be careful if you're meeting a private buyer face-to-face. Always meet in a well-lit public area and be sure to get money in-hand before you hand over your camera. Examples include:
Facebook Marketplace
Craigslist
Local camera shops
Flea markets
Pawn shops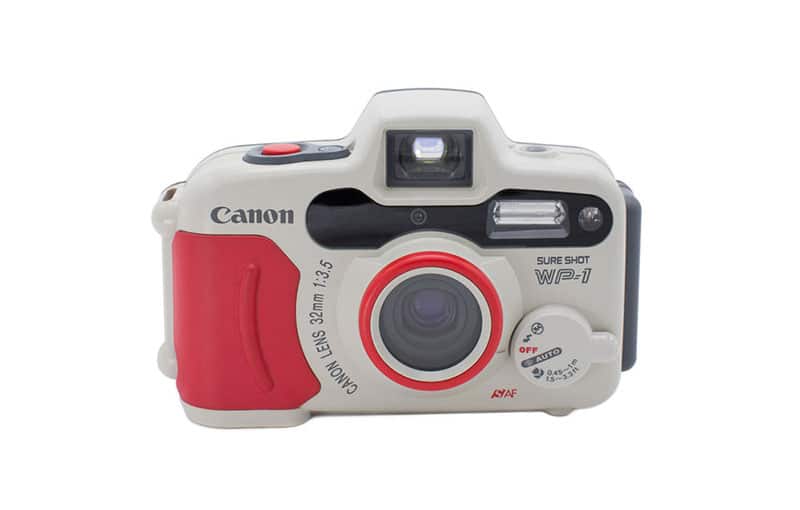 Canon WP-1. Source: Brooklyn Film Camera
Classic camera selling tips
Use these tips for a better selling experience.
1. Know what you have
Do your research and consult with experts to understand exactly what you have and what it's worth. This critical step will help you get a fair price and temper expectations if your camera is not valuable.
2. Protect yourself
Never ship your camera without upfront payment or escrow, especially if you're selling via a platform that does not moderate sales. Read up on what protections are offered to sellers before you list in online marketplaces and forum classifieds.
If you're selling locally, vet buyers via social media before meeting them, take a friend along and meet in a well-lit, busy public place. Some police stations have set up safe sale areas that are monitored by video cameras to facilitate safe transactions.
3. Understand fees and shipping
Familiarize yourself with any commissions, listing fees, selling fees or consignment fees before you commit to selling. If you're going to ship your camera, find out how much shipping costs and who will pay it, the buyer or the seller. You should also check insurance prices so you're protected in case your package is lost or stolen.
4. Compare multiple options
Identify your goals and compare multiple selling options to get the best deal. If you want the highest possible price and you're willing to wait for it, you might get it by selling directly to a collector via a forum or classifieds site that has no fees.
eBay's auction format could drive the price up, but you need to account for fees and any shipping costs in your net profit.
If you want a convenient and quick sale, a camera shop might be your best option. Though they won't pay top dollar, you'll likely get a fair price on the same day.
5. Keep it if you can't sell it
If you can't sell your classic camera or its value isn't what you expected, it might be time to try a new hobby, says Depew.
"Give it a try, and don't just think of it as potential income," he says. "Think of it as a potential joy or hobby. Film photography is so wonderful! You can make pictures that far exceed the quality of digital pictures and the process of shooting film is much more rewarding than shooting digital."
Armed with these tips, you can make informed decision, enjoy a pleasant selling experience and sell your classic camera for a fair price.
Related Help
Previous:
How to Know if Your Phone Has Spyware
Next:
How to Safely Remove a Screen Protector