Sell Designer Clothes: What They're Worth & Best Places to Sell
Looking to sell designer clothes and accessories? We asked the experts to find out what they're worth and the best places to sell designer clothes.
Contents
How much is designer clothing worth?
Designer clothing values run the gamut from just a few bucks to hundreds of dollars. Top brands like Chanel, Hermès, Gucci and Prada can be worth 50 to 70 percent of their original retail prices if they're in pristine condition, says Amy Rebecca Bloomer, founder and owner of the professional organizing firm
Let Your Space BLOOM
. Bloomer married a descendant of the 19
th
-century women's rights activist Amelia Bloomer, who popularized a radically new style of dress that came to be known as "bloomers."
"As a professional organizer, I am always in search of places where my clients can either sell or donate any designer clothing and accessories that are no longer needed," she says.
The market is in constant flux and values are determined by many different factors, so it's impossible to arrive at an average value for all types of designer clothing. Experts who have their fingers on the market's pulse can estimate values, but the rest of us need to conduct research to identify what a given garment is worth.
"Valuable is perspective," says luxury goods expert and television host
Reyne Hirsch
. "One hundred dollars means a lot to one person, whereas it means little to someone else. Several factors come into play when selling items as well as condition, size and season."
You can get a general idea of the value range from these recent pre-owned designer clothing sales.
What makes designer clothing valuable?
A variety of factors influence designer clothing value and how quickly designer clothes can be sold, including:
Brand
Type of clothing
Size
Condition
Market trends and seasonality
Celebrity appeal
Fabrics and materials
Here's a closer look at each.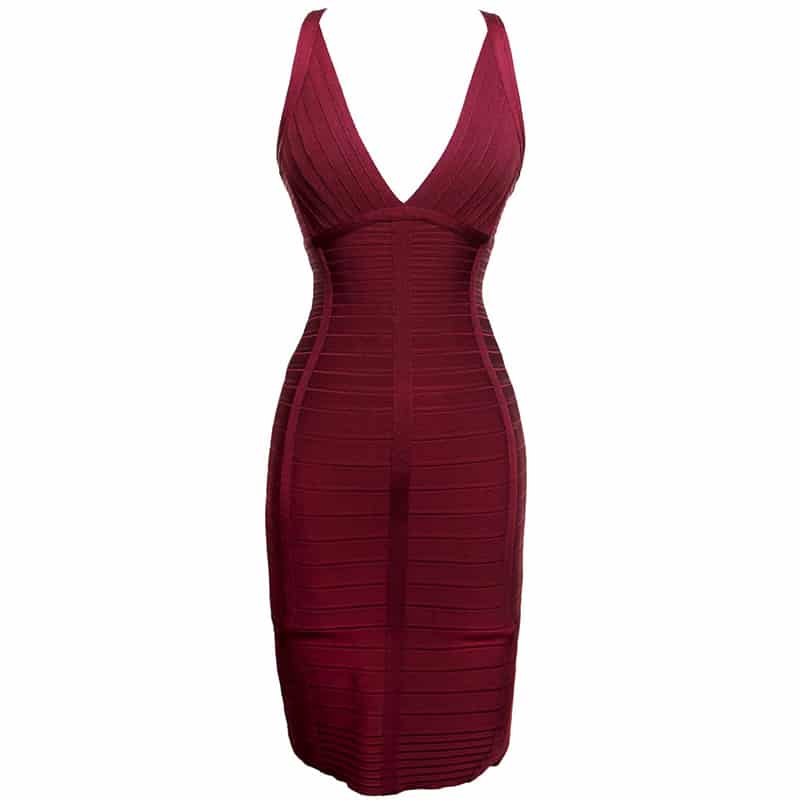 Herve Leger Bandage Dress. $890 retail, $325 resale. Courtesy My Sister's Closet
Valuable designer clothing brands
Designer clothing brands that tend to be valuable include:
| | | |
| --- | --- | --- |
| Gucci Hermès Chanel Prada Theory Rag & Bone Isabel Marant Phillip Lim Reformation Louis Vuitton Dolce & Gabbana | Stella McCartney Re/Done Edun Ace & Jig Burberry Giorgio Armani Max Mara Diane von Furstenberg Vince Opening Ceremony Alexis | Tory Burch Yves Saint Laurent (YSL) Thierry Mugler Issey Miyake Christian Dior Fendi Paco Rabanne Versace Robert Graham Derek Lam Givenchy |
In addition to high-end and couture brands like Chanel, Gucci, Hermès, Dior and Celine, department store labels that retail for at least $150 can be valuable, says Ann Sine, CEO and Founder of
My Sister's Closet
.
Vintage designer clothing from brands like YSL, Chanel, Thierry Mugler, Issey Miyake, Dior, Fendi and Paco Rabanne can likewise be valuable.
"People are always looking for vintages and classics from these brands," says
Alex Tran
, a digital marketing strategist for
Hollingsworth
who has flipped designer clothing on the side for more than ten years.
Tran averages around 200 percent profit on the clothes she flips, a testament to her careful eye and keen understanding of market trends.
"I'm picky about what I buy," she says. "I research before I buy so that I don't spend impulsively and sit on product that doesn't move. I have around 500 items in my storage unit that I am flipping. Some people have over 1,000 items. I limit myself so that I am not stuck with product that won't sell. And if something does not sell, I price it low to get rid of it."
She finds clothes to flip online, at estate sales and in thrift stores.
"I also sometimes go to sample sales, both online and in person, to buy discounted clothing I know I can flip for triple the price," she says. "For example, I buy $20 leggings and sell them for $70."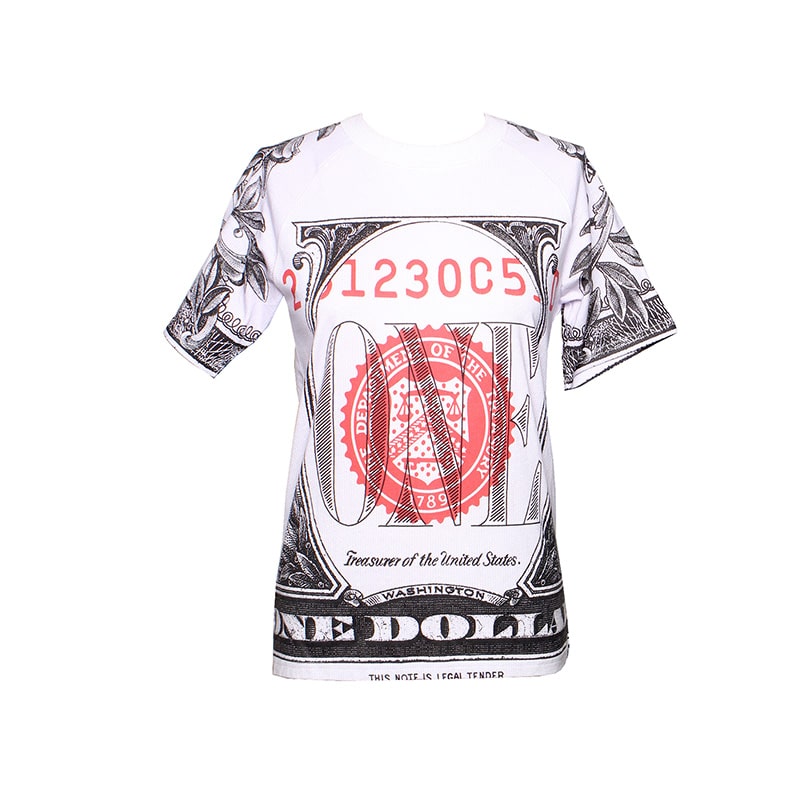 Opening Ceremony Dollar Tee. $175 retail, $70 resale. Courtesy My Sister's Closet
Type of clothing
Though the type of clothing doesn't directly affect value, certain types of designer clothes are in higher demand and therefore easier to sell.
"The type of clothing I don't feel affects value, but certainly women's clothing sells faster and easier than men's," says Hirsch. "I think it's purely supply and demand. Women are more open to buying clothing and accessories secondhand."
Bloomer agrees that clothing type doesn't affect value.
"Designer jeans are as highly-coveted as designer dresses, skirts and pantsuits," she says. "As far as gender and age, women's clothing tends to be in highest demand, followed by men and then children. Most people find dressing their children in designer clothes a poor investment because they only fit for a small amount of time before outgrowing them. Children also tend to be harder on their clothing and thus the value may be easily lost by stains, tears, etc."
Designer shoes and accessories like handbags and even sunglasses can have excellent value; in fact, Sine says designer handbags are My Sister's Closet most popular item. Workout wear also sells well.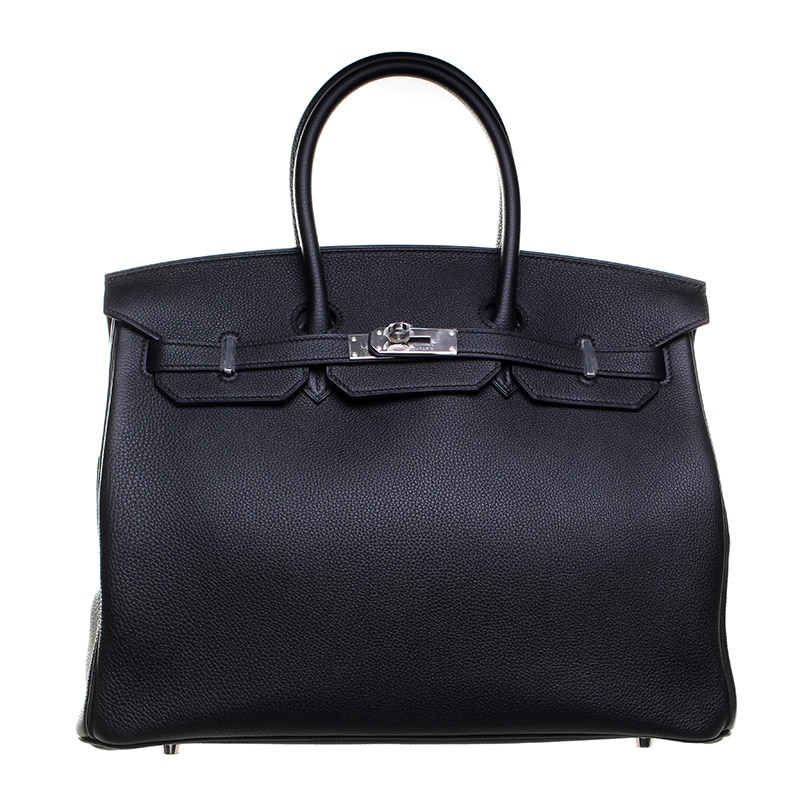 Hermès Birkin Bag. $20,000+ retail, $17,495 resale. Courtesy My Sister's Closet
Size
Size matters when it comes to designer clothing values. Average sizes tend to be more valuable because they are in higher demand, says Bloomer.
"Sizes at the extremes, XXS petite or XXL tall, are more difficult to find because there's a small amount of them manufactured in the marketplace," she says.
The limited supply means that specialty sizes often sell quickly.
"Smaller sizes can often sell faster as there are fewer smaller sizes ordered by the stores," says Hirsch. "But overall I think a size 26 pair of Joe's Jeans are going to cost about the same as a size 30."
Hirsch adds that women's size 14 was thought to be the average for many years, but recent research shows the average is 16 to 18. However, many designer labels don't make clothing larger than size 12, so larger sizes can be in demand.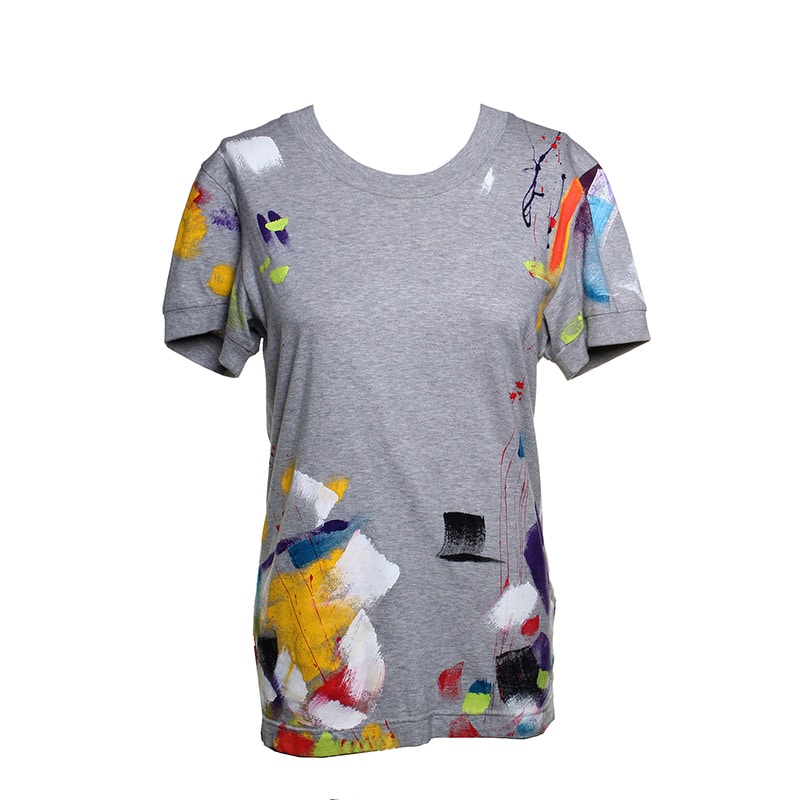 Dolce & Gabbana Limited Edition Hand-painted Tee. $600 retail, $295 resale. Courtesy My Sister's Closet
Condition
Designer clothing in new or like new condition is the most valuable, but that doesn't mean your clothes must be pristine to sell for good money – especially if they've vintage.
"People will often know they need to repair something when it comes to vintage," says Tran. "Describing vintage condition – mint, excellent, good, fair, poor – is a great way for people to better understand the value of your item and shows your transparency as a seller."
Still, a Versace sweater in excellent condition will be more valuable than the same sweater that has holes in it – "and if something still has its original tag, the better," says Hirsch. "You want to look for tears, stains, missing buttons, hems that have come out or elastic that is loose. For items with these issues, you might consider donating them to Goodwill or your local charity."
In fact, many consignment stores will only accept clothing in good or better condition. Material World, for example, only accepts "items in excellent condition free of stains, damages, alterations and odors." And Sine says that clothes must be clean and in like new condition for to qualify for My Sister's Closet consignment.
Here's a sample designer clothing condition scale from The RealReal:
Pristine: New with tags
Excellent: New without tags
Very Good: Light wear
Good: Moderate wear
"The condition of the item plays a pivotal role," says Bloomer. "The better the condition, the higher the price. It's definitely a direct relationship."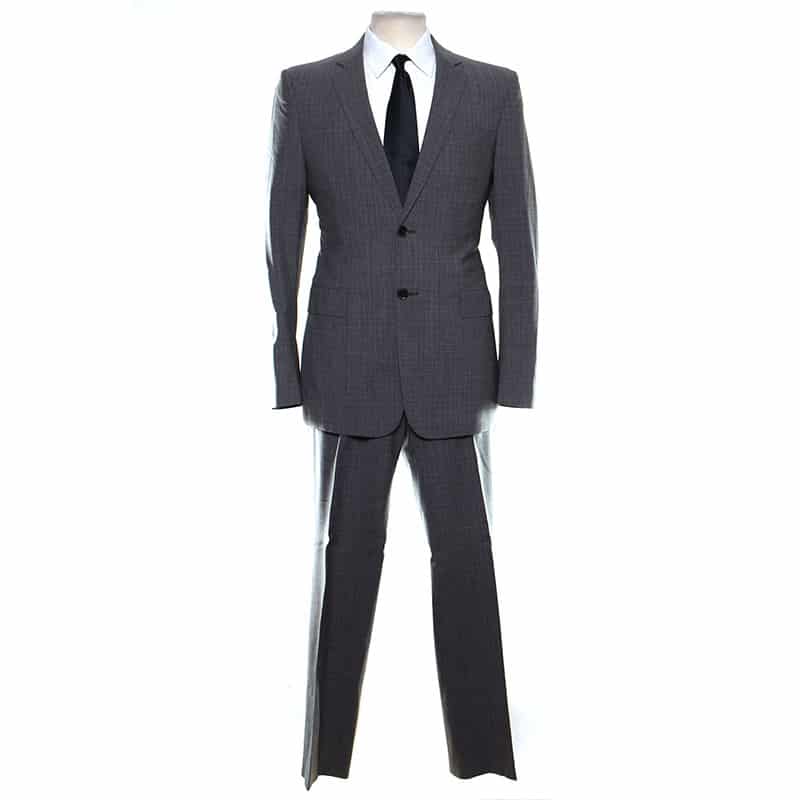 Burberry Suit. $1,800 retail, $245 resale. Courtesy My Sister's Closet
Market trends and seasonality
"Designer clothing is very subjective," says Tran. "Nowadays people are paying loads of money for vintage clothing, which are products from the 80's and older. I worked at a vintage show and sold a golden YSL dress for $850. I bought it for only $150."
Christine Heerwagen, strategist for luxury consignment site
The RealReal
, says the top apparel brands to consign right now are Balenciaga, Celine, Chanel and Gucci. She provided the following market data:
Resale value for Gucci apparel is up 5% this year
Values for Celine clothing is up 20% this year
Resale value for Balenciaga apparel is up 40% this year
The top handbag designers to consign now are Balenciaga, Chanel, Dior, Gucci, Hermès, Louis Vuitton, Prada and Saint Laurent.
Demand is nearly doubled this year for Gucci and Saint Laurent handbags
Demand for Balenciaga, Hermès, Louis Vuitton and Prada handbags is up 1.5X this year
Resale value for Dior handbags is up 5% this year
The top shoe designers to consign now are Chanel, Gucci, Manolo Blahnik and Yeezy.
Demand is up 1.3X for Manolos this year as the '90s resurgence continues
Resale value for Gucci shoes is up 5% this year
Demand for Nikes is up 2.2X in 2019
Demand for Yeezy's is up 1.7X this year
The top jewelry and watches collections to consign now are Cartier Love, Hermès Clic H, Tiffany & Co. T and Van Cleef & Arpels Alhambra
Demand for pieces from the Cartier Love Collection and Van Cleef & Arpels Alambra Collection is up more than 50% this year
Resale value for Hermès Clic H pieces is up 5%
Resale value for Tiffany & Co. T Collection is up 30%
In addition to knowing current market trends, it's best to sell designer clothing in-season. "Trying to sell winter clothing in the summertime isn't the way to go," says Hirsch. "Seasonal items sell quicker than others. You aren't thinking about a coat in July. So, if you upload or consign it to sell, you might have to wait awhile. It is better to consign or list things for sale when the timing is optimal, and people are searching for said items."
Bloomer says the beginning of the season is the best time to sell.
"Seasonal items typically command the highest price at the beginning of that season," she says. "For example, in the fall and winter, Canada Goose brand jackets are in high demand and will likely sell for a higher price than in the summer."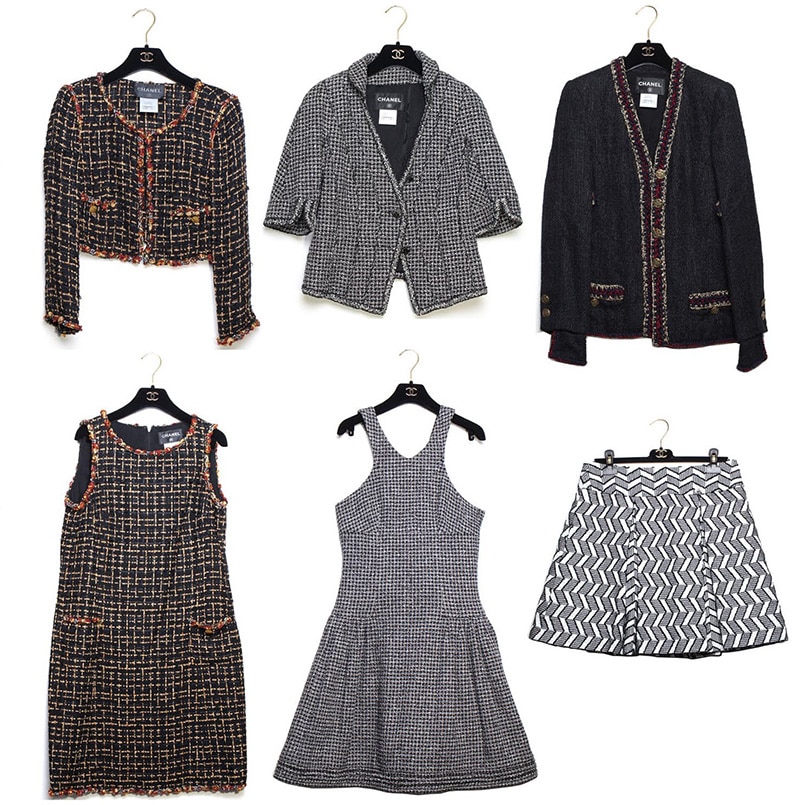 Chanel Designer Clothes. Tweed cropped jacket ($695 resale), Tweed 2-pocked dress ($795 resale), Pleated geometric skirt ($595 resale), Tweed high collar short sleeve jacket ($695 resale), Tweed navy and burgundy jacket ($995 resale), Tweed sleeveless flare dress ($695 resale). Some Chanel clothes can sell for $1,000 to $5,000 and more. Courtesy My Sister's Closet
Celebrity appeal
"If a celebrity has recently been photographed wearing a particular item, their fans tend to quickly go in search of the same piece," says Hirsch. "Owners of the item will often increase the value knowing the demand is currently strong."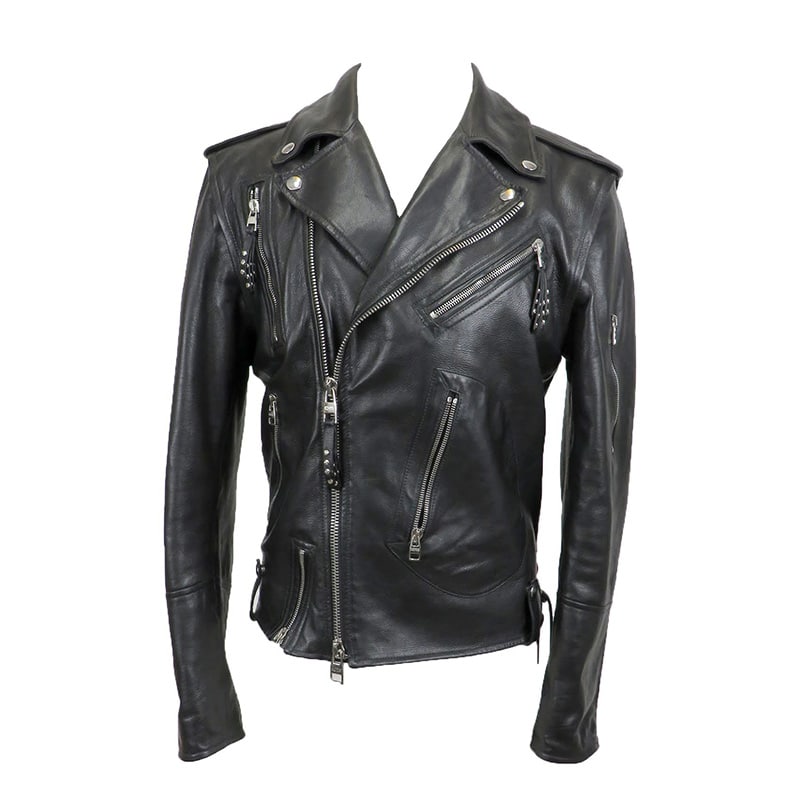 Alexander McQueen Biker Jacket. $4,195 retail, $2,495 resale. Courtesy My Sister's Closet
Fabric and materials
"Sometimes certain fabrics and materials used for a line to be limited edition and/or are only sold at certain stores, so they are harder to acquire," says Hirsch. "That can drive the value of an item up as well."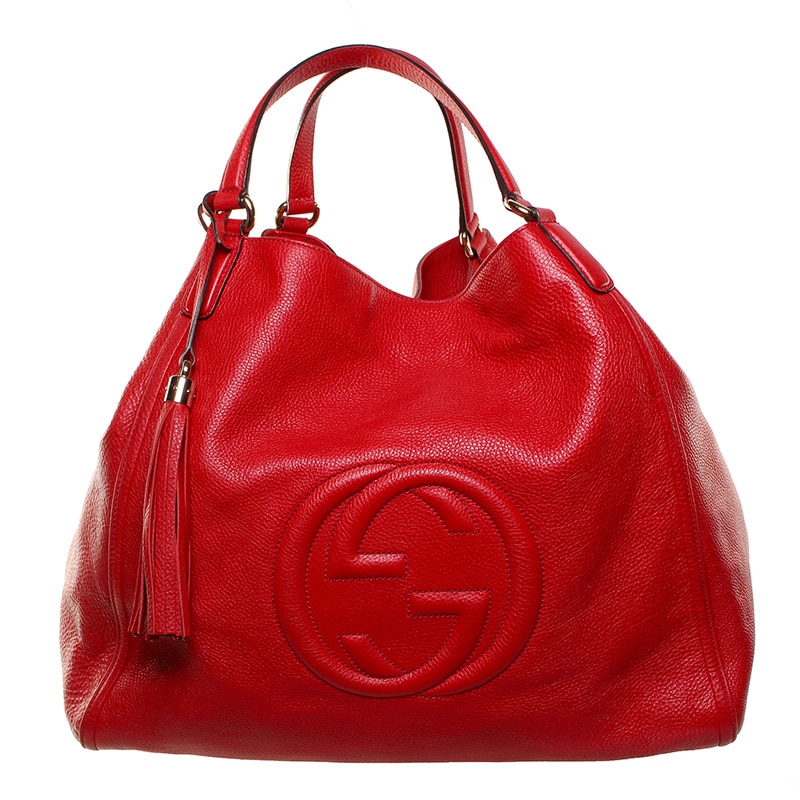 Gucci Red Soho Bag. $2,240 retail, $1,795 resale. Courtesy My Sister's Closet
How to find designer clothing values
Check recently sold listings on
The RealReal
and
eBay
to get an idea for what your designer clothes are worth. Make sure you're comparing apples-to-apples to get an accurate estimate: designer, size, color and condition.
You can also consult payout calculators found on designer consignment websites. These calculators won't show you the true market value, but they will tell you how much you can get if you sell your clothes on consignment. Examples include:
"Customers can bring their items to us and we can give them an idea of what they will sell for," says Sine. "It really depends on what is popular this year."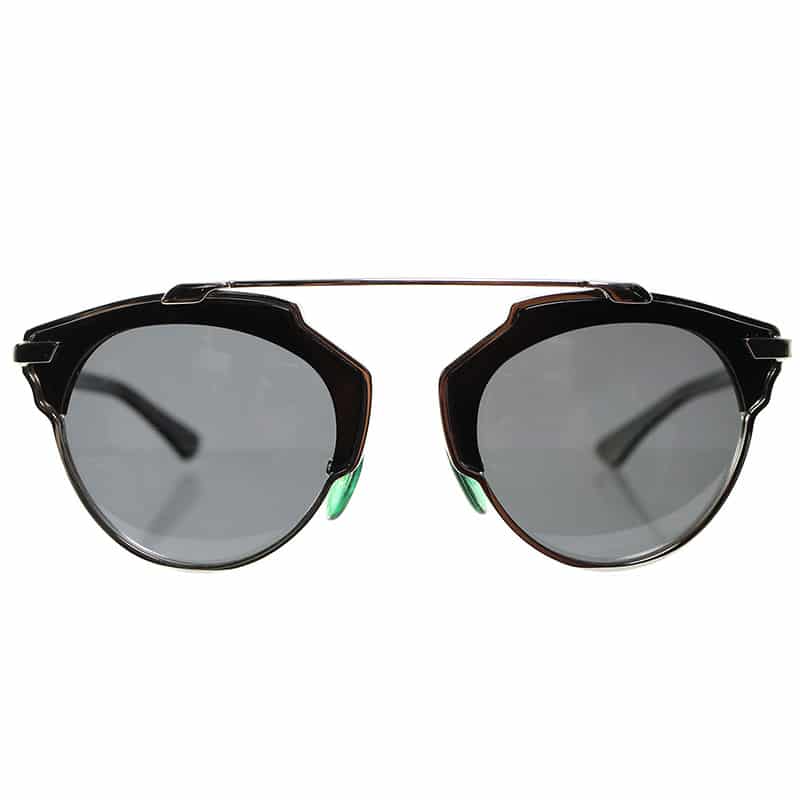 Christian Dior So Real Sunglasses. $470 retail, $145 resale. Courtesy My Sister's Closet
Where to sell designer clothing
Designer clothing selling options include:
Online consignment and trade-in stores
These stores let you list items to sell on consignment. Some will buy your items directly to resell; while others offer premium marketing services to help you sell designer clothes faster and for more money. You'll be charged a commission or selling fee when your clothes sell on consignment, which means you won't get top dollar for your designer clothes, but you'll likely sell them quickly and conveniently.
"Most of our items are priced 70 to 90 percent below retail," says Sine. "We pay the consigner 45 percent of the selling price in cash or 55 percent in store credit once the items sell. My Sister's Closet sells most items very quickly and the consigner can come into any location and get their cash or store credit as soon as their items sell. We also post our better items on our websites, which have a huge following."
Examples include:
"Websites that I use to flip high-end designer clothing are Poshmark, The RealReal and Tradesy," says Tran. "These websites offer authentication services so that both me and the buyer are protected from fraud. I've been scammed out of thousands of dollars before and I'm glad these companies provide authentication to thwart of scammers."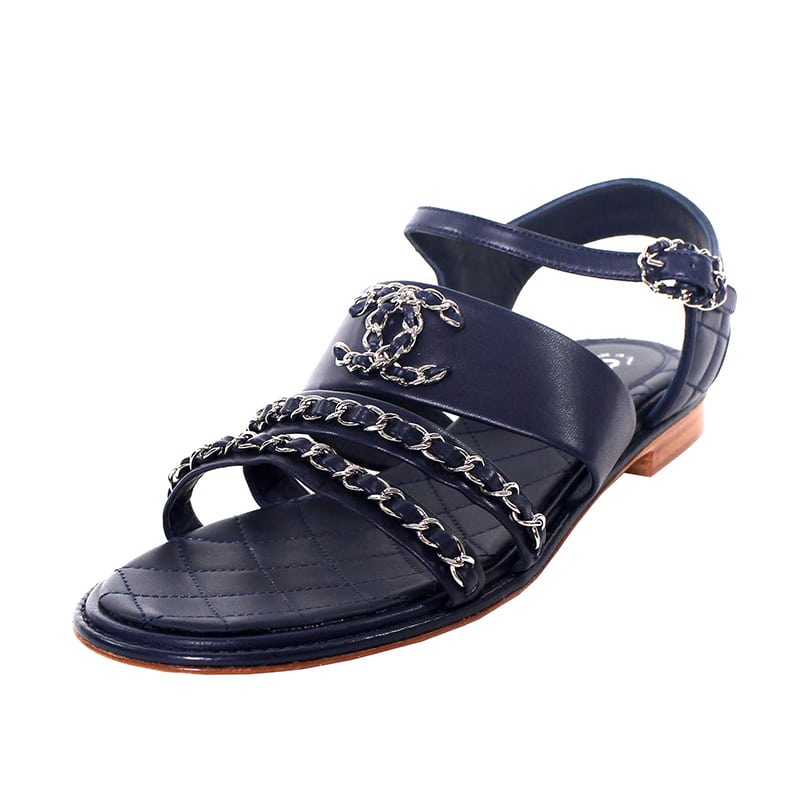 Chanel Strappy Chain Sandals. $800 retail, $595 resale. Courtesy My Sister's Closet
Online marketplaces
List your items for sale on online marketplaces, which are peer-to-peer selling platforms. They tend to pay more than online consignment stores, but there's generally more work involved and fees can cut into your profits.
Examples include: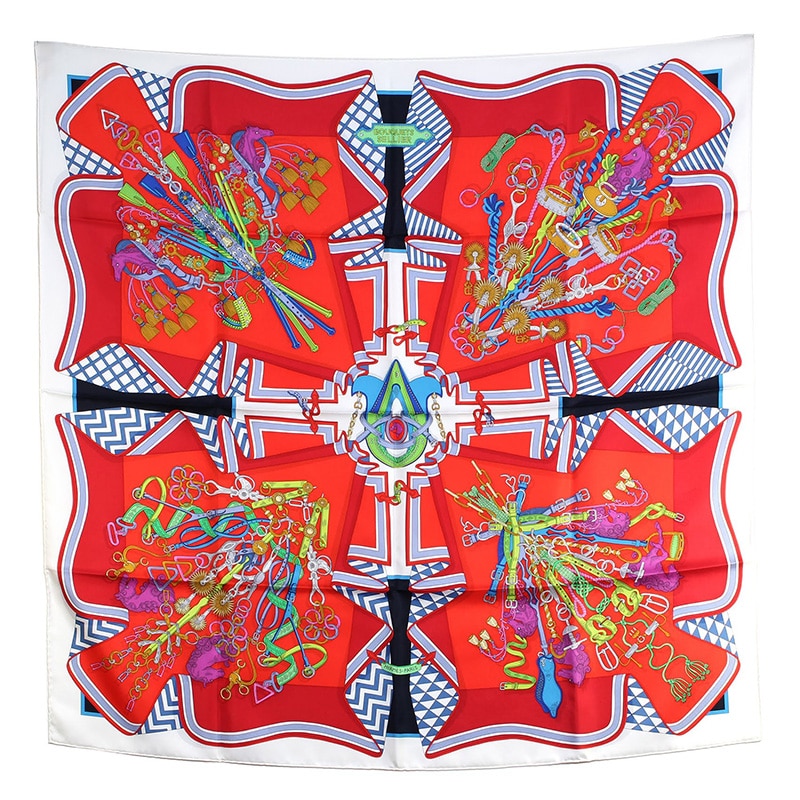 Hermès Scarf. $395 retail, $345 resale. Courtesy My Sister's Closet
Social media
Social media can be a good way to sell designer clothing. Since there is no middleman, you'll get top dollar; however, sales are not moderated so you need to be careful to protect yourself from scammers. They're also not traditional selling platforms, so it can take some time for your clothing to sell (if it sells at all).
Examples include:
Facebook designer clothing buy/sell/trade groups
Instagram
Pinterest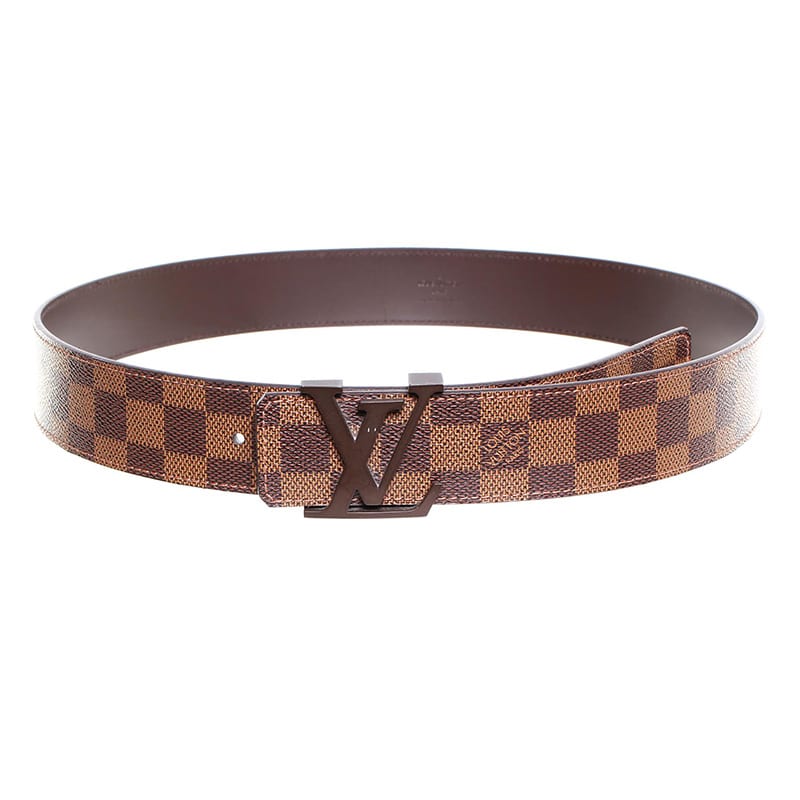 Louis Vuitton Damier Belt. $490 retail, $295 resale. Courtesy My Sister's Closet
Local selling options
You can sell your designer clothes locally, which will eliminate the need to package and ship them. Like social media, there are no middlemen so you can get top dollar. However, your pool of potential buyers is limited, and it could take awhile for your clothes to sell.
Examples include:
Thrift and secondhand stores
Facebook Marketplace
Craigslist
Apps like LetGo and OfferUp
"Selling online has never been easier," says Hirsch. "Click a few good photos with your phone and upload to sites like eBay, Craigslist and even couture groups on Facebook. Instagram and Poshmark are also great platforms. If you don't have time to post, or you feel your photography skills aren't the beset, online sites such as The RealReal, Tradesy, Rebag and LuxuryResale.net have buyers searching their sites daily for new offerings. Just keep in mind their commission fees are higher than the do-it-yourself sites."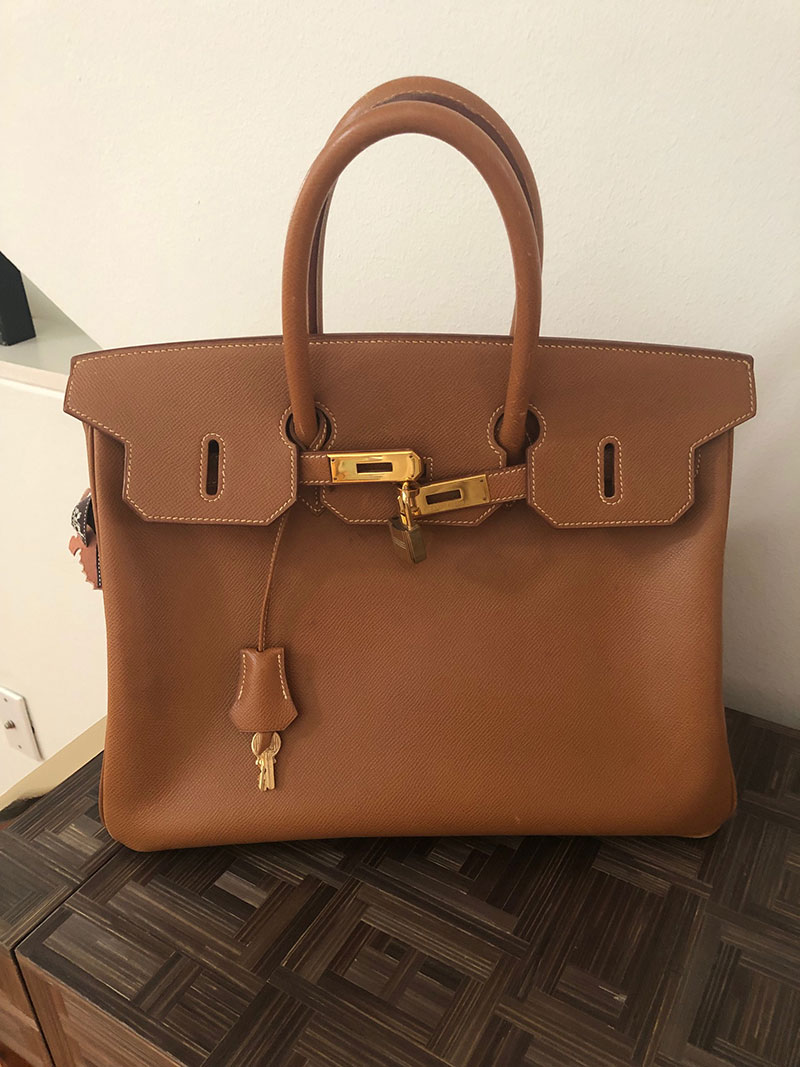 Hermès Birkin Bag. Courtesy Reyne Hirsch
Designer clothing selling tips
Follow these tips for a better selling experience.
1. Do your research
Know exactly what you have and what condition it's in, then check eBay's sold listings and online payment estimators so you know how much it's worth. This will help you get a fair price and temper expectations if your clothes aren't particularly valuable.
2. Compare multiple selling options
Set goals so you can choose the selling option that's best for you. For example, if you want a quick and convenient sale it might be best to choose an online clothing consignor. If you want the most money possible, it might be worth the wait to sell locally or via social media.
3. Understand fees and shipping costs
Be sure you completely understand any selling fees, listing fees and commissions before you commit to selling your designer clothing on a given platform. Also consider the cost of shipping, packaging and insurance, as well as who will pay for it.
4. Protect yourself
If you're shipping designer clothes to a private buyer, get payment before you ship. If you're meeting a private buyer in person, take a friend along for security and meet in a well-lit, busy public area. Some police stations have set up camera-monitored safe areas for this purpose.
5. If you can't sell it, donate it
Designer clothing that can't be sold can still be donated to charity – and the value often qualifies as a tax write-off. Or, you can consign your clothing with a store like My Sister's Closet, which donates unsold items to thrift stores that benefit homeless pets, the environment and wildlife.
"We are full-circle for recycling by selling used clothing and accessories, and donating what we can't sell," says Sine.
Use these tips to make an informed decision so you can enjoy a pleasant experience and get a fair price when you sell your designer clothes.
Related Help
Previous:
How to Sell Locked Phones Online
Next:
Cash for golf clubs: prices, trade in values & places to sell