Find the Value of Autographed Sports Memorabilia
How to find the value of your autographed sports memorabilia and where to sell it for top dollar in the definitive guide to selling autographed baseballs, jerseys, helmets, bats, and more
Do you want to sell an autographed baseball or other sports memorabilia? Autographed memorabilia can be worth hundreds, thousands, or even hundreds of thousands of dollars. Find out how much your autographed sports memorabilia is worth and where to sell it in our definitive guide.

Our guide to selling autographed sports memorabilia includes:


Follow this expert advice to find the value of your autographed sports memorabilia and sell it for the most money.
The world's most valuable autographed sports memorabilia
The highest auction price ever paid for signed sports memorabilia was the
$4.3 million paid in 2010
for the original copy of James Naismith's "13 Rules of Basketball," penned in 1891 and signed by Naismith in 1931.
Did You Know? Some vintage bicycles are worth thousands
Learn more
That $4.3 million price tag is more than a half-million dollars more than the $3.7 million paid at the same auction for a copy of the
Emancipation Proclamation
signed by Abraham Lincoln.
Some of the highest auction prices paid for autographed sports memorabilia include:


| | | | |
| --- | --- | --- | --- |
| ITEM | PRICE | YEAR SOLD | AUCTION HOUSE |
| Babe Ruth bat (first home run in old Yankee Stadium | $1.265 million | 2004 | Sotheby's/SCP Auctions |
| Babe Ruth 1918 Red Sox contract | $1.020 million | 2014 | Goldin Auctions |
| Babe Ruth 1920 Yankees contract | $996,000 | 2005 | Sotheby's/SCP Auctions |
| Babe Ruth 1933 All-Star Game home run ball | $805,000 | 2006 | Major League Baseball FanFest memorabilia auction – Hunt Auctions |
| Hank Aaron 755th home run ball | $655,000 | 1999 | Guernsey's Auction House |
| Joe Jackson game bat | $583,000 | 2016 | Christie's Auction House |
| Kirk Gibson 1988 World Series Game 1 bat | $575,912 | 2010 | SCP Auctions |
| Muhammad Ali-signed gloves from 1965 Sonny Liston "Phantom Punch" bout | $956,000 | 2015 | Heritage Auctions |
| Muhammad Ali/Cassius Clay handwritten letter confirming conversion to Islam (1964) | $131,450 | 2016 | Heritage Auctions |
| Wilt Chamberlain 1965-66 game-worn 76ers jersey | $97,500 | 2017 | Heritage Auctions |
| Michael Jordan 1984 Olympic Finals game-worn Converse shoes, U.S. gold victory over Spain | $190,372 | 2017 | SCP Auctions |
| Stephen Curry 2016 NBA Finals Games 4 & 6 Golden State Warriors road jersey | $57,600 | 2017 | Goldin Auctions |
| 2003-2004 Upper Deck Ultimate Collection LeBron James 1/1 rookie card | $312,000 | 2017 | Goldin Auctions |
| 1986 World Series Game 6 Bill Buckner glove | $104,400 | 2017 | Goldin Auctions |
| Lou Gehrig/Babe Ruth dual-signed 1939 photo from Lou Gehrig Appreciation Day | $120,000 | 2007 | Sotheby's Auction House |
| Joe DiMaggio & Marilyn Monroe signed baseball | $191,200 | 2006 | Heritage Auctions |
| Basketball signed by Michael Jordan and Michael Jackson from "Jam" music video | $294,000 | 2010 | Julien's Auctions |
| Bum Phillips Houston Oilers helmet | $2 million | 2011 | Charity auction held in Beaumont, Texas |
| Bobby Orr rookie jersey | $115,000 | 2008 | Heritage Auctions |
| 1935 National Chicle Bronko Nagurski trading card | $350,000 | 2011 | Private transaction |
Baseball is king when it comes to valuable autographed sports memorabilia; and for many collectors, the "holy grail" of autographed sports memorabilia is a baseball signed by Babe Ruth, says Rich Altman, owner and operator of
Hollywood Collectibles
in Dania Beach, Florida. For example,
one Bambino-signed ball sold for $388,375 in 2012
.
"Great Ruth signatures are a holy grail," says Leila Dunbar, president of
Leila Dunbar Appraisals
, "because, even though they are not rare as he ushered in the age of signing. Ruth's feats as a pitcher and slugger have transcended sports and generations and his is the most sought athlete autograph today."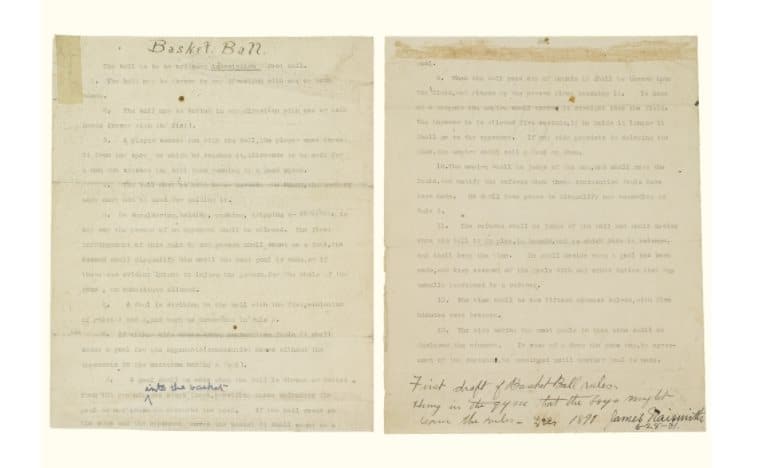 James Naismith signed rules of basketball. Source:
Sotheby's
Autographs from 19
th
-century Hall of Fame players such as Cap Anson, and early 20
th
century Hall of Famers Christy Mathewson, who passed away in 1925, are rare and very difficult to obtain; so they can be worth tens of thousands or even hundreds of thousands, depending on the player.
Do you have old fishing rods? Some are worth $1,000+
Learn more
"The most valuable signed sports memorabilia are signed game-used items, such as Babe Ruth's homerun ball from the very first All-Star Game in 1933, which sold for $800,000 in 2006," says Dunbar. "These are valued more for the historical event and/or player they represent than they are for the signature itself. Another example is the ball that went through Bill Buckner's legs in Game 6 of the 1986 World Series, which was signed by Mookie Wilson and sold in 2012 for $493,000. Or, they are pristine signatures, such as a 9.5-graded baseball signed by Ruth, which sold for $388,000 in 2012."
What makes autographed sports memorabilia valuable?
Several factors dictate how much autographed sports memorabilia is worth, including:
Signature quality and condition
Rarity and desirability
Historical importance and player legacy
Provenance and authenticity
Let's take a closer look at each.
Signature quality and condition
"Condition affects value significantly," says Dunbar. "The stronger the signature and the better the condition of the piece, then usually the higher the value."
Appraisal companies such as PSA/DNA, Beckett, SGC, and JSA
grade on a ten-point scale
as follows:
| | |
| --- | --- |
| GRADE | DESCRIPTION |
| Gem Mint (GEM-MT): 10 | Flawless with a strong signature |
| Mint (MINT): 9 | May only have one very minor flaw |
| Near Mint-Mint (NM-MT): 8 | May have one or two very minor flaws |
| Near Mint (NM): 7 | Slight wear or fraying |
| Excellent-Mint (EX-MT): 6 | Minor wear or fraying |
| Excellent (EX): 5 | Wear and scratches that do not detract from appearance |
| Very Good-Excellent (VG-EX): 4 | Modest wear and light scratching |
| Very Good (VG): 3 | Wear and light scratching, slight discoloration |
| Good (GOOD): 2 | Obvious wear, scratching, discoloration, or stains |
| Fair (FR): 1.5 | Considerable wear |
| Poor (PR): 1 | Extreme wear, missing pieces, tears, etc. |
Half-point grades are assigned to pieces that are in better than average condition for a particular grade, yet not quite enough to warrant the next-highest grade. It's important to note that autographed memorabilia can hold significant value even if it has a low condition grade.
"A game-used baseball would have more value than a new baseball, if the ball was significant to a certain player that signed that ball," says Altman. "For example, if Mike Trout signed a game-used ball that he hit a homerun with, it would sell for much more than a baseball that was brand-new."
Dunbar concurs: "Often, memorabilia signed during a player's career is more highly-valued than post-career, as it is rarer and it may not be in as good condition, which can cancel out."
Rarity and desirability
Rare autographed sports memorabilia generally command higher price tags, such as is the case with Anson and Mathewson signatures, but that's not a hard-and-fast rule; desirability can make even non-rare items valuable (and, conversely, rare pieces that have little desirability have little value).
"Even though his autograph isn't rare, Ruth is the most sought-after of all signatures, with signatures selling from the low thousands into the hundreds of thousands for large, strong signatures on pristine baseballs, with great provenance and/or a fantastic story," says Dunbar.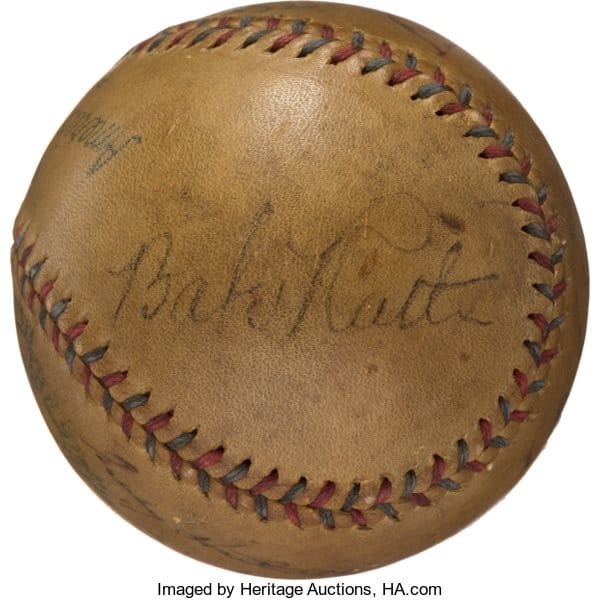 1933 All Star Game ball signed by Babe Ruth and Lou Gehrig. Source:
Heritage Auctions
The rarest signatures are often by players who passed away before the age of signing shows, which began in the 1980's, says Dunbar.
"Many player signatures from the 1980's are generally worth $5-75. Legendary Hall of Famers who passed way in the late 1990's to early 2000's such as Mickey Mantle, Ted Williams, Joe DiMaggio, and David Ortiz generally sell from $200-$1,000," she says. "Most contemporary players or those recently retired are worth $5-$75, with a few exceptions such as Derek Jeter and David Ortiz, who sell in the low to mid hundreds. Those who passed away prior to the 1980's are much scarcer and more sought-after, including Jackie Robinson, Ty Cobb, Christy Mathewson, and Walter Johnson, which can sell into the thousands to tens of thousands and for the best of the best, into six figures."
What's that old Sports Illustrated worth? Some magazines are worth $50,000+
Learn more
Historical importance and legacy
Autographed memorabilia that has historical significance is often the most valuable and valued more for its historical importance than for the autograph itself. An item can be historically significant if it was involved in a famous game or marks a major milestone, such as the ball that went through Bill Buckner's legs.
The legacy of a player, team, or event likewise affects value.
"Ruth's signed player contracts have sold in the hundreds of thousands of dollars, up to more than $1,000,000 for his 1918 Red Sox contract and $2.3 million for one of the three copies of the 1919 contract that sold Ruth from the Red Sox to the Yankees," says Dunbar.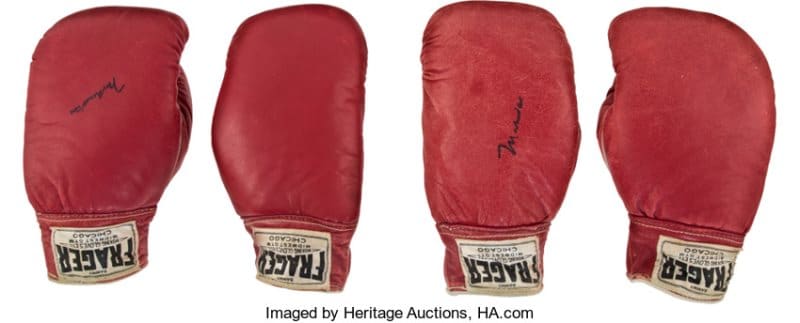 "Phantom Punch" bout gloves signed by Muhammad Ali. Source:
Heritage Auctions
Provenance and authenticity
Provenance, defined as the history of ownership, might be compared to the chain of custody in a police investigation. The more that is known about a given piece of autographed memorabilia, the more valuable it can be – especially if its provenance is significant and verifiable.
Remember the ball that went through Bill Buckner's legs and later sold for nearly half a million dollars? The ball had the provenance of being taken from the game by right field umpire Ed Montague and was given to Mets traveling secretary Arthur Richman, who had Mookie Wilson sign and inscribe it, says Dunbar, who also recounts the provenance of the ball in one of baseball's most famous stories.
"In 2014, Grey Flannel Auctions sold a baseball signed and inscribed by Ruth to Johnny Sylvester, a boy to whom Ruth promised to hit a homer for him after he found out Sylvester was in the hospital. Ruth did, in Game 4 of the 1926 World Series," she says. "The ball came from the family and included photos of Ruth and Sylvester."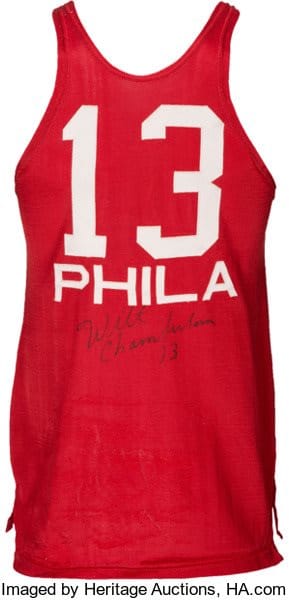 Signed Wilt Chamberlain jersey. Source:
Heritage Auctions
The ability to verify the authenticity of your autographed memorabilia is critical to maximizing its value. This can be done by having your memorabilia inspected by a company such as
Professional Sports Authenticator (PSA)
or
James Spence Authentication (JSA)
, which will then issue a Letter of Authenticity (LOA).
"No third-party authentication company is going to be perfect, but PSA and JSA have large libraries of known authentic exemplars which they use to determine authenticity and are generally considered to be the industry standard and are used by most of the major auction houses," says Dunbar. "If you are buying an autograph, you want to make sure you either have an LOA from them or that the provenance is ironclad, such as you are getting it directly from the player himself."
Authentication is important because buyers need to protect themselves from forgeries. Dunbar says there are two types of forgeries: those that were done by clubhouse attendances (such as Pete Sheehy of the Yankees), secretaries, or relatives at a time when autographs had little value and demand far outstripped supply; and forgeries made specifically to make money.
"Back in 1999 the FBI ran a sting called 'Operation Bullpen' where they caught a forger on the West Coast," she says. "They estimate $100 million worth of phony signatures went into the pipeline."
How much is your autographed sports memorabilia worth?
Your autographed sports memorabilia is worth whatever a buyer will pay for it, and it's possible you have an exceedingly rare, highly-desirable, and very valuable piece. However, most autographed items do not sell for tens of thousands of dollars.
"The average price of autographed sports memorabilia ranges varies greatly," says Altman. "Lower-end autographed items can sell for as low as $5, where high-end items can sell for hundreds of thousands of dollars."
"The retail range from dealers is $25 to $2,500 for autographs from the past 40 years. The auction range is $10 to $1,000, as collectors know that a lot of Hall of Famers' signatures are easily obtainable," says Dunbar. "Bob Feller, Yogi Berra, Stan Musial, Pee Wee Reese, DiMaggio, Williams, Mantle, Frank and Brooks Robinson, Willie Mays, Hank Arron, Willie McCovey; all can sell between $50 and $500 at auction, unless it is a rare inscription from Mantle such as 'Happy Birthday' or 'Merry Christmas,' which can sell in the low thousands."
Ever wonder how much your golf clubs are worth?
Find out

Here's how to tell how much your autographed memorabilia is worth:
Google it
"Google is a good first step," says Dunbar. "If you type in 'Willie Mays signed baseball,' you will see several come up from retail sites, which gives you an idea of that market."
Consult guides
You can subscribe to pricing guides such as
Beckett's Sports Cards and Collectibles Price Guide
(online) and
Sports Market Report
(print) to review the book value of your items, says Altman.
Check eBay
Search for your item on eBay and check "sold listings" in the left sidebar to see how much people have legitimately paid for similar items. Make sure you examine listings to be sure what you're selling is comparable.
Ask your local dealer
"Your local card shop may be willing to take a look at a collection and give an appraisal of value," says Altman. Search online to find local card shops and memorabilia dealers.
Check past auctions
Dunbar says you can check auction values for similar items via free databases provided by auction companies. You'll need to register first. Companies that offer free databases include:
Get it appraised
Finally, you can have your autographed sports memorabilia appraised by an authority in the industry. Autographed sports memorabilia appraisers include:
International Society of Appraisers
,
Appraisers Association of America
, and the
American Society of Appraisers
websites.
Here are some example prices for autographed sports memorabilia recently sold on eBay:


| | |
| --- | --- |
| AUTOGRAPHED SPORTS MEMORABILIA | eBay SOLD PRICE |
| Tom Brady game-used jersey patch | $8,489 |
| Mickey Mantle autographed bat | $2,250 |
| Michael Jordan Upper Deck card | $1,450 |
| Framed Pele 1970 football/soccer shirt | $465 |
| Baseball bat signed by 35+ Hall of Famers | $500 |
| Muhammad Ali boxing glove | $225 |
| Joe Montana Donruss card | $280 |
| Peyton Manning football | $220 |
| 1957 Detroit Lions team-signed championship ball | $187 |
| Joe Frazier boxing glove | $125 |
| 1922 Yankees team-signed baseball | $12,174 |
| Lou Gehrig baseball | $12,100 |
| 1927 Babe Ruth baseball | $6,994 |
| Mickey Mantle/Roger Maris dual signed baseball | $3,999 |
| Jimmie Foxx baseball | $2,300 |
| 1962 Don Drysdale/Cy Young dual signed baseball | $1,495 |
| Roy Halladay baseball | $500 |
| Joe DiMaggio baseball | $250 |
| George Brett baseball | $150 |
| Sandy Koufax baseball | $120 |
| Nolan Ryan baseball | $55 |
| Lou Piniella baseball | $20 |
| Tom Glavine baseball | $10 |
| Lou Holtz Notre Dame mini helmet | $80 |
| Jerry Rice Leaf trading card | $159 |
| Tiger Woods 2013 Bridgestone golf ball | $296 |
| Zdeno Charo Boston Bruins hockey puck | $110 |
| Magic Johnson basketball | $60 |
Where to sell autographed sports memorabilia
Now that you have a general understanding of how much autographed sports memorabilia is worth, you can confidently sell yours and know you're getting a fair deal. Here are some autographed sports memorabilia selling options, including pros, cons, and reviews (where available).
Sports memorabilia auction houses
If you have a highly-valuable item or collection of sports memorabilia, an auction house can help you sell it for top dollar.
Most auction houses will help verify the authenticity of your autographed sports memorabilia (often via partnerships with third-party authenticators), market the item to attract bidders, and handle the entire sale. They can also help you set a reserve price.
Many auction houses host both online and offline auctions in multiple formats: live, timed, absentee, phone, catalog, floor, etc. Fees vary by auction house: buyer's premiums (which are paid by the buyer on top of the sale price) typically range from 10% to 25%, commissions (paid by the seller) can range from 0% to 25% of the selling price.
Pros
The auction house does most of the work
Professional auction houses command the most money for high-value memorabilia
Cons
High commissions could cut into your take
No guarantee of sale
Examples include:
Did You Know? Many electric guitars are worth thousands.
Learn more
Online auction platforms
Unlike auction houses, online auction platforms simply connect buyers and sellers; they do not represent sellers or offer appraisals and authentication services.
Pros
Knowledgeable buyers understand autographed memorabilia values
Tend to pay well
Convenient online sales
Sales moderation
Cons
No guarantee of sale
Commissions
Examples include:
---
Online autographed sports memorabilia dealers
You can sell your autographed sports memorabilia to an online dealer. Dealers need to resell your items for a profit, so you won't get top dollar; however, you can expect quick sales and a convenient process.
Pros
Guaranteed sales (typically)
Quick payments
Convenience
Cons
You won't get top dollar
Payments are quick, but not instant
Potential for disputes if you misrepresent or miscommunicate what you have to sell
Examples include:
---
Sports memorabilia forums
Online forums dedicated to autographs and sports memorabilia often feature buy/sell threads you can use to sell your items. You can also consult these forums for advice, help identifying what you have to sell, and setting a price. Keep in mind most forums have no moderation; if you decide to sell your memorabilia to another forum member, be sure to fully vet them and protect yourself against scams.
Pros
You can get more money by selling directly to buyers
Most do no charge commissions
Exposure to a passionate audience
Cons
No moderation, so there is potential for scams and disputes
No guarantee of sale (or sales could take a long time)
Examples include:
---
Local dealers
Local card shops and sports memorabilia dealers often buy autographed sports memorabilia. Just like their online counterparts, they need to resell for a profit – so you won't get top dollar, but you will get an instant cash (or store credit) sale.
Local dealers will also sell on consignment, which means they'll display your item in-store (and sometimes online), then take a commission when it sells. Many local dealers also have online platforms for remote buying and selling.
For example,
Ultimate Sports Cards and Memorabilia
buys online and at its brick-and-mortar location in Las Vegas; and
Hollywood Collectibles
deals both online and at its Dania Beach, Florida location. Search Google for local options, or stroll through nearby flea markets to find dealers. You might want to check local pawn shops. You can also check out this list of
PSA Authorized Dealers
.
Pros
Fastest sales
Local convenience
Cons
Other options pay more
You need to know the value of your items before you agree to selling to avoid a low offer
You might need to negotiate to get a fair price
---
Local classifieds
Local classifieds are perhaps less popular for selling autographed sports memorabilia, but they do present another option. Local buyers offer instant cash payments, but the market is limited so you might not be able to find a buyer. Local classifieds aren't moderated, either, so you need to be careful.
Pros
Cons
No guarantee of sale
No moderation
Potential for hassles like no-shows and scams
Examples include:
---
Sports memorabilia events, conventions. trade shows, and flea markets
Sports memorabilia events, trade shows, and flea markets provide excellent selling opportunities, since they're often attended by passionate and knowledgeable buyers. Search Google for local and regional events.
Pros
Access to a large pool of enthusiastic buyers
Potential for quick cash sales
Fun, if you enjoy the environment
Cons
No guarantee of sale
Potential travel expenses and lots of time involved
You need to know the value of your item to avoid being duped
The
National Sports Collectors Convention
is perhaps the best-known event; you can find others listed on
PSA's website
and
The Cardboard Connection
.
---
Autographed sports memorabilia selling tips
Use these tips to get the most out of your selling experience.
1. Know what you have – and get it graded and authenticated
Take the time to research the value of your autographed sports memorabilia. It's the only way to ensure you're getting a fair price. Consider having your item graded to set its condition. And, unless your item has ironclad provenance, get it authenticated – especially if it's valuable.
A Letter of Authenticity will satisfy the most serious of high-bidders. Companies like
Beckett
,
PSA
, and
Sportscard Guaranty
provide grading services.
PSA
and
JSA
are recognized as trusted authenticators.
2. Ask for help
If you can't identify your memorabilia, ask for help. You can consult community advice via the forums listed in this article; for expert advice, get an appraisal from an expert like Leila Dunbar.
3. Set your priorities
Decide what you want out of your selling experience. If you want the highest price, a traditional auction house might be your best bet. If you want a quick and convenient sale you can complete from home, online dealers are the way to go. If you need fast cash today, local dealers are your best options.
4. Stay safe
Vet buyers before completing any sale. Never send your valuable memorabilia through the mail without receiving payment first, or at least an escrow deposit. If you're selling to a private buyer offline, take a friend along and meet in a well-lit, busy public place.
5. Create a winning listing
Make your autographed sports memorabilia command attention with these tips:
Write a full, detailed description that includes the condition of your memorabilia, the autograph, the year it was autographed, anything significant about the item (such as game use), information about the person who signed it, the history and provenance of the item, and whether it has been authenticated (and who provided the authentication)
Include large, full-color photos featuring multiple angles, as well as any notable features and flaws
Your description should be accurate and fair, complete with the item's graded condition (and who graded it), to avoid potential disputes
Unless set by the platform, be sure to include sale terms like shipping fees, taxes, and other policies. Eliminate any surprises that could give would-be buyers cold feet
Set a fair price. Your research will help you identify value, then you can price accordingly. If you set the price at market value, you stand a good chance of selling to collectors. If you want a quick sale, you can set your price below market value
Always respond to questions as soon as possible to avoid losing potential sales
The world of autographed sports memorabilia is enormous, but you can use the advice and resources in this article to get the most money and the most enjoyable selling experience when you sell your autographed sports memorabilia.
Related Help
Previous:
How to Find the Value of Old Books Without an ISBN: Are They Worth Anything?
Next:
Dispose of Old Cell Phones the Right Way