Where to Sell Sheet Music and How Much is it Worth?
Want to sell your sheet music, but aren't sure where to sell it? How much is old sheet music worth? We have the answers
A Flipsy customer recently asked us where they could sell a large collection of sheet music. We didn't readily have all the answers, so we promised to investigate. Our initial research led us to even more questions: Who buys sheet music? Are there websites that specialize in vintage sheet music? How much is sheet music worth? The answers to these questions and more are listed below.
We reached out to experts to answer your questions about valuating and selling sheet music. We do this as a service to introduce who we are: experts in finding a place to sell your phone. Use Flipsy to find your phone's value plus get offers from more than 20 stores who compete to pay top dollar. Stores are trust verified, offer free shipping and pay within a few days of receiving your phone. Best wishes and thanks for visiting! Find your phone's value
Contents
What is the most valuable sheet music?
Though most sheet music sells for between $3 and $15, some can be worth tens of thousands of dollars. Here's what some of the most valuable sheet music has sold for at auction.
| | |
| --- | --- |
| Sheet Music | Sold Price |
| The Star Spangled Banner (Francis Scott Key) | $506,500 |
| Untitled Piano Works (Frederic Chopin, autographed) | $225,400 |
| GIGI (Frederick Loewe) | $134,500 |
| Canticum Sacrum ad Honorem Sancti Marci Nominis (Igor Stravinsky, autographed) | $88,925 |
| You're the Top (Duke Ellington) | $8,962 |
| Marilyn (Evin Drake & Jimmy Shirl, owned by Marilyn Monroe) | $6,900 |
| Civil War Confederate Sheet Music (various composers) | $4,465 |
| Hound Dog (Elvis Presley) | $1,062 |
| Blueberry Hill (Frank Sinatra owned) | $625 |
Note that several of these vintage sheet music examples have historical significance or were autographed or owned by a famous performer. Scroll down to find out how much the sheet music under your piano bench is worth (plus example prices from recent eBay auctions).
A primer on sheet music identification
It's important to know exactly what sheet music you have before you try to sell it. First printings and vintage or antique sheet music can be more valuable than reprints and modern sheet music, for example. Pricing, publisher address, and copyright date will help you identify your sheet music.
| | |
| --- | --- |
| Pricing | Antique sheet music printed in the early-to-mid 19th century typically did not include price symbols on the cover; instead, a star-shaped diagram was printed on the lower part of the title page with a number such as 2½, 3, or 4″ which denoted 25 cents, 30 cents, and 40 cents, respectively |
| Copyright date | The copyright date, followed by later dates, denotes a reprint: "© 1920, 1975, 2015" |
| Publisher address | Publisher address zip codes weren't used until 1962-1963, so sheet music that doesn't include a zip code in the publisher's address was likely published prior to those years |
Beginning in 1993, sheet music began bearing ISMNs – International Standard Music Numbers – which serve as
unique identifiers
for each publishing. ISMNs are similar to the ISBNs of the book world.
Sheet music not worth much? Many phones are worth $100+. Find the value of your phone.
Other ways to identify sheet music are through its composer and cover art, as you can find out what years a given composer or artist was active to determine a ballpark age for the sheet music. The size of your sheet music won't affect its value much, if at all, but it can help you identify its age. Sheet music comes in three sizes:
| | |
| --- | --- |
| 11 X 14 inches | Printed prior to 1918 |
| 9 X 12 inches | Printed after World War I to fit in new piano benches; the modern standard size |
| 5 x 7 inches | Printed during the World Wars to save paper for the war effort |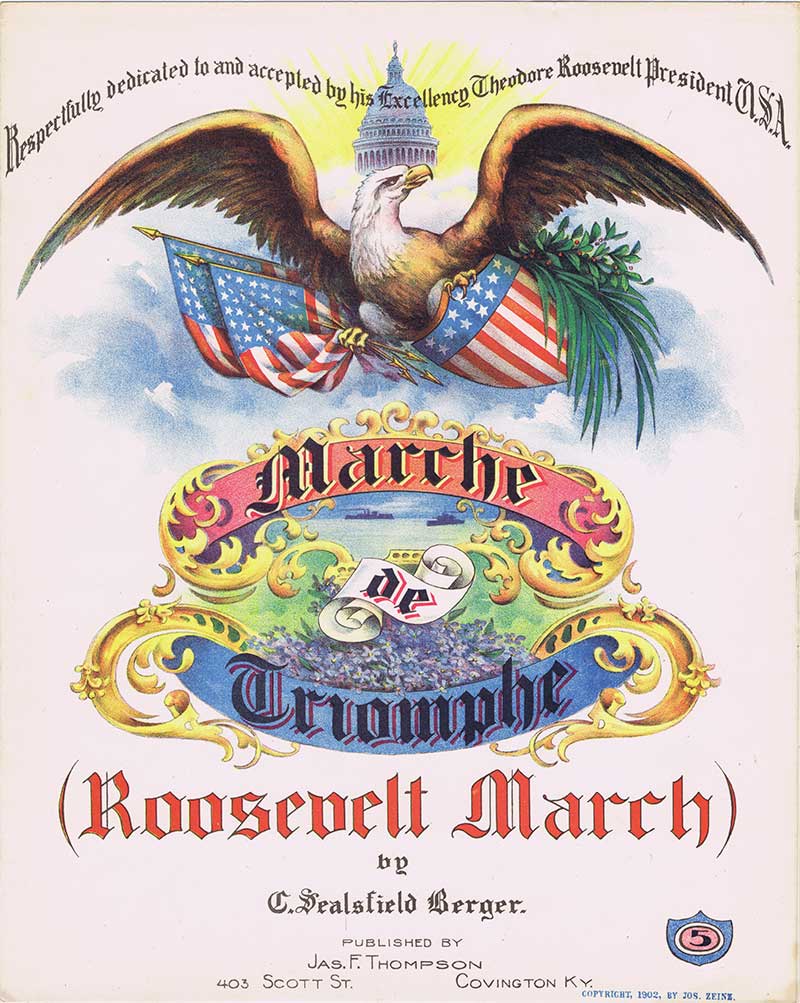 IMAGE: Roosevelt March, dedicated to Teddy Roosevelt, published in 1902. Source: Kevin H. Lynch, The Lynch Archive


Who buys sheet music?
There are four primary types of sheet music buyers:
| | |
| --- | --- |
| Sheet music collectors | Some people have extensive sheet music collections, with the largest being comprised of more than one thousand different categories. |
| Cross-collectors | Cross-collectors are interested in sheet music not for the music itself, but to augment other collections. For example, a collector of Civil War memorabilia might buy Civil War-era sheet music. |
| Local music stores and online resellers | Local music stores will purchase old sheet music they feel they can resell for a profit. There are also online sheet music resellers. |
| Decorators | Sheet music cover art is popular among interior decorators; often used as wallpaper or placed in picture frames, for example. |
As you can see, sheet music has the potential to attract a large market.
How much is my sheet music worth?
Chances are, your sheet music is worth very little. Most sheet music sells for $5 or less, even in good condition. Still, some sheet music is rather valuable.
"We have a huge supply of extremely common 20
th
century music printings, the tattered kind you can find in many antique malls in America, and yes, it is practically worthless with little demand," says archivist Kevin Hugh Lynch. "However, we have a drastic shortage of quality 19
th
century music and there is significant demand for this material."
The world record for the sale of a printed song (excepting manuscripts) is $506,500 (with
Buyer's Premium
), paid for the final copy in private hands of the first edition of Francis Scott Key's "The Star Spangled Banner," which sold at a 2010 Christie's auction. A second edition sold for $32,000 at a 2016 Sotheby's auction.
John Coltrane's original composition for "A Love Supreme" sold at a 2005 auction for more than $129,000, for example, though that example included handwritten notes from the jazz legend. Who's to say your sheet music couldn't be similarly valuable?
"There is a well-known story in our avocation of a collector in Texas who bought a bound volume of music many years ago for $400, and inside was a first edition of our national anthem, 'The Star Spangled Banner,'" says Lynch. "eBay sold a copy of one of the earliest baseball pieces a decade or so ago. It was the 'Live Oak Polka' and picture and early baseball scene. It was published in 1860 and brought $11,000 in the auction sale."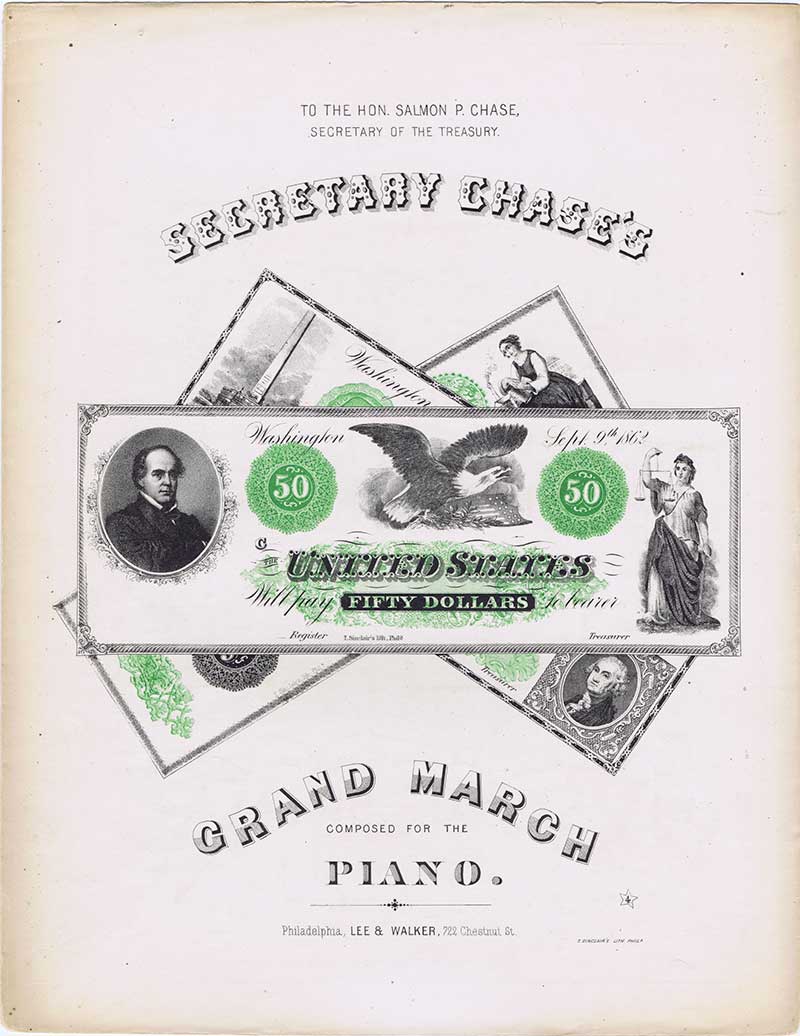 IMAGE: Lithograph by Sinclair lithography in Philadelphia. Issued in 1863 during the Civil War when the Greenbacks made their appearance. Secretary Chase was Lincoln's Secretary. Source: Kevin H. Lynch, The Lynch Archive
Lynch said great sheet music rarities go beyond the rarities that typically get promoted in the worlds of stamps, coins, and even baseball cards.
"There are many historically relevant or gorgeously artistic 19
th
century sheet music publications that are single-digit rarities with less than ten known to exist," he says. "The Library of Congress itself is missing hundreds, if not thousands, of important editions."
At the same time, 217 works of Broadway sheet music by well-known composers were sold in 2011 for $142 –or about 65 cents each. That's hardly winning the sheet music lottery.
"The vast majority of sheet music in America printed after 1830 or so is worth little or nothing," says Lynch. "Due to overprinting, poor condition, or simple lack of demand, as much as 90 percent or more of single title sales change hands in the range of $3 to $15. Unusually rare and significant printings can, however, sell for hundreds or even thousands of dollars."
Sheet music not worth much? Many phones are worth $100+. Find the value of your phone.
The most valuable sheet music typically exhibits some of the following features:
Rarity – most sheet music is easy to come by, but some is exceedingly rare. Be forewarned that a lot of online scammers claim to sell rare vintage sheet music, but they're actually selling sheet music that's abundant or otherwise not desirable
Artwork – many sheet music collectors collect based on cover art. Beauty is in the eye of the beholder, but it's worth noting the more visually exciting, the better. In addition, some collectors seek cover art created by specific artists
Historical significance – a first printing, or a handwritten original composition by a famous composer or musician, can make sheet music valuable. In addition, a particular piece of sheet music known to be used at a famous performance could have value. The historical time period of sheet music publication can also make it valuable to certain cross-collectors
Performer – again, cross-collection fuels this market. Someone who collects Elvis Presley or Michael Jackson memorabilia might have an interest in sheet music they performed, for example
Signatures – sheet music signed by an artist, composer, or performer can be valuable for the signature, and the combination of a signature on original sheet music can drive up the value
Value is also affected by sheet music condition: the better shape it's in, the more it's worth. Also, music that is no longer written – especially sheet music with ethnic stereotypes and accompanying artwork – can carry value simply because no one writes it anymore or is likely to write it ever again. Ragtime sheet music is likewise popular, as well as politically-themed sheet music. Cover art that features movie stars can also command higher prices.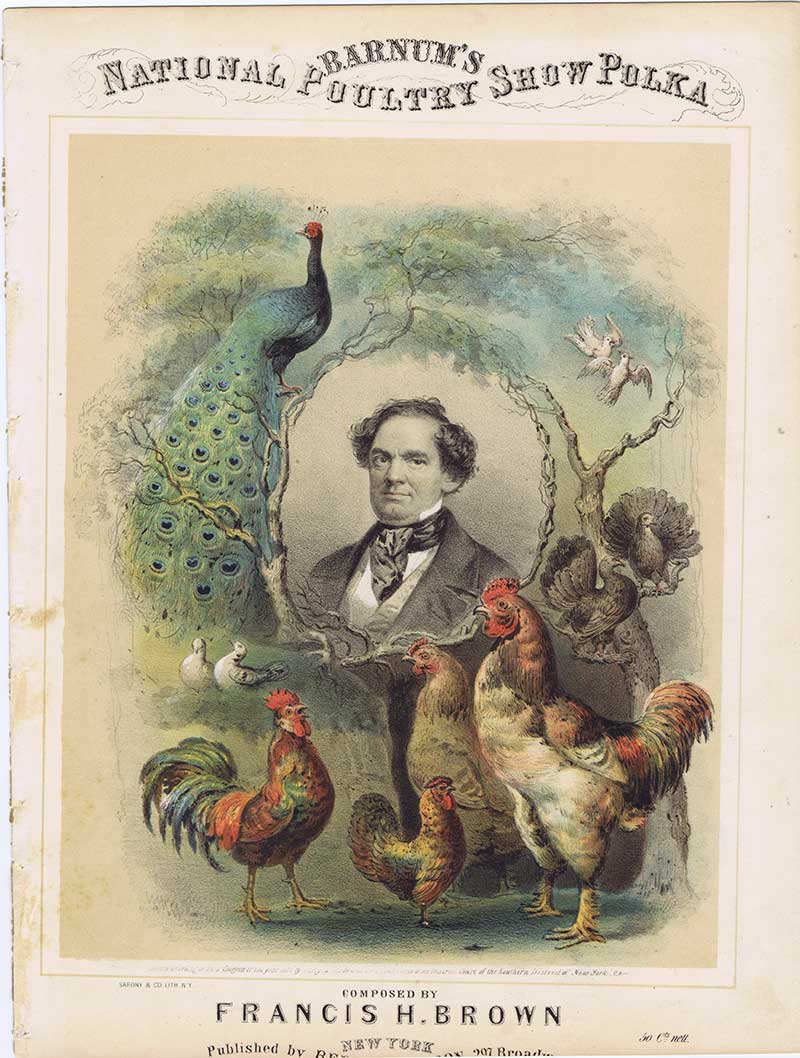 IMAGE: A curious sheet music publication in 1854 featuring P.T. Barnum. Source: Kevin H. Lynch, The Lynch Archive
"The value of sheet music is extremely fluid and is dependent, in auction sales, on two or more serious buyers showing up," says Lynch. "Auction houses Swann's, Sotheby's, Christie's, and Heritage have all sold American popular sheet music items for $2,500 or more over the last half dozen years. Many on eBay have sold above $1,000. There is a very real market for rare and desirable music printings, especially before 1870, many of these being not only original prints but literally historical documents as well. And, indeed, many rarities from the 20
th
century can bring $500, $1,000, or more in auction sales."
Lynch adds that the auction site you select and the item description can affect how much you can get for your sheet music, as can the time of year and day. Summer is slow on eBay, for example, while Sunday nights are often prime on the popular auction site.
It's said the sheet music community does not believe in set pricing guides, preferring to let the market dictate sheet music value. However, you can find the ballpark value of your sheet music by first identifying exactly what you have, determining whether it's unique or significant in any way, and then trying one of the following options:
Run a search for "sold" listings on eBay to see what comparable sheet music has sold for
Take your collectible sheet music to an auction house for an appraisal
Ask a private collector or appraiser to offer an appraisal – though Lynch says appraisals are not common for sheet music because valuable collections are rare, and the time and expertise the appraiser must supply can drive costs to thousands of dollars
Sell your vintage sheet music collection in bulk to local music stores and online resellers
Simply list your sheet music for sale to see what offers you attract
"eBay, the low end of the auction markets, sells 8,000 to 10,000 pieces of music a month during much of the year," says Lynch. "I track sales every three months, and you'd be surprised how long it takes to review all sales above $30 – about an hour! There are many over $100. These include 19
th
and 20
th
century music publications."

Here are some example prices from recently-sold listings on eBay: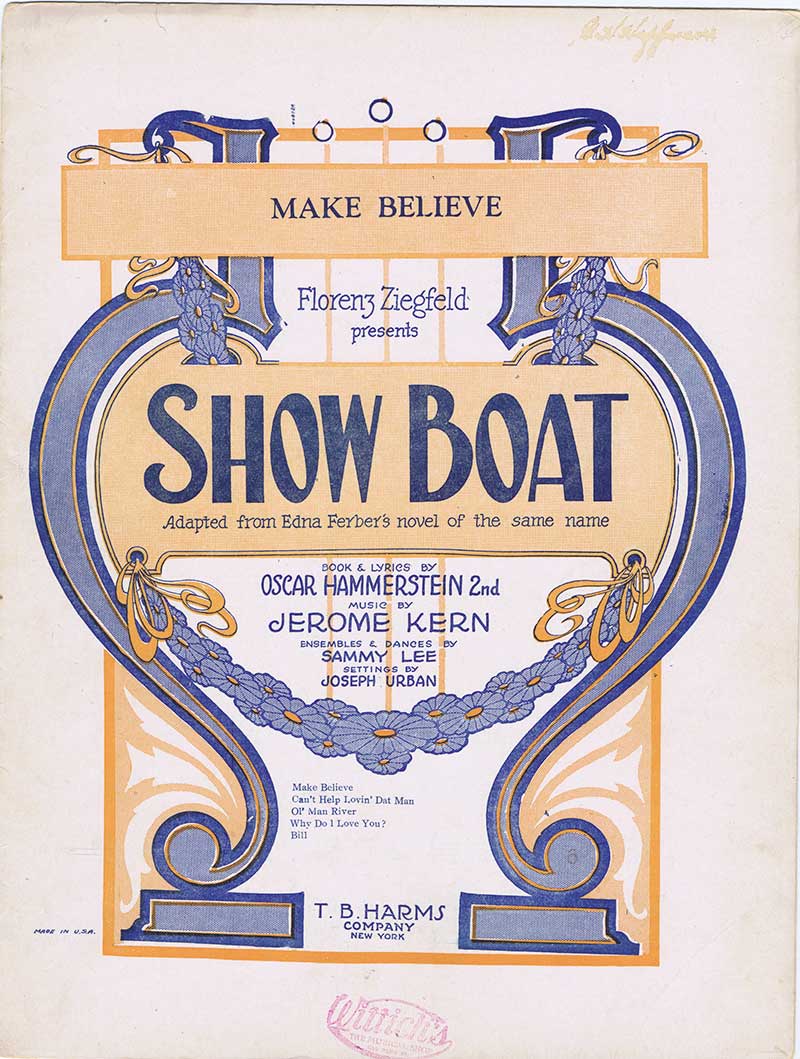 IMAGE: Very scarce first cover of what many consider to be America's first classic musical – "Showboat." This is from 1927 and these initial publications, quite different in design from later issues, also tend to worth maybe 10 to 20 times what the others are, dependent on condition and song. This is known as the 'lyre cover' as the graphic seems to suggest that instrument. They are very difficult to find and were issued for each of five songs from the score, adapted from the very successful novel. This is the first American musical where the book, with its commentary on race relations, was every bit as important as the music and lyrics. Source: Kevin H. Lynch, The Lynch Archive.
How does the most valuable sheet music stack up to other famous collectibles? Lynch provided this comparison:
| | | |
| --- | --- | --- |
| Collectible | Number known to exist | Selling price |
| Magna Carta, 13th century | 24 presumed | $21.3 million (2007) |
| Shakespeare's first Folio (1623) | 200 to 250 | $6.1 million (2001) |
| Action Comics #1 (Superman 1st edition) | 50 unrestored copies | $3.2 million (2014) |
| Honus Wagner T-206 baseball card | 50+ | $3.1 million (2016) |
| Declaration of Independence 1st edition (1776) | 23 | $2.4 million (1991) |
| Inverted Jenny stamp (upside-down biplane) | Around 100 | $977,000 (2010) |
| Star Spangled Banner 1st edition (1814) | 11 or 12 | $506,500 (2010) |
"You'll notice the music is the lowest on the list in terms of amount of sale, but also it is the rarest on this list of famous firsts," says Lynch. "Popular American sheet music is a rich field for collecting that has yet to have its true heyday. For pure Americana and the power of an image, it can hardly be matched."
Where can I sell sheet music?
There are several different outlets you can use to sell your sheet music; keep in mind that some of these places also sell sheet music, so they need to buy your music at a price that's profitable on resale.
Buy/sell/trade online stores – many of these are regional
Flea markets, swap meets, and trade shows cross-collectors attend (find flea markets)
Directly to sheet music collectors
Directly to local music stores
Online collector communities (try instrument-specific forums, Facebook groups and Reddit subreddits)
"eBay is probably the best outlet for selling sheet music if you think you have something of value. It's the most popular Internet auction house for sheet music sales, and it's easy to post on their site," says Lynch. "Unless you have something quite valuable, you may want to use this option to sell. eBay has sold up to 10,000 pieces of sheet music in a month."
Sheet music not worth much? Many phones are worth $100+. Find the value of your phone.
For common music with limited demand, Lynch recommends trying your local antiquarian bookseller or secondhand store. You can also search Google for "sheet music stores near me," "where to sell sheet music near me" or "who buys sheet music near me."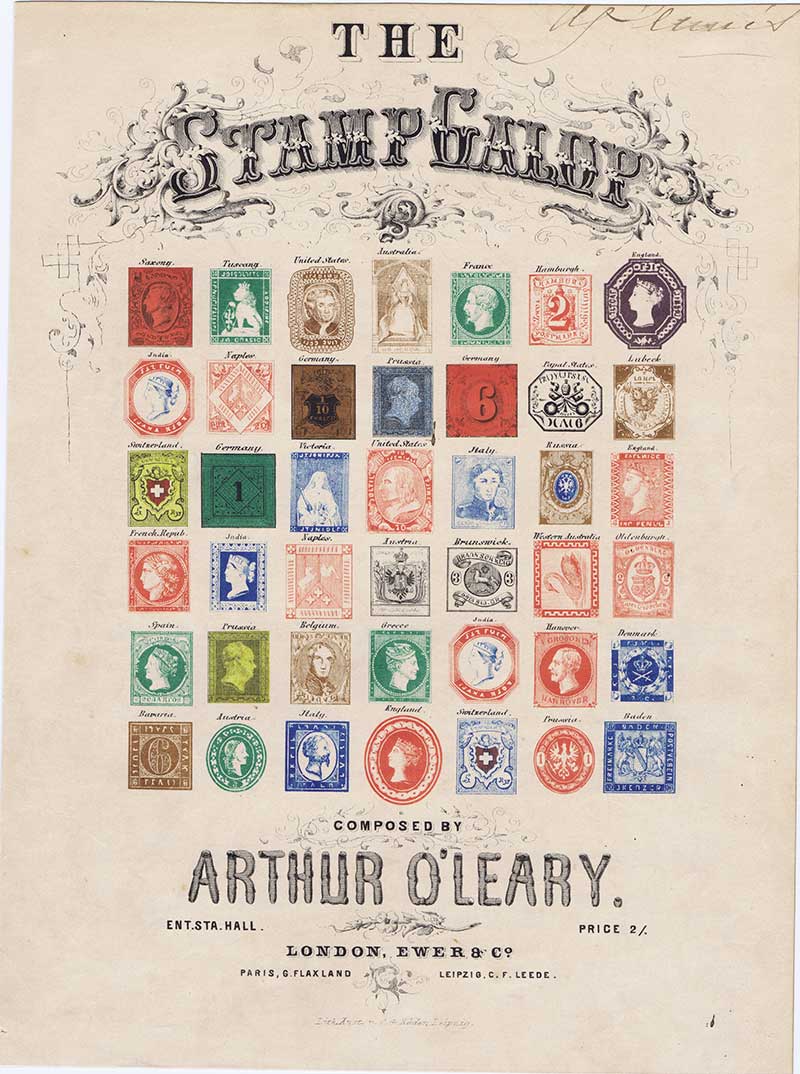 IMAGE: This is the first edition of "The Stamp Galop," featuring a number of stamps from 1863, including several U.S. stamps. Lithography miming engraving. Litho by Roder in Leipzig, Germany. The American version followed this. Source: Kevin H. Lynch, The Lynch Archive
Be careful to avoid scams, especially on sites you're unfamiliar with, and understand shipping costs as well as who pays them when you sell your collectible sheet music. If you sell a collection for $100 but it costs $200 to ship, you don't want to assume that cost. Also, be sure to protect valuable sheet music.
Lynch recommends storing valuable editions in a crystal clear, zero-acid poly vinyl bag such as those made by
Clear Bags
, and lay them flat in an archival box to shield them from dust and ultraviolet light. You can add archival conservation backing board to your most valuable pieces.
The best advice we can offer for selling your sheet music collection is to first understand exactly what you have and conduct your own research to find out what it's worth. Then, you can pick valuable volumes to sell individually at higher prices and pack the rest in lots to sell in bulk. Compare different selling options and offers, if possible, and always keep in mind your sheet music is ultimately worth whatever a buyer will pay for it.
Related Help
Previous:
What To Do If Your Phone Is Lost
Next:
Meet GadgetPickup: Our Newest Trust Verified Store!