A Very "Apple-y" Christmas: Will iPhone Holiday Sales Shatter Records?
iPhone sales could reach record heights this Christmas, as Apple expects to sell between 75 and 80 million iPhones during the 2020 holiday season. The current holiday sales record is 78.3 million, set in 2016. Here's how many iPhones Apple has sold during previous holiday seasons.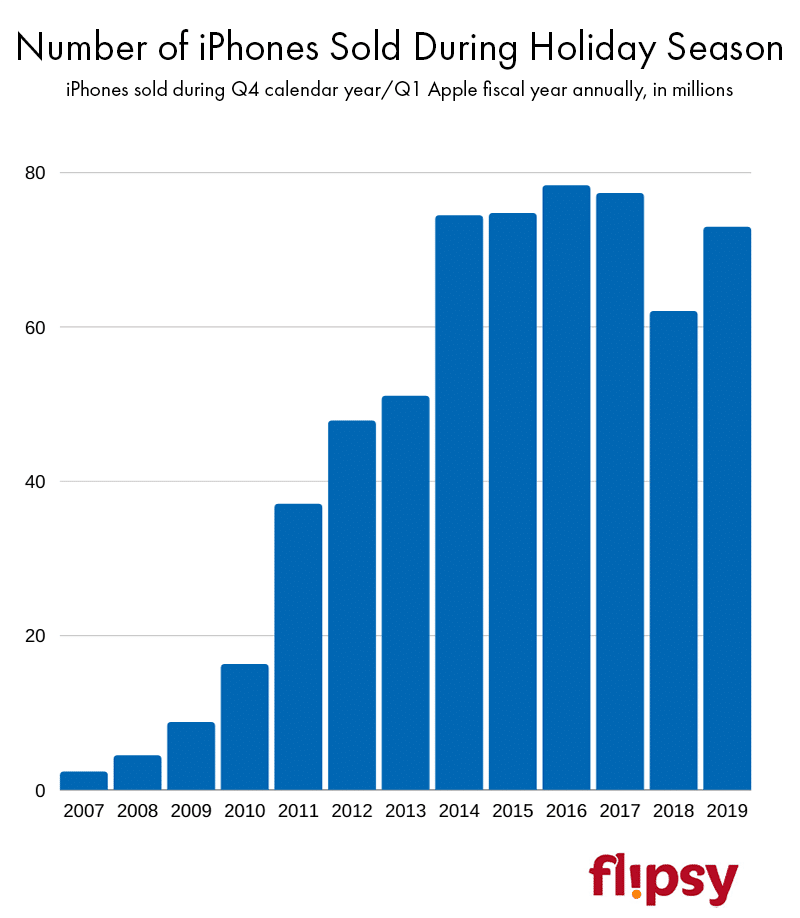 2019: 72.9 million
2018: 62 million
2017: 77.3 million
2016: 78.3 million
2015: 74.7 million
2014: 74.4 million
2013: 51 million
2012: 47.8 million
2011: 37 million
2010: 16.24 million
2009: 8.7 million
2008: 4.4 million
2007: 2.3 million
The anticipated uptick in 2020 iPhone holiday sales could be attributed to the four 5G compatible phones Apple unveiled earlier this year, similar to how other technology milestones influenced historical iPhone sales figures.
iPhone holiday sales volume roughly doubled each year from 2008 to 2010, then increased by 128% in 2011, the year Apple released a CDMA version of the iPhone 4 that was compatible with Verizon's network


In 2012, iPhone holiday sales outpaced 2011 figures by more than 10 million units. That was the year Apple unveiled the iPhone 5, the first model with 4G capability


In 2014, Apple sold 23 million more iPhones than it did during the 2013 holiday season. The iPhone 6 and 6 Plus were introduced in 2014, and the iPhone 6 would go on to become the best-selling iPhone of all time


In 2018, iPhone holiday quarter sales dipped by 15 million units compared to the previous year, perhaps impacted by the popularity of the iPhone X, released in 2017


Holiday sales volume resurged in 2019, the year the iPhone 11 was released, but failed to eclipse the record set in 2016 – the year the iPhone 7 and 7 Plus were released
Undoubtedly, Apple has established the iPhone as one of the world's most popular Christmas gifts. But with as many as 80 million units set to be sold this holiday season, what can people do with the old phones their new iPhones will replace?
Rather than stash them in junk drawers (where the average American stores $265 worth of unused gadgets) or contribute to the growing e-waste problem, they can quickly turn those old phones into cash with our free service at Flipsy.com.
We make it easy to get more money for old phones by instantly comparing buyback offers from 20+ trusted stores that compete to pay top dollar. We also show which stores offer price locks. Price locks let people lock in a high price for up to 30 days, keep their old phones until the new ones arrive, and beat the inevitable post-holiday value drops. Price locks are 100% free and there's no obligation to sell. See how much your phone is worth and lock in a high price now at Flipsy.com.
Related Help
Sources
Tidbits, Apple, iMore, Apple, TechCrunch, Apple, Wired, The Verge, Wired, AnandTech, iMore, Mac Stories, Mashable, Mac Stories, The Verge, 9to5Mac, CNBC, Fool, Investopedia
Previous:
MVNO Carriers Compared: Find the Best MVNO Plan for You
Next:
How to Save $1,000 a Year with Cheap Family Phone Plans (Step-by-Step Guide)